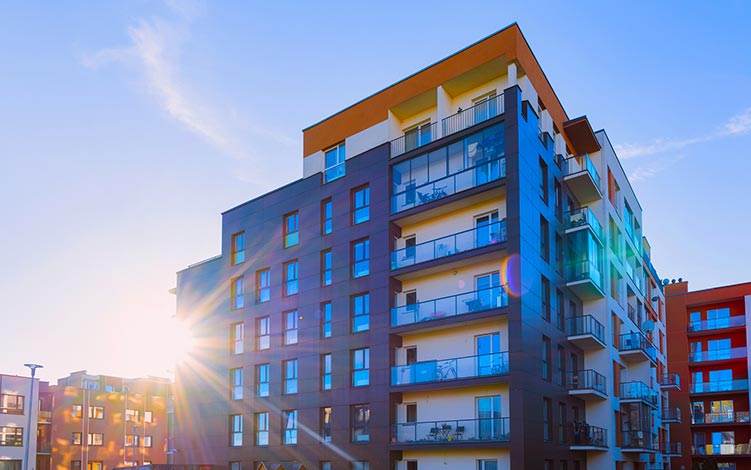 If you are considering allocating capital to multifamily investment properties, there are many different ways you can begin investing in apartment buildings. Owning a multifamily property can be part of a long-term passive investment strategy, or it can be a daily hands-on venture depending on the ownership structure and your desired level of involvement.
Below we'll focus on three ways to invest in apartments, from purchasing a small multifamily rental complex and managing it yourself to buying fractional shares of a Delaware Statutory Trust to complete a 1031 exchange.


Things to Know Before Investing in Apartments
Buying an apartment complex can be a passive investment to which you simply allocate funds, or it can be the start of a new career as a landlord depending on how involved you want to be as an asset manager. Much of that can be determined by the asset class, which ranges from A to D depending on quality, age, amenities, and other factors.
Class A apartments are usually newer highly desirable upscale luxury properties that command the highest rents. Class B apartments, meanwhile, are typically between 10 and 25 years old and have been well maintained over the years. Class C properties are generally older properties with a lower-income rental base, while Class D apartment assets are usually found in the poorest economic areas and often have federally subsidized rents.
Class A properties have few, if any, maintenance issues. These multimillion-dollar assets typically draw interest from large institutional investors and REITs. Class B and C units, on the other hand, might have some significant deferred maintenance issues that need to be addressed. Retail investors with previous management and multifamily renovation experience often seek out these "value-add" opportunities since they can leverage their expertise to upgrade and reposition the asset to potentially boost its cash flow before marketing the asset for sale.
The price you'll pay to invest in apartment complexes is greatest for higher-grade Class A properties and descends as you move down the quality scale -- although the total size (number of doors) of the complex also plays a large part in overall asset cost. In addition to asset class, other key multifamily investment considerations include investment horizon, regional market conditions, asset location, tenant mix, cap rate, net operating income, and exit strategy.


3 Ways to Begin Investing in Apartments
Solo investor: If you are considering purchasing a small duplex, triplex, or four-unit multiplex, chances are you'll manage the property yourself -- paying for third-party management on such a small property could erode any potential profits generated from rental income. Investors pursuing this investment path need to fully evaluate and gauge the cost and impacts of time spent managing their rental units. Ongoing factors such as maintenance, tenant turnover, leasing paperwork, and other requirements will siphon a great deal of your time. Retail investors pursuing smaller deals often turn to multifamily brokerage houses to help find suitable investment properties.
DST: Another avenue investors can pursue to invest in apartments is to purchase fractional shares of a Delaware Statutory Trust that is composed of one or more large multifamily assets. Because investment capital is pooled, DSTs allow investors to purchase interests in quality multifamily assets that normally would be well out of reach as solo investors. Owners, or trustees, receive pro rata distributions, when applicable, based on their investment percentage.
REITs: Some investors entering the multifamily landscape purchase shares of real estate investment trusts (REITs) that focus on multifamily assets. You can find many of these publicly traded apartment-oriented REITS listed on major stock exchanges. Several of the largest apartment REITs own and operate between 50,000 and 80,000 or more units.
Other options for investing in apartments include partnering with like-minded investors, syndication, and private equity funds.


The Bottom Line
There are many different avenues to begin investing in apartments. When doing your initial due diligence, it helps to know where you stand with qualifying for a multifamily loan. Investors may consider VA home loans or FHA loans for small apartment properties with four or fewer doors, or jumbo loans from Fannie Mae or Freddie Mac if you are pursuing more expensive apartment complexes.
Multifamily investment properties have the potential to bring increased portfolio diversification, tax-advantaged recurring monthly income, and capital appreciation. Investors should determine how any potential investments meet their tolerance for risk and investment strategies prior to making an investment in an apartment building.


Sources:
Multifamily Housing Classifications, Multifamily Pro, https://www.multifamilypro.com/multifamily-housing-classifications/


This material is for general information and educational purposes only. Information is based on data gathered from what we believe are reliable sources. It is not guaranteed as to accuracy, does not purport to be complete and is not intended to be used as a primary basis for investment decisions. It should also not be construed as advice meeting the particular investment needs of any investor. Consult with your tax advisor regarding your individual circumstances. No public market currently exists and one may never exist. DST programs are speculative and suitable only for Accredited Investors who do not anticipate a need for liquidity or can afford to lose their entire investment. Like any investment in real estate, if a TIC property unexpectedly loses tenants or sustains substantial damage, there is potential for suspension of cash flow distributions. TIC properties employ professional asset and property management, so while TIC co-owners vote on major issues, they do not have direct say over day-to-day property management situations. Distributions, cash flow and capital appreciation are not guaranteed. All financed real estate investments have the potential for foreclosure. A REIT is a security that sells like a stock on the major exchanges and invests in real estate directly, either through properties or mortgages. REITs receive special tax considerations and typically offer investors high yields, as well as a highly liquid method of investing in real estate. There are risks associated with these types of investments and include but are not limited to the following: Typically no secondary market exists for the security listed above. Potential difficulty discerning between routine interest payments and principal repayment. Redemption price of a REIT may be worth more or less than the original price paid. Value of the shares in the trust will fluctuate with the portfolio of underlying real estate. Involves risks such as refinancing in the real estate industry, interest rates, availability of mortgage funds, operating expenses, cost of insurance, lease terminations, potential economic and regulatory changes. This is neither an offer to sell nor a solicitation or an offer to buy the securities described herein. The offering is made only by the Prospectus. Past performance is no guarantee of future results. All real estate investments have the potential to lose value during the life of the investment. Costs associated with a 1031 transaction may impact investor's returns and may outweigh the tax benefits.