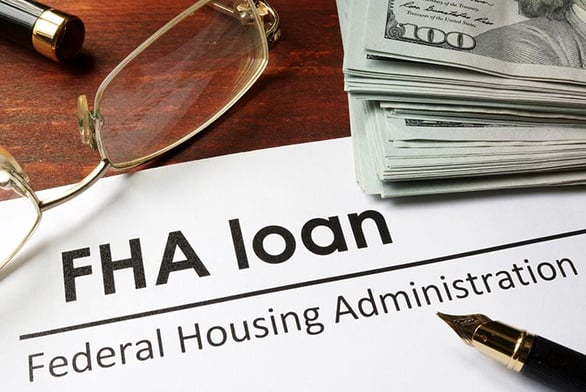 Buying an investment property to rent out is one way to pursue building wealth through real estate. Some well-known U.S. real estate moguls started with similar small investments and built up their portfolios over time.
There's no guarantee your first investment will become the foundation upon which you create a real estate empire. However, owning a rental property does offer the potential to generate recurring passive income and asset appreciation. While there are usually many hurdles investors must overcome on the path to purchasing a rental property, capital is often the biggest barrier to entry.
Many people wonder if they can use an FHA loan rather than conventional financing to purchase a rental property since they won't need to come up with a hefty down payment to obtain financing. In the article below we'll tackle that question, as well as outline how to purchase a rental property using an FHA loan.


What is an FHA Loan?
Federal Housing Administration loans are geared toward helping borrowers in low to moderate income brackets. These loans are issued by FHA-approved lenders, but they are insured by the federal government.
First-time homebuyers often tap into traditional FHA loans for two reasons:
Lower credit score requirements -- as low as 500
Lower down payment -- as little as 3.5 percent of the purchase price
Borrowers with credit scores lower than 580 typically are required to put up as much as 10 percent down. Still, that compares favorably with conventional mortgage financing, which often requires borrowers to have credit scores of 620 or higher and put up as much as 20 percent down, as well as meet stringent income requirements. However, since FHA borrowers present greater risk due to their lower incomes and poor credit scores, they are required to pay a mortgage insurance premium. There is an upfront premium when the loan is closed, as well as a monthly payment that can range from .45 to 1.05 percent of the loan depending on terms.
If you plan on using an FHA loan to buy an investment property, make sure you work through all payment and income calculations to help ensure the investment makes good financial sense.
There are a few other key sticking points as well.


How to Use an FHA Loan to Purchase a Rental Property
FHA loans may be easily accessible for lower-income borrowers, but they come with a strict caveat: You must occupy the residence you purchase. There is a workaround, however: You only have to stay there for one year. After that time, you can move out and rent the property if you purchased a single-family home. Although you'll have to find another place to live, you could theoretically use funds from the rental property to pay part of your rent or mortgage on another property, provided you have a creditworthy tenant and are able to negotiate a favorable market-rate lease.
Another potential scenario: You can use an FHA loan to purchase a duplex, triplex, or fourplex if you can meet the down payment requirements. You can live in one of the units and rent out the others -- in effect, you'll be an on-site landlord. You could move out after a year's time and rent out the entire complex if you find having tenants that close presents some awkwardness or privacy complications.


The Bottom Line
An FHA loan can provide a way for novice investors to dip a toe in the real estate pond. Growing U.S. markets can present opportunities to find rental properties where you could realize asset appreciation while having renters pay the bulk of your mortgage. However, FHA loans are burdened with ongoing mortgage insurance premiums that could dilute any potential proceeds generated from the asset -- not to mention the fact that you'll have to pay more for the mortgage if you have a vacancy or unoccupied units.
While an FHA loan could be your entry point into real estate investing, be sure to carefully weigh all the potential pros and cons before making the jump.


This material is for general information and educational purposes only. Information is based on data gathered from what we believe are reliable sources. It is not guaranteed as to accuracy, does not purport to be complete and is not intended to be used as a primary basis for investment decisions. It should also not be construed as advice meeting the particular investment needs of any investor. Consult with your tax advisor regarding your individual circumstances.