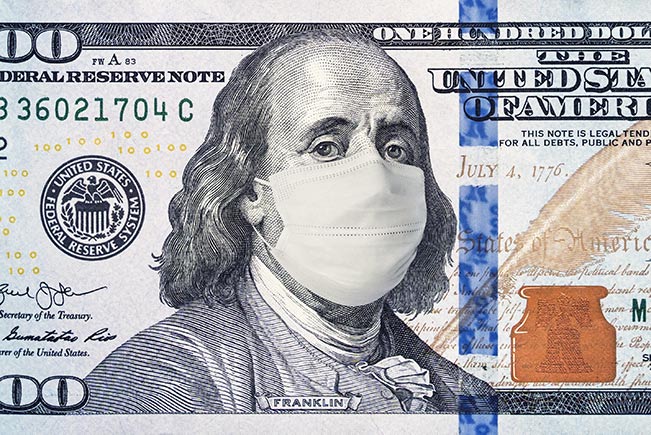 COVID-19 (more commonly known as Coronavirus) has ushered us in a full-fledged health crisis and an economic crisis. The immediate impact has been quick and easily recognizable. However, second and third order effects are harder to anticipate and not yet fully realized. All markets will be impacted by indirect effects, though to what degree is harder to predict.
The final result, however, depends heavily on how well the government and central banks can limit the damage — along with the individual microeconomic responses from the financial sectors. As a result, it is difficult to assess with certainty the scale of COVID-19's impact on real estate transactions. Below are our best predictions for the office, industrial, and self-storage sectors.


Office
While office utilization rates have fallen as remote working has increased, the office market has reported fewer requests for rent relief than in other property sectors. Still, office owners will need to consider some abatement requests depending on the tenants' financial situation, and those with exposure to short-term leases are expected to be the most vulnerable. Co-working operators in particular are feeling intense pressure in the current environment and have laid off staff to preserve cash.
Businesses of all sizes can benefit from both the CARES Act and recent Federal Reserve policy. Small businesses are expected to receive $350 billion, which is contingent on the loan funds being used to retain workers and maintain payroll or make mortgage payments, lease payments and utility payments. The inclusion of lease payments will benefit office asset owners, who are now less likely to have to rent delinquencies or tenant defaults. Plus, the Federal Reserve will now be the backstop to the largest office-using employers in the country, as long as they have investment-grade credit, and will be the lender of last resort if those companies are unable to sell corporate bonds on the open market. In addition to benefits for employees who have been furloughed, the legislation will create a $500 billion fund to make loans and loan guarantees to in—businesses. While the implementation of this process remains vague, the funding is expected to provide short-term relief and liquidity to businesses that need it most, including many office-using companies.
Office assets have remained relatively stable, but there have been difficulties associated with executing new leases and stalled expansion plans. Additionally, capital expenditure plans are being scrutinized, as lower-cost strategies are underway by occupiers. Over the longer term the outbreak will probably speed up the adoption of remote working and increase the investment into collaborative technologies. This may seem like a threat to future office demand, but JLL Research does not expect that to be the case. They believe a focus on higher utilization and densification of space has already driven efficiencies and resulted in limited excess space. In addition, rising employment in relevant sectors will outweigh any impact on demand from working remote.


Self Storage
While every property type has been affected from the COVID-19 crisis, self-storage is one of the least troubled. Usage of a self-storage facility requires very little human interaction and represents a relatively low cost for households. According to CBRE, public REITs overall are down approximately 32% since the market peak in mid-February, while self-storage REITs are only down 20%.
Properties located near college campuses have actually seen a recent surge in occupancy because students have returned home early. The occupancy bump is typically seen in May and June when schools let out, but now these assets are getting a couple additional months of increased occupancy and revenue, which ultimately benefits the investors. Self-storage operators are working to increase the direct deposit payment method for rent to reduce human interaction, which can also indirectly lead to fewer rent delinquencies and units staying occupied for longer on average.
Despite the relatively low cost of self-storage facilities, the economic decline may cause renters to struggle to make monthly payments and force them to give their unit back. A market-wide shift in occupancy has not happened to date, but because self-storage properties use shorter lease terms, occupancy rates can fluctuate quicker relative to office and multifamily properties.

Industrial
The effect of the COVID-19 crisis on industrial properties will be more complex than with other property types. Certain types of properties and their tenants may actually see some benefits. Retail and industrial have become more integrated in recent years through the e-commerce boom so some industrial properties stand to benefit from the continued demand for consumer goods that the CARES Act will generate. Additionally, the current crisis has introduced online delivery to even more of the country's population by necessity and which could then lead to strong retention of those new users even after the crisis has passed. Warehouse and logistics space has been the fastest growing segment of commercial real estate in the current cycle, and this trend is likely to accelerate, as institutional investors will continue to seek well-located last-mile real estate just outside of major metropolitan areas. This crisis may accelerate the use of automation and robots in operations and reduce the sector's reliance on labour. The move to online shopping, especially for grocers, could become more permanent and drive additional demand for logistics space.
Despite disruptions from COVID-19, leasing opportunities that were close to being finalized before the outbreak are still getting completed for the most part, and demand from essential e-commerce and food & beverage users is increasing. However, some deals that were in the early stages have been placed on hold. There will likely be a lag in the impact on industrial fundamentals, which will remain strong until the latter part of the second quarter of this year. However, there will be a significant drop in demand from non-essential retail and wholesale companies and the corresponding third party logistic coordinators that service them. CBRE projects that this decrease in demand will reduce overall leasing activity and increase vacancy rates to 8.6% from 7.5% by the end of 2020.


Conclusion
This series has a second part, discussing Hospitality, Healthcare, and Senior Housing. Additionally, we have covered retail, student housing, and multi-family in separate blogs. Click on each link to read more. We know that times of uncertainty such as the one we are in right now can produce a lot of fear and panic. We are here to help you navigate those waters, and manage your real estate investments in a way that helps them — and you — weather this storm. Please reach out to us with any questions or concerns you may have. Our Directors of Investment Property Wealth Management are ready to assist you in any way.
Give us a call at 877-797-1031 or email us at info@realized1031.com.
Update: On Wednesday, March 25, 2020, we issued a letter to the United States Secretary of the Treasury Steven Mnuchin, urging the Treasury Department and Internal Revenue Service to delay the deadline for like-kind (IRC §1031) exchanges. On Thursday evening, April 9, the IRS released Notice 2020-23 as an update to Notice 2020-18, which provided relief to taxpayers affected by COVID-19. Thursday's notice extended the taxpayer relief to like-kind exchanges, allowing investors whose identification or exchange periods would have fallen between April 1st and July 15th to now use July 15th as their extension deadline. Learn more about this update here: (INSERT LINK TO EXTENSION BLOG)
We are grateful for the extension and appreciative to the Secretary of the Treasury, the Treasury Department, and the Internal Revenue Service for their willingness to provide accommodations for investors transacting a 1031 exchange. For those who are in need of assistance with their exchange, we stand ready and willing to help you identify like-kind property alternatives during this extended deadline. Please reach out to us at 877-797-1031.