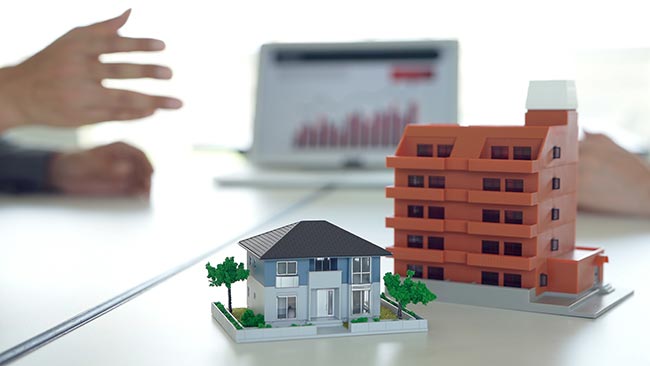 Real estate is considered an attractive asset class for those seeking steady cash flows and the opportunity to realize profits via asset appreciation over time. What's more, investors often enjoy being able to see, touch, and feel their investment property, whether it be a duplex in San Francisco or a retail plaza in Charlotte. Its tangible nature and positive opportunities only heighten its appeal to the masses.
If you are seeking to deploy cash in any investment, you should aim to diversify your exposure across various asset classes, industries, and investment types. It is not wise to invest all available funds into one opportunity, regardless of how lucrative it may seem in the short term. An investment's outlook could change drastically in an instant, whether it be the result of a geopolitical development or introduction of new legislation. However, diversification does not guarantee returns and does not protect against loss. While a wise investment-method, it is not a sure bet — nothing is.
One of the most attractive aspects of a real estate investment is that, with the right investment structures, it can be diversified across asset classes, geographies, and strategies. Its volatility is relatively low, and it provides attractive tax incentives for those who know how to leverage them properly. Informed investors can defer capital gains taxes by participating in 1031 exchanges, which implicitly gives them the opportunity to grow wealth more quickly. Additionally, depreciation and mortgage interest rate deductions can shelter your incoming cash flows and boost your returns. For example, in the highest tax bracket, a 5.5% cash-on-cash return, fully sheltered, would be equivalent to an 8.73% return in the stock market.
Though real estate investment does offer a slew of benefits, the depth of subject matter can be a deterrent for new or inexperienced investors. While other investments have a great deal of publicly available information and educational resources, real estate investments have less readily available data on performance, projected return, and other key variables.
A wide variety of publicly available information about a stock or bond is available via media coverage and investor reports. The same type of information about a certain property is available, but at a much greater cost than a subscription to the Wall Street Journal or navigation to a company's 10K. There are several property types and asset classes in the spectrum of real estate investment, ranging from a multifamily property in London to a high-rise office development in Boston. In short, understanding Google's dominance in the paid-search market online is certainly much easier than understanding macroeconomic shifts that make an investment in income-producing apartment rentals in Europe an attractive investment.
So what does one have to do to start investing in real estate comfortably and effectively?

Step 1: Understand Your Risk Tolerance
It is critical to understand your risk preferences. Below are a few key questions to ask yourself:
Are you looking to build a portfolio over 30 years, or is your investment horizon shorter?
Are you a conservative investor, seeking low-volatility investments with the primary goal of capital preservation?
Or, do you have a long term investing horizon, with a focus on capital appreciation instead of income?
Is your investment amount a large or small part of your net worth?
What other kinds of investments are in your portfolio, and are the volatility of those investments correlated with your targeted real estate investment?
Your risk tolerance, or appetite, plays a pivotal role in the investments you ultimately select to build out your investment property portfolio.


Step 2: Choose Your Investment Strategy
Once you have decided on your tolerance for risk, you need to choose a strategy with regard to ownership. Direct ownership in an asset will provide you more control but will also require more active management than indirect ownership, such as a Real Estate Investment Trust (REIT), Tenant-In-Common (TIC), or Delaware Statutory Trust (DST).
Direct ownership is hands-on — when a hot water heater breaks, you will have to replace and install a new unit yourself or hire a contractor. Indirect ownership via a REIT, TIC, or DST investment offers less control but is completely passive – an operator or third-party property management company handles maintenance and property upkeep in exchange for your capital.
Now that you've decided what type of ownership you prefer, the next step is to decide on a particular type of asset. Perhaps you are attracted to senior housing real estate because of your understanding of an aging baby-boomer population, or maybe student housing is an attractive proposition because you were made aware of its recession-resistant attributes. Perhaps you prefer a type of asset like industrial, retail, or healthcare real estate, where tenants sign net leases in which they are responsible for both a contractual base rent as well as the payment of a pro-rata share of operating expenses, real estate taxes, and insurance costs associated with the building or property.
Ultimately, the choice of asset class should align with your investment objectives. If you prefer a more stable cash flow, an investment in a warehouse with a long-term net lease may be your best option. If you're looking for more upside on your investment, you may be seeking a Class B apartment complex in which you install high-end amenities and raise rents as leases roll. If you are seeking an asset that is more "recession-proof," self-storage or student housing may be the way to go. Even in tough economic times, people will continue to store overflow, and students will increasingly seek higher education.
You have now defined your risk tolerance and developed your investment strategy, which means it is time to strike a deal. If you want to buy a stock, you can register at an online brokerage and buy ten shares at the opening bell tomorrow. If you are seeking to deploy capital into commercial real estate, you'll need a plan to find the right deal.


Step 3: Develop a Plan to Source Deals
If you are seeking direct ownership in a particular market, the best option may be to contact an established brokerage firm or independent broker with a high degree of knowledge regarding what exactly is available, given your investment profile. If you wish to participate in a more indirect investment, consulting a traditional financial advisor, investment advisor representative (IAR), or another type of investment professional may be a better route.
Since the passing of the Jumpstart Our Business Startups (JOBS) Act in 2017, individual investors have been granted access to invest in properties that were once restricted to institutional investors via securitized real estate offerings. For example, at Realized, we offer a spectrum of DST investments for individuals seeking to conduct a 1031 exchange to defer capital gains or simply want to obtain exposure to a passive, Tax-Optimized Real Estate® investment.


The Bottom Line
To a beginner, real estate investing can seem intimidating. Information that indicates to investors that an asset in a particular market is attractive is not widely available and often expensive. That said, the first step to investing in real estate requires you to assess your investment goals, horizons, and define your risk tolerance. Once you have done that, you are ready to begin to survey markets for available properties within the asset class you prefer.
At Realized, we are here to help you make informed investment decisions by serving as an educational resource to answer any questions you may have about 1031 exchanges, investments, or real estate in general. When you are ready to invest, our experienced team and technology will simplify the process of deploying your capital in your first investment, or re-investing your capital gains from a previous holding. You can have confidence knowing that Realized is equipped to help meet the deadlines required to properly defer your tax liabilities and help you make wise investment decisions.
Nothing contained herein is to be considered a solicitation, research material, an investment recommendation or advice of any kind. Any investments or strategies referenced herein do not take into account the investment objectives, financial situation or particular needs of any specific person. Product suitability must be independently determined for each individual investor.