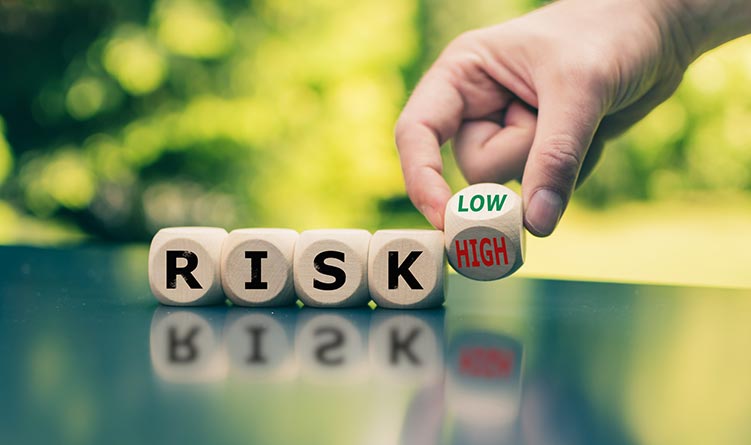 It seems like a straightforward question, but risk is an important consideration in investing because it can impact every investment decision you might make.
Risk is the uncertainty and potential for loss you take on in regards to your money when you invest in an asset. All investments carry risk, regardless of whether you are purchasing shares of Apple, buying a relatively unknown cryptocurrency, or acquiring an investment property located in the heart of a thriving metropolis such as Seattle, Los Angeles, or New York.
Prudent investors carefully weigh risk against potential rewards (return on investment) to determine their proper course of action. Investments heavy on risk may have the potential for greater returns, but they also might not fit within an investor's appetite for risk -- also known as risk tolerance.
In this article we'll examine the impact risk can have on your investments, the tradeoff between risk and return, and common risk factors that can change the course of your investments.


What is Risk in Investing?
Risk is the threat you face of losing all your money on an investment -- but risk has multiple layers and considerations.
Imagine a set of mechanical balance scales. Risk weighs down one side, and reward weighs down the other. Your risk tolerance is the fulcrum in the middle.
Investors who take on higher risk, such as putting up seed money for a startup, for instance, assume a great deal of financial uncertainty. Their belief that the startup will become profitable or be purchased for a significant amount of money must outweigh the risk of losing their entire investment principal if the company fails. A few of the many major risk considerations they also assume include illiquidity, delayed returns as the company ramps up, and dilution of their shares in the company if it seeks additional investment capital through equity investors.
The risk in this type of investment is so high that startup investors demand greater returns for their investment funds. It's why the celebrity investors on the popular television show Shark Tank demand such shockingly large bites of equity when they make offers to hopeful entrepreneurs -- oftentimes from the requested 5% to a proposed 30% or higher.
Appetite for risk is unique to every investor. Investors with a lower tolerance for risk are apt to seek investments that have fewer or more management risk considerations than the example provided above. When investing in stocks, a few of the primary risk factors to consider include business solvency, market volatility, inflation, and interest rate fluctuations. When investing in real estate, however, there are unique considerations investors must account for that could dictate how their investment plays out over the long term.


What is Risk in Real Estate Investments?
Real estate is an alternative investment that historically is uncorrelated with broader stock market performance. Commercial real estate, however, is still subject to unpredictable tendencies that can send asset values and leasing rates plummeting. These include financial structure, location, demand, supply, illiquidity, regulatory or legislative environments, economic downturns, and other factors that typically lie outside of investor control.
That last is a key reason why risk is such an important consideration when investing in real estate. A property that meets an investor's tolerance for risk and investment philosophies today might fall well outside of those parameters years later due to influences beyond his or her control. The Great Recession is a perfect example -- the economy was humming in 2006, and property values were strong in countless markets. Just two short years later, however, things soured on an unimaginable scale.


The Bottom Line
Many property owners would like to think that their investments in real estate will result in steady monthly rental income and yearly asset appreciation that will result in a financial windfall when they decide to sell. The truth, however, is that even though real estate can appreciate significantly it also can depreciate quickly.
Unforeseen circumstances -- i.e., risk -- can lead to financial distress, as can high vacancy rates, negative cash flow, or exorbitant maintenance expenses. Real estate investors must carefully consider these factors and weigh them against potential returns and their individual tolerance for risk prior to making any major investment decisions.


This material is for general information and educational purposes only. Information is based on data gathered from what we believe are reliable sources. It is not guaranteed as to accuracy, does not purport to be complete and is not intended to be used as a primary basis for investment decisions. It should also not be construed as advice meeting the particular investment needs of any investor. Consult with your tax advisor regarding your individual circumstances.