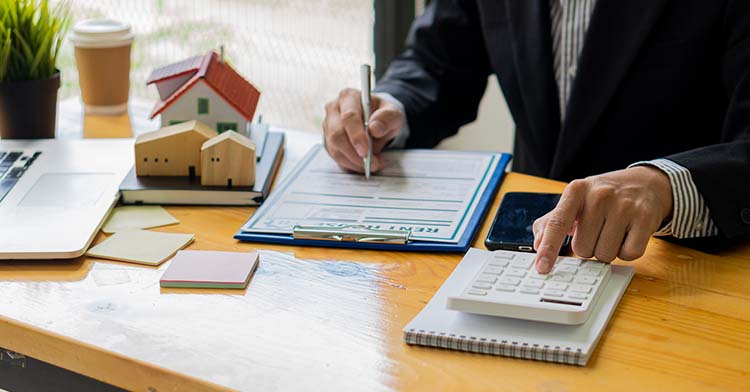 Mention the words "real estate investment" and what might come to mind is buying a property, finding quality tenants, and generating potential cash flow from rents. There is also the possibility of asset appreciation, meaning you could generate capital gains on the sale of that property.
However, there are many different types of real estate investments; these include real estate investment trusts (REITs), fractional ownership through Tenants-in-Common (TIC) arrangements, or Delaware Statutory Trusts (DSTs). Then there is the "Buy, Rehab, Rent, Refinance, Repeat" focus. Known as the BRRR method in real estate, this is a strategy that begins with distressed properties and ends with refinancing and buying more.


The Five Steps of BRRRR
Buy
The first step is to buy a property that requires improvement and upgrades. Depending on the repairs and renovations required, the property might cost less to purchase. It's important to keep in mind that while the sales price could be low, upgrades could require considerable capital expense.
Rehab
Rehabilitating the property means making it structurally safe and sound, and up to the requirements of the municipal code. This could involve foundation and roof repair, getting rid of termite infestation or wood rot, or upgrading drywall or siding. Aesthetics and curb appeal also need to be part of the package.
Rent
Once the property is repaired and renovated and meets the code requirements, you'll obtain a Certificate of Occupancy. The next step is to find credit-worthy tenants to fill the space.
Refinance
Once the tenant is in place and starts paying rent, the next step is to obtain a cash-out refinance. This can allow you to take equity out of your property as cash, though it might require taking on a larger mortgage.
Repeat
With cash in hand, it's time to search for another distressed property, which you would buy, renovate, rent out, and ultimately, refinance. You can repeat the process for as long as you have the resources to do so.


Pros and Cons
As is the case with investments, there are upsides and downsides to the BRRRR method.
Advantages
BRRRR could be considered an "autopilot" investment method. Once you launch the cycle, it can be self-perpetuating, with the potential of ongoing cash flow and appreciation.
BRRRR can help you build a diverse rental portfolio, with the potential of building equity from real estate assets.
The process could help generate and maintain a source of passive income.
Disadvantages
Financing and refinancing rental properties can be more expensive than taking out a mortgage on a single primary residence. This could require higher interest rates and fees, and larger down payments.
The BRRRR method requires a great deal of time, effort, and patience to find the property, obtain financing, fix it up, and find the right tenant/tenants.
There is absolutely no guarantee that you'll receive enough cash through a cash-out refinance to purchase additional real estate.


Financing Flips
The BRRRR method in real estate could be considered a type of "flipping." But rather than flipping properties once they're repaired, the thing you're flipping is financing. Succeeding at this investment process requires market and property knowledge, along with plenty of resources, patience, and capital. If done correctly, BRRRR can help portfolio diversity, with the potential of generating passive income.


This material is for general information and educational purposes only. Information is based on data gathered from what we believe are reliable sources. It is not guaranteed as to accuracy, does not purport to be complete and is not intended to be used as a primary basis for investment decisions. It should also not be construed as advice, meeting the particular investment needs of any investor. Realized does not provide tax or legal advice. This material is not a substitute for seeking the advice of a qualified professional for your individual situation. All real estate investments have the potential to lose value during the life of the investment. All financed real estate investments have the potential for foreclosure.The income stream and depreciation schedule for any investment property may affect the property owner's income bracket and/or tax status. An unfavorable tax ruling may cancel deferral of capital gains and result in immediate tax liabilities.Programs that depend on tenants for their revenue may suffer adverse consequences as a result of any financial difficulties, bankruptcy or insolvency of their tenants.