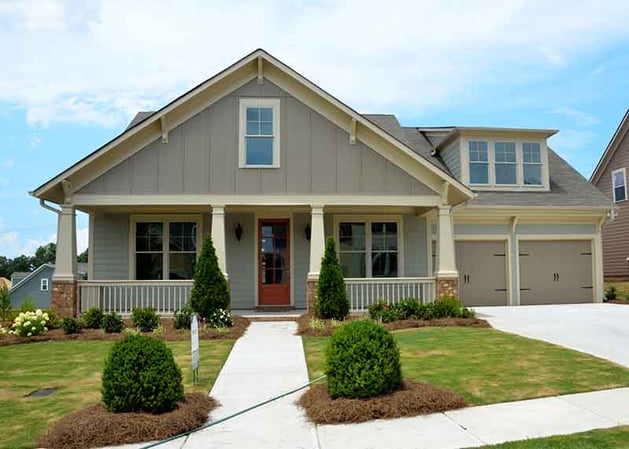 According to the National Association of Realtors (NAR), pending home sales fell in May 2017. This could seem to be dismal news on the surface. But, according to the article, sales fell, not due to lack of demand, but because of too much demand, combined with a shrinking housing supply. This is nearly a 180-degree flip from a little less than a decade ago. At that time, home sales suffered because of too much supply, little demand, and frozen capital.
Given the current market, you might be considering investing in a single-family house (or houses) and converting them into single-family rentals (SFRs). Mortgage rates remain low, despite two rate hikes by the Federal Reserve. According to Freddie Mac, the average 30-year, fixed-rate mortgage rate in June 2017 was 3.9%.
And, if you're able to find the right properties, property operating expenses may be relatively low. With SFR, tenants typically pay their own utilities and upkeep, such as mowing the lawn. Those tenants might also stick around for a while longer than they may if they're renting an apartment unit as the property feels a little more like "home". The administrative burden of leasing an SFR in manageable - running a rental ad on the internet and doing a simple background check on prospective renter is manageable for most SFR landlords. Finally, the exit strategies are pretty straightforward. If you no longer want to lease the house, you can simply put it on the market. Or, you can offer a lease-to-own arrangement with your tenant.
As with any investment, however, there are risks to owning single-family houses, versus other types of real estate. The risks indicated below go beyond economic risks, such as what happened during, and after, the 2007-2009 recession.
Single tenant. You have one tenant, or one family, in an SFR. While it may turn out that a tenant loves your place and ends up rented for an extended period of time, the grand total is still one tenant. When that tenant decides to move, your property is 100% vacant. That lack of cash flow could be painful if you can't find a tenant immediately. And, the expenses don't go away. You're still on the hook for the mortgage, utility bills, and property taxes, whether the house is occupied, or not.
Capital expenditures and budgeting. Although capital expenditures apply to all property types, they can be especially hard-hitting to SFR landlords due to concentration risk. Take for example, what happens when a water heater unexpectedly goes out. A $1,200 replacement may quickly wipe out months worth of cash flow. Not to mention having to deal with inspecting the issue, potentially hiring a handyman, shopping for replacement parts, etc. Certainly, you can hire a property manager to deal with all this. But, doing so adds to the cost of your SFR. Then there is the issue of budgeting. With a single property it may be difficult to have a reasonable annual budget for such expense items. This is in contrast to, say, a 300-unit apartment building where repairs, maintenance and capital items can be more easily forecasted due to scale. Which brings us to:
Questionable scale. Ownership of commercial or multifamily properties can mean better economies of scale, especially if your assets are fairly close to one another. Painting the interior of 50 apartment units means you could receive a bulk discount when it comes to paint and your ®handyman's services. Carpet and appliance are likely to be uniform within the same apartment complex. However, single-family rentals are larger, meaning more paint, and more of your handyman's time and the ability to purchase in bulk may be difficult if your SFRs have different carpet or appliances. Though curb appeal is important with a multifamily complex, any upgrades to the property potentially attract multiple renters. With an SFR, you would be upgrading one property per renter.
Homeowner Competition. Commercial properties, such as apartment complexes, typically sell to investors who are looking to make a return on their investment through a combination of potential cash flow and appreciation. Since the majority of SFR buyers are homeowners who will be living in the home they purchase, return on investment may not be a primary consideration for purchase - and potential cash flow is not applicable. This can make it difficult for investors who are trying make the numbers work, when the bulk of other buyers are essentially playing by different rules. And, due to the (relatively low) price point, even investor competition can be a crowded field. Although it can vary significantly by location, in rapidly appreciating markets, with all the competition, it may be difficult to buy at a price that results in the property producing meaningful cash flow, or any cash flow at all!
Though single-family rentals have the potential to provide an appealing return on investment, owning and leasing this asset type requires a different strategy when it comes to management, upkeep, and marketing. A SFR landlord has different challenges than his or her multifamily counterpart. As with any investment, make sure you understand the risks involved and perform your due diligence.
Tired of chasing SFR investment opportunities? Interested in exploring the option of investing in institutional-grade commercial properties, but always thought they are beyond your means? Visit the Realized® Marketplace to view a variety of 1031 exchange-eligible co-investment options in larger-scale commercial properties with minimum investments as low as $25,000.