Single Tenant Net Lease (STNL) properties are a popular option, particularly for investors doing a 1031 exchange who no longer want the day-to-day burden of being a landlord. STNL properties can be great investments, but they aren't without risk.
As I explained in part one of my series on the risks of STNL properties, these properties are either 100 percent occupied, or 100 percent vacant. This article explores:
The relationship between the number of years remaining and the market value of STNL properties;
The market value of leased STNL properties versus vacant;
The disparity in rental rates between leased STNL properties and those that are vacant and being put to another use.
Recently, I was looking at a STNL property in a suburb of Houston that was leased by Goodyear Tire and Rubber (NYSE: GT). I've had the good fortune to live in Texas for most of my life and I know Houston pretty well. What attracted me to this particular Goodyear Tire Store was the high 6.5% cap rate relative to its location near a major concentration of retailers in the upper middle class suburb of Pearland.
As I dug a little deeper, I quickly discovered the reason for what appeared to be an above market cap rate—remaining lease term was 4.25 years. On the surface, this Goodyear Tire Store is a home run, completed in 2008, great location, in close proximity to my home in Austin. Goodyear is below investment grade, rated Ba2 from Moody's and a BB by S&P. Even so, tires are an item many people need, and Goodyear is well-known global brand.
My concerns were that there were only four years remaining on the lease and the four renewal terms were for only five years each.
The market value of a true credit-tenant leased (CTL) property is almost entirely a function of underlying credit of the tenant and the remaining term of the lease. For this reason, a property with less than ten (10) or sometimes fifteen (15) years remaining on the lease is not considered a CTL properties, regardless of how strong the tenant is. As the number of years remaining on a lease gets closer to zero, a property's Market Value (what someone will pay for it) and its Intrinsic Value (what the real estate is worth for any other use, without the tenant) converge. The following graph demonstrates this relationship.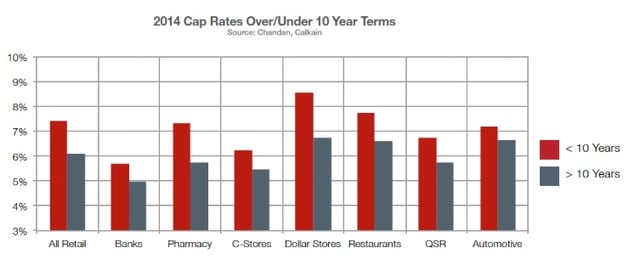 To better understand the relationship between remaining lease term and market values, I had our analysts pull together current information for properties leased to Goodyear Tire and Rubber. The fact that Goodyear (Ba2/BB) is not investment grade only made this exercise even more interesting. (Moody's / S&P, retrieved 7/13/17)
The following graph compares the cap rates (based on asking purchase price) to the remaining lease term of ten Goodyear STNL properties that are currently listed for sale on Loopnet, including the Subject Property in Pearland.
Source: Realized internal analysis based on LoopNet listings
Note: Goodyear's ten year bonds are trading around 5.25%, while GT's twenty year bonds are yielding approximately 6.00%
To take the analysis a little deeper, it's necessary to look at what happens to market values if Goodyear does not renew the lease. The following table shows the asking price of a Goodyear tire store in Denver. In 2015, the store had one remaining year, and based on the asking price and cap rate of 6.21% at that time, GT was expected to renew its lease for another five (5) years.
Fast forward to 2016, Goodyear did not renew its lease and the property is currently "dark" and being marketed for automobile related use, but the listing also mentions the possibility of retrofitting the space for office or retail.
This 4,900 square foot / 1.15 acre property was built in 1996 and is located in Highlands Ranch, a high-end suburb south of Denver (a place I also lived) which is similar to Pearland. In 2015, GT was leasing the store under a double net lease (landlord covers walls, roof and parking lot) for $30.43/SF in rent. In 2016, the property is listed for sale or lease, at an asking rent of $22/SF.
The asking price has dropped by $850K, or 55% between 2015 when leased and today, now that it's vacant.
| | | | | | | |
| --- | --- | --- | --- | --- | --- | --- |
| | | Rent/SF | Price/SF | Asking Price | Years Remaining | Orig. Term |
| IN 2015 | 1 yr. Remaining | $30.43 | $490.02 | $2,400,000 | 1 | 15 |
| TODAY | Vacant - For Lease | $22.00 | $316.33 | $1,550,000 | TBD | TBD |
The following graph compares the price per square foot (based on asking price) to the age of properties that were formerly leased to Goodyear Tire, but are now vacant and currently listed for sale.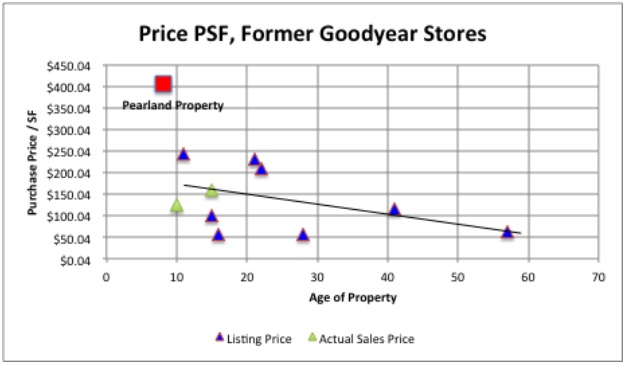 Source: Realized internal analysis based on LoopNet listings
The HUGE decline in value when a single-tenant, net lease property goes dark is not unique to Goodyear. It is common to see deals priced at $400 per square foot, where the cost of constructing the improvements (i.e. building, parking, etc.) is $100 per square foot or less. This highlights how a property's Market Value and its Intrinsic Value (dark, no tenant) converge when it's empty.
The convergence between Market Value and its Intrinsic Value is not well understood and often overlooked by investors. To quantify, look past the year 1 income stream to the Intrinsic Value of the property when it's dark. This is THE major risk of STNL properties with short term leases.
A tire store is a specialized building, with all kinds of lifts and compressors. If Goodyear doesn't renew, presumably it could be release to a competing tire chain. The problem is Discount Tires and NTB, two major tire retailers, already have stores +/-1.5 miles away from the Subject Property. There's always a chance an auto repair business will be interested, but what will they pay in rent?
My land economics professor used to say "always remember, in a commodity business the buyer will only pay a little more than their next best alternative." In the case of the Subject Property in Pearland, that next best alternative could be to build a new facility that is comparable in size and proximity.
Here's a rough estimate of the cost to rebuild the Pearland property, with land prices based on currently available comparable locations in the area. Note there's a 66% difference between the cost per square foot is $241.46 Intrensic Value and the approximate Market Value (asking price) of $400 per square foot on the Subject Property.
Estimated Cost to Rebuild

Per Bldg SF

$449,930

$65.00

$89,986

$13.00

Land

$1,131,479

$163.46

Total

$1,671,395

$241.46
Source: Subject Property's appraisal
So I thought, there's always the option of getting a non-automotive tenant, but that takes time and costs money. Not only would I continue paying the mortgage and property taxes for a year or two with no rent coming in, as the landlord I'm also responsible for getting the property ready for the next tenant.
It would not be easy to retrofit the Subject Property for another use. I'd have to remove the lift and compressors and then convert the bays into usable space. Yeah, but that's only if Goodyear doesn't renew. What are the chances of that, the Subject property is in a great location, right?
This question prompted me to do some more digging to look at the market rents of dark properties formerly leased to Goodyear.
The following graph compares the asking rent per square foot to the age of properties formerly leased to Goodyear Tire and currently available across the US.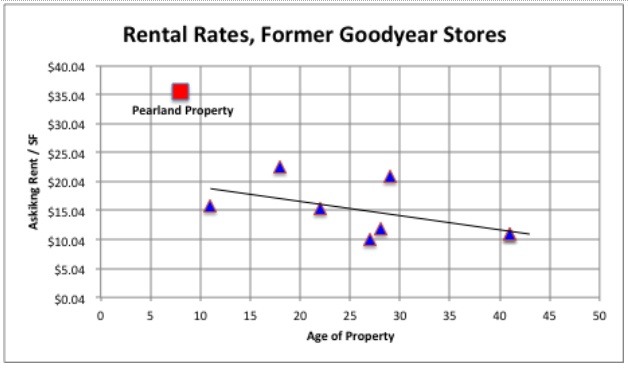 Source: Realized internal analysis based on LoopNet listings
Once again, a sharp decrease! The average rental rate decrease of properties formerly leased to Goodyear is over a 50% decline from the Pearland property rental rate. Alarm bells went off in my head…why does the Market Value of a STNL property fall off a cliff when a tenant doesn't renew their lease?
The answer: most investors in Net Lease properties aren't familiar with what the replacement costs (Intrinsic Value) of a particular STNL property are. In addition, they don't understand the rents tenants are paying on competing properties in the area. Hopefully you are reading this article before investing in STNL properties!
About Realized
At Realized, our goal is to provide 1031 exchange investors with the objective information they need to make an informed investment decision. The Realized team has watched many 1031 investors get burned and lose money on poor investments because their sole focus was minimizing their tax burden.