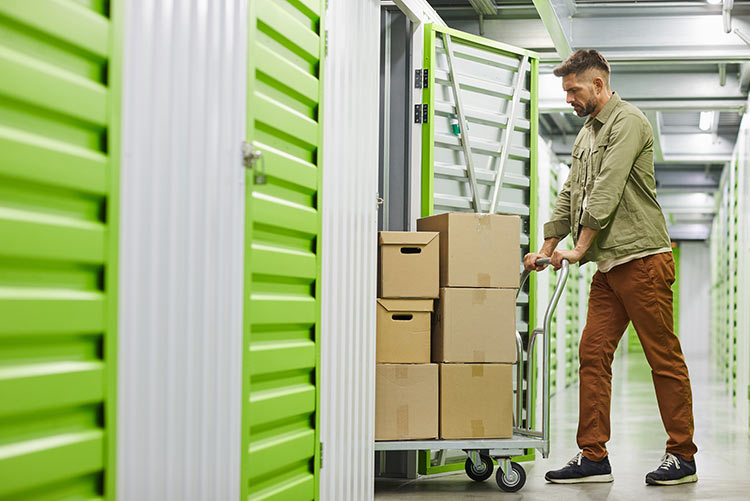 Commercial real estate investors have numerous options when seeking a suitable sector for their portfolio. One industry worth considering is self-storage. While the concept of self-storage arrived in the United States in the late 1800s, it didn't take off until the 1960s. Some early, post-World War II properties were designed more to take advantage of low-value land than meet a real need for storage. In the 70s and after, increasing transience in the population, shifting household size, and other demographic factors created rising demand.


How Big is The Sector?
The U.S. Self-Storage Association defines self-storage as "facilities that offer rental space for the purpose of stowing goods." There are at least 1.9 billion square feet of self-storage space in the U.S., and the market continues to grow. Competition is intense in many markets, and nearly ten percent of households have some belongings in a self-storage unit. These properties are low-maintenance, and there are no "tenants, toilets, or trash" that are the typical problems associated with many commercial assets.
According to a recent report in Forbes Magazine, self-storage is expected to have strong annual growth continuing over the next several years and the potential for an attractive return on investment. The industry has a good track record, with the same report pointing out an average annual ROI of 16.9% from 2009 to 2018.


Self-storage REITs For Hands-off Investing
According to Inside Self-Storage, an industry association, the five largest publicly traded, U.S. based self-storage REITs indicated 4th quarter 2020 gains in funds from operations, net operating income, and occupancy. The CEO of Extra Space, Joe Margolis, attributed the sector's success to ongoing demand and lower vacancy rates.
REITs, or Real Estate Investment Trusts, are one way to invest in a targeted sector of commercial real estate like the self-storage industry. Like any REIT, these niche funds are subject to market volatility and can increase or decrease in value, depending on the success of the underlying assets and the management strategy.


Is Direct Financing Feasible?
Like any commercial property, the financing vehicle can make a difference in the attractiveness of the asset being considered. One option for self-storage is a real estate syndication, in which a small group of investors can pool funds together and purchase a more valuable property than they could have individually. You may consider this to buy existing self-storage, improve substandard assets in the sector, or build new units.
Another option is an SBA 504 loan, allowing an investor to use a down payment as low as ten percent. This financing vehicle may ease entry into the market for newer participants. The 504 loans may have a set interest rate for as long as 25 years, compared to a traditional 5 to 7-year term on a commercial loan.


Don't Overlook the Potential of Upselling
Direct investors and owner/managers in self-storage facilities can look to enhance profits by offering ancillary products along with their storage offerings. In addition to the monthly rent, you may find a higher margin by selling locks, since, in many facilities, the customer provides them. You can also sell boxes and rent equipment to transport the items that your customers need to move to and from their unit.
Suppose your rental customer needs a trailer hitch, dolly, moving blankets, bubble wrap, and similar materials. In that case, they may find the convenience of purchasing it at the self-storage office hard to pass up. The margin on some of these items may be appealing, and if you offer more services, your storage facility might attract more customers.
This material is for general information and educational purposes only. Information is based on data gathered from what we believe are reliable sources. It is not guaranteed as to accuracy, does not purport to be complete and is not intended to be used as a primary basis for investment decisions. Forward-looking statements are subject to certain risks and uncertainties. Actual results, performance, or achievements may differ materially from those expressed or implied. All real estate investments have the potential to lose value during the life of the investment. All financed real estate investments have the potential for foreclosure. Programs that depend on tenants for their revenue may suffer adverse consequences as a result of any financial difficulties, bankruptcy or insolvency of their tenants. TIC properties may employ professional asset and property management, so while TIC co-owners vote on major issues, they do not have direct say over day-to-day property management situations. Because they are private placements, TICs are illiquid securities. There is no secondary market for TIC investments. Moreover, the form of ownership may require unanimous consent to sell a TIC interests. A REIT is a security that sells like a stock on the major exchanges and invests in real estate directly, either through properties or mortgages. REITs receive special tax considerations and typically offer investors high yields, as well as a highly liquid method of investing in real estate. There are risks associated with these types of investments and include but are not limited to the following: Typically no secondary market exists for the security listed above. Potential difficulty discerning between routine interest payments and principal repayment. Redemption price of a REIT may be worth more or less than the original price paid. Value of the shares in the trust will fluctuate with the portfolio of underlying real estate. Involves risks such as refinancing in the real estate industry, interest rates, availability of mortgage funds, operating expenses, cost of insurance, lease terminations, potential economic and regulatory changes. This is neither an offer to sell nor a solicitation or an offer to buy the securities described herein. The offering is made only by the Prospectus.