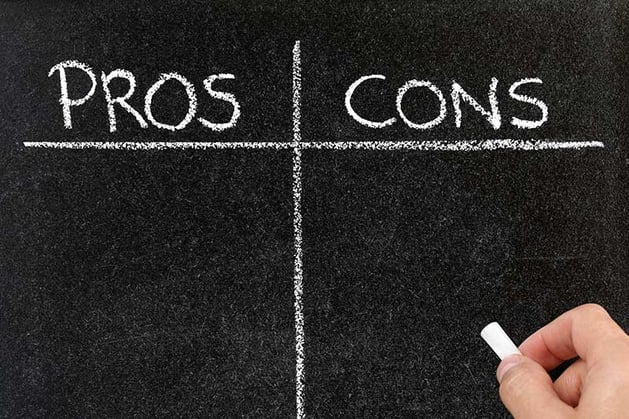 Although most commercial real estate properties have the ability to produce income, the strengths and risks in their potential cash flows differ by type of property. Traditional commercial property types are generally considered to consist of multifamily, retail, office and industrial, however, several other property types are becoming more accepted by investors. Let's take a quick look at different investment property types along with their relative pros and cons. It should be noted that this post is a generalization and that all properties are subject to asset-specific traits.
Multifamily
Multifamily generally refers to apartment buildings or other structures that house multiple individuals and/or families. Demand for multifamily real estate is driven by location, employment growth, demographic trends, and in some cases, property amenities. Because leases are typically short term, these properties keep pace with changing market conditions. Historically, multifamily has produced some of the most stable returns within real estate classes. Regardless of market conditions, people will always need a place to live, and the relatively high number of tenants greatly mitigates the risk of losing a tenant.
Pros:
Occupancy more resistant to economic downturns
Loss of a tenant has lower negative impact
Advantageous financing options available
Cons:
Limited ability to recover expenses from tenants
Management-intensive
Lower yields
Short-term leases


Retail
The retail class can include a variety of buildings including large shopping malls, neighborhood strip centers, power centers and stand-alone properties. Retail real estate is primarily driven by the current state of the economy, population and employment growth. Access, visibility and relative income levels are major contributors to asset performance. Leases are typically medium- to long-term, often include tenants reimbursing the landlord for their share of the property operating expenses, and sometimes, in addition to base rent, include a "percentage rent" payment based on the tenant's business performance. Retail centers often have an anchor tenant, which serves as the primary draw to the property.
Pros:
Longer-term leases
Net lease structure is common
Potential upside through percentage lease clauses
Necessity-based tenants not as impacted by economy
Cons:
Overall performance tied to general economy
Loss of anchor tenant could have severe impact on center
E-commerce and changing consumer trends can negatively impact demand


Office
Location, size and structure of office buildings can vary widely, ranging from a stand-alone, single-tenant building to a CBD skyscraper with hundreds of tenants or a sprawling suburban campus. Demand for office space is driven by white-collar employment growth and average space per office worker. Leases are often medium- to long-term, and generally, contain some degree of rental rate escalation during the term. Operating expense reimbursement structures vary by location and class of building. Financial performance of office assets can fluctuate due to ties to the general economy. However, office assets have high upside potential during periods of economic growth due to their relatively large size and long lead-time to deliver new supply.
Pros:
Longer term leases
High upside potential
The U.S. is a service-based economy
Barriers to new supply
Cons:
High capital and operating costs
Management-intensive
Highly variable returns
Decreasing space-per-worker requirements


Industrial
The industrial sector includes a variety of properties including manufacturing facilities, research and development space, warehouses and distribution centers. Interior build-out also varies by amount of office build-out and tenant-specific customizations such as freezer space or built-in equipment. Space demand is driven by inventory location requirements and supply chain movement. Proximity to transport routes and labor force, as well as building configuration and functionality, contribute to asset performance. Industrial properties are often occupied by a single tenant, which creates risk due to the binary nature of occupancy. Financial performance tends to be more stable than office or retail properties.
Pros:
Low operating and capital costs
Lower management responsibilities
High relative cash flow
Growth of e-commerce
Cons:
Often single tenant
Tenant-specific customizations can make building difficult to re-lease
Lower upside potential


Other Properties
There are a wide variety of other commercial real estate product types including quasi-operating businesses such as hotels and self-storage facilities and emerging asset classes such as parking garages and manufactured housing communities. There is also a catch-all term known as "special-purpose" properties, which refers to any property with a unique physical design, special construction materials, or a layout that restricts its usability. Examples of special-purpose property types include movie theaters, bowling alleys, casinos, churches and prisons. Additionally, the term "mixed use" refers to any property that mixes more than one product type such as an apartment building that incorporates ground-floor retail.
Pros:
High level of tenant commitment due to limited alternative options
Difficult to replace
Higher yields possible
Cons:
Lack of alternative use
Lower liquidity
Often have an operating business component to operations
More difficult to finance


All property types have their relative advantages and disadvantages. Investors should appreciate that not all real estate is the same and, in addition to financial and market analysis, consider the property-type specific nuances. But remember that just as every location has its specific attributes, so does every individual property. Visit our Marketplace to view a selection of investment opportunities across multiple property types.