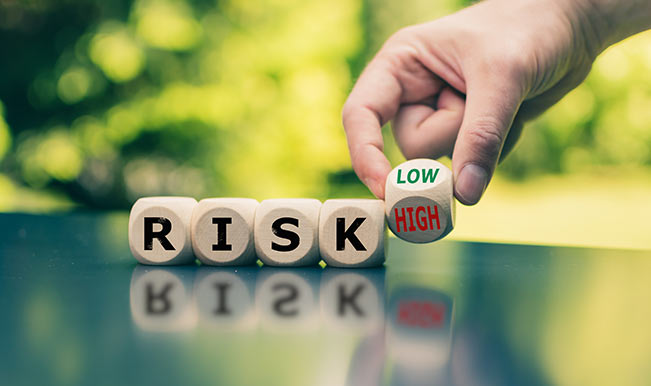 There is a degree of risk when it comes to life, in general. Those who drive risk getting into accidents. Those who step off front-porch stairs risk tripping and falling. The good news here is that people are generally prepared to reduce, or mitigate, such risks. For instance, most will drive defensively, stopping at stop signs, looking before proceeding, and yielding the right of way. A home owner or house visitor will scope out any impediments before descending those porch stairs.
Risk management is also important when it comes to investments, especially those involving real estate. Individuals investing in securities have benefitted from long-standing risk quantification techniques that haven't typically been applied to real estate ownership. The good news here is that Investment Property Wealth Management™ knows how to quantify real estate risk, and has developed tools and strategies to help manage it.


Defining Risk in Real Estate
Risk is defined as potential uncertainty and/or financial loss when it comes to an investment decision or activities. The higher the degree of risk, the higher the returns are likely to be, at least, when it comes to security investments.
Analyzing and quantifying real estate risk is more complex, as it must take into account many unknowns, which include unanticipated maintenance costs, market trends and tenant roll, all of which can lower returns and value. Common real estate ownership risks can include the following.
Tenant risk. Lease termination and broken agreements can leave behind empty spaces and an abrupt drop in cash flow.
Geographic risk. Areas in which office buildings, apartment complexes, retail centers and warehouses are located can be impacted by local economies, market demand and competition.
Asset risk. Sometimes known as investment risk, asset risk is focused on the influence of market changes on a particular real estate type, impacting its financial performance.
Liquidity risk. Real estate is an illiquid investment in that cashing out can require a great deal of time and expense.
Programs such as those offered through IPWM™ focus on real estate and wealth management risk reduction. This is done by quantifying investor and investment risk.
On the investor side, IPWM™ measures variables such as retirement goals, age and lifestyle. Then, with this information in hand, IPWM™ then performs due diligence, a process that includes collection of third-party data, as well as asset-specific historical and financial information. The end result is information that helps tailor investments and portfolios to meet each investor's goals, taking into account risk appetite.


Risk Management and Reduction Methods
Armed with plenty of information, backed by decades of experience, the IPWM™ property managers and sponsors can manage real estate risks through methods indicated below.
Tapping tenants and occupiers operating in different industries to fill net-lease, retail and office properties.
Staggering leases and offering longer-term agreements to improve multifamily occupancy.
Selecting properties in different geographic regions to help eliminate location concentration issues.
Investing in different real estate property classes to help increase diversification.
Aiding in liquidity through creation of secondary markets in which to buy and sell tenant-in-common and Delaware Statutory Trust-owned real estate.
To conclude, real estate investments tend to be risky, due to unforeseen and unknown issues that can impact property performance. However, quantifying both investor's risk tolerance and real estate risk aids in successful decision-making. This, in turn, enables steady cash flow, improved rates of return and wealth preservation.