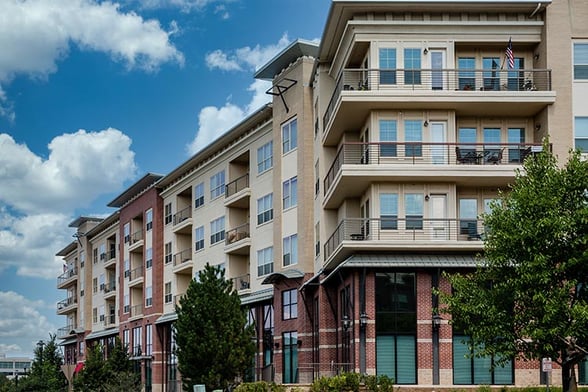 Buying apartment complexes offers investors the potential to build wealth through real estate assets that are in high demand in many parts of the country.
Despite a rocky year in 2020 due to Covid-19 related rent deferrals and delinquencies, the multifamily housing sector still held up well, commercial real estate firm CBRE reports in its 2021 multifamily outlook. As vaccine shots continue to make their way into millions of American arms, and everyday life takes on a return to normalcy, the multifamily sector is predicted to rebound in 2021 and fully recover from the economic drag of the pandemic by 2022, CBRE says.
Investor demand for multifamily properties is expected to spike in 2021 as well after suffering a 41-percent decline in 2020 from year-earlier investment totals of $191 billion. Low interest rates, combined with ready capital availability from multifamily lenders Freddie Mac and Fannie May, point to a favorable apartment complex investment landscape, CBRE reports.


Is Investing in Apartment Complexes a Good Idea?
In our experience, investors are often drawn to multifamily over other types of commercial real estate assets due to the simple fact that people always need roofs over their heads. Demand aside, there are other fundamentals in the multifamily space that have the potential to make it an attractive asset.
Multifamily housing offers investors the potential to generate tax-advantaged recurring monthly income, asset appreciation, portfolio diversification, and yield derived from assets that can be uncorrelated to stock market performance or the state of the national economy.
Like nearly all other real property assets, location is crucial to apartment complex investing. Location includes regional factors such as easy access to public transportation and employment centers, as well as an asset's geographical location in a growing market. According to CBRE, larger and tertiary cities, including Memphis, Cleveland, Kansas City, Jacksonville, Boise, Reno, and Indianapolis experienced solid market growth in 2020 despite the Covid-19 economic slowdown. Major metro areas such as Los Angeles, Austin, Miami, Seattle, San Francisco, and San Jose, meanwhile, underperformed.
In Silicon Valley, rents soared to eye-popping prices but have seen steep declines since January of 2020, the San Jose Mercury News reports. Rents for two-bedroom units in Peninsula cities dipped 12 percent, while Mountain View tumbled 28 percent and Menlo Park fell 26 percent. A bit further north in San Francisco, rents fell 23 percent.
These significant declines in property income in some metro areas, countered by growth in others, represent a snapshot of some of the risks inherent in investing in multifamily properties. Additional investment risk factors outside of investor control include major economic corrections, inflation, population shifts -- the steady migration out of California, for example -- job growth in growing metro areas, and rising interest rates. Additional property factors that could impact a multifamily asset's performance include asset location, age, and tenant demographic, and management risk for third-party managed properties.


The Bottom Line
There are many ways to invest in multifamily properties. A good first step for investors who want to be property owners is to determine if you qualify for a multifamily loan, since most lenders require you to come up with between 20 and 40 percent of the down payment for properties requiring a jumbo loan. Investors who favor passive ownership, meanwhile, can purchase fractional shares of a Delaware Statutory Trust to complete 1031 exchanges and retain the tax advantages of direct property ownership.
Investing in apartment complexes requires careful consideration of many different factors, such as asset type, location, and regional market trends, to determine if a property ultimately meets your personal investment strategy.
Sources:
Multifamily, CBRE, https://www.cbre.us/research-and-reports/2021-US-Real-Estate-Market-Outlook-Multifamily
Pandemic: Bay Area Apartment Deals May Last For Year, San Jose Mercury News, https://www.mercurynews.com/2021/02/05/coronavirus-bay-area-apartments-may-have-rent-deals-for-years/
California Exodus, Why Are So Many People Leaving the Golden State? WBUR, Feb. 2021, https://www.wbur.org/onpoint/2021/02/11/whats-driving-californias-exodus
This material is for general information and educational purposes only. Information is based on data gathered from what we believe are reliable sources. It is not guaranteed as to accuracy, does not purport to be complete and is not intended to be used as a primary basis for investment decisions. It should also not be construed as advice meeting the particular investment needs of any investor. Consult with your tax advisor regarding your individual Circumstances. This material represents an assessment of the market and economic environment at a specific point in time and is not intended to be a forecast of future events, or a guarantee of future results. Forward-looking statements are subject to certain risks and uncertainties. Actual results, performance, or achievements may differ materially from those expressed or implied. Past performance is no guarantee of future results. All real estate investments have the potential to lose value during the life of the investment. Costs associated with a 1031 transaction may impact investor's returns and may outweigh the tax benefits Programs that depend on tenants for their revenue may suffer adverse consequences as a result of any financial difficulties, bankruptcy or insolvency of their tenants. The income stream and depreciation schedule for any investment property may affect the property owner's income bracket and/or tax status. An unfavorable tax ruling may cancel deferral of capital gains and result in immediate tax liabilities. Income and asset appreciation are not guaranteed. Diversification does not guarantee a profit or protect against a loss in a declining market. It is a method used to help manage investment risk.