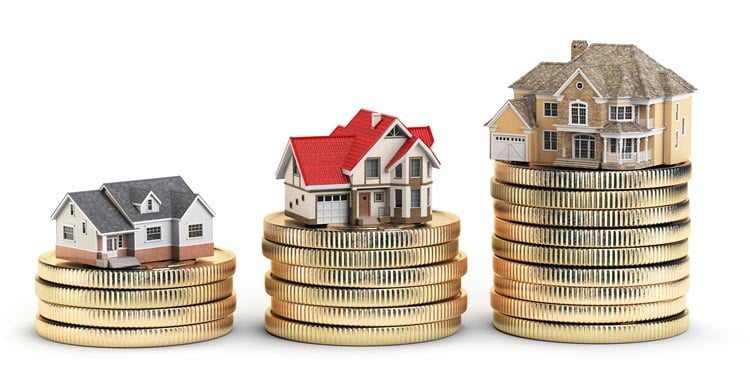 Your mortgage interest rate can substantially impact your monthly payment and even your ability to qualify for a home or investment loan. You have probably noticed that rates are volatile, increasing from below three percent last year to recent rates of over seven percent for a 30-year fixed loan before settling into the 6.5 percent range. By comparison, back in the early 1980s, mortgage rates hit 18 percent.
The rate makes a big difference in your payment.
A slight difference in the interest rate can substantially affect the monthly payment for your loan. Let's look at an example of a $400,000 home. Suppose you plan to make a 20 percent down payment, which means you need a loan of $320,000. If you choose a 30-year fixed-rate loan, this is what the amount would be using different interest rates:
3.5 % interest requires a monthly payment of $1,436.
5.5 % interest requires a monthly payment of $1,816.
7.0% interest requires a monthly payment of $2,128.
Those payments don't include homeowners' insurance, property taxes, or HOA fees. Those items can add hundreds of dollars to the monthly expense but do not vary according to the interest rate. Many borrowers have these costs collected by the lender with the mortgage payment and then disbursed as appropriate.
What makes rates go up and down?
Although some people think the Federal Reserve sets mortgage interest rates, it does not. However, the Fed's actions have a powerful influence on mortgage loan rates. The Federal Reserve sets the federal funds rate, the rate banks and other financial institutions charge each other for overnight reserves. The Federal Reserve changes this rate—and takes other actions as needed—to promote the effective function of the U.S. economy, including maintaining inflation and unemployment at the designated target rates. For example, after years of extremely low federal funds rates, the Fed has bumped rates up sequentially since early 2022.
The depository institutions then alter their business and consumer lending rates to reflect the increased or decreased cost of obtaining the funds. Interest rates are often the lowest for mortgages because what a bank charges is typically correlated to the perceived risk. For example, a loan for a primary residence is considered a lower risk than a loan for an investment property. Therefore, the mortgage rate for rental property will typically be higher than the one you can get for your residence. Similarly, unsecured loans will often carry higher rates than a secured loan (like property or vehicles).
What about adjustable-rate mortgages?
Adjustable rate mortgages (ARMs) are loans that can increase or decrease according to the prime rate. The prime rate is the best commercial rate available, which banks charge their best customers. Many adjustable-rate loans are set at some number of points above the prime rate. These loans offer an advantage to the lender because if rates rise, the bank is not stuck with a long-term loan that is bringing in less than market rates. Also, an adjustable rate may benefit the borrower because they may begin with a lower rate, which means they will have a lower payment. Borrowers who accept adjustable loans should carefully review the terms to ensure they understand the potential increases in rate and payment.
Are there other factors that affect interest rates?
In addition to current economic conditions that influence mortgage rates, one significant element of the rate a consumer will pay is their credit quality. If a consumer has a high credit score (reflecting responsible use of credit), they will almost always have access to a lower interest rate than a borrower with a low score. Banks reserve their best rates for the best risks, and one way they evaluate a risk level is by considering how the borrower has managed their financial obligations in the past.
This material is for general information and educational purposes only. Information is based on data gathered from what we believe are reliable sources. It is not guaranteed as to accuracy, does not purport to be complete and is not intended to be used as a primary basis for investment decisions. It should also not be construed as advice meeting the particular investment needs of any investor.
Realized does not provide tax or legal advice. This material is not a substitute for seeking the advice of a qualified professional for your individual situation.
Hypothetical examples shown are for illustrative purposes only.