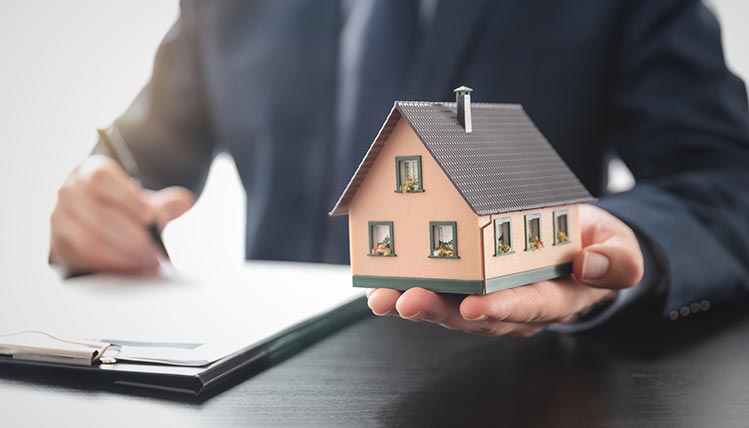 Homeowners insurance is typically required for owners of property that the person is living in. The coverage will protect the resident against losses and damage, and most lenders require a mortgage holder to maintain such coverage as a condition of financing the loan. If the loan has an escrow account, the homeowner's insurance premiums may be paid from that account, along with the property taxes (and mortgage insurance, if applicable).
In a case where the homeowner is renting out a portion of a home that they also live in, homeowner's insurance is required and probably sufficient. However, you may want to talk to your agent about whether additional liability coverage is wise. But if you are not living in the property and are renting it out as an investment for others to live in, you need landlord insurance, not homeowner's coverage.


What is Landlord Insurance?
Landlord insurance is primarily liability protection for the owner and coverage for the actual structures. The insurance would cover some of the same things that a typical homeowner's policy would include: damage from a fire, lightning, hail, or similar events. The coverage typically includes the dwelling and ancillary structures such as a garage, shed, fence, and swimming pool.
Unlike homeowner's insurance, most personal property is not protected by a landlord policy. If you have personal items on the property, they will likely not be covered unless they have a purpose in the rental, such as a lawnmower used for gardening and stored onsite.
However, the landlord policy should provide liability coverage if a tenant is injured on the rental property and you are held responsible.


What if the Tenant Causes Damage?
Your ability to recover from damages caused by a tenant in your rental property probably depends on your landlord policy coverage and limits. For example, if the tenant causes a fire in the kitchen, your landlord policy may help with the cost of repairing the walls and cabinets. Most likely, you will pay a deductible, and you will probably have a benefit limit, so ask your agent.


Will landlord insurance help my renter recover from a loss?
Suppose your tenant suffers a loss of personal property while living in your rental unit. In that case, your landlord insurance coverage will not provide any reimbursement to them if they lose personal possessions for any reason (loss or damage). Many investors will require tenants to obtain renter's insurance to protect themselves and their property.


Am I responsible for the tenant's dog?
One question that comes up from time to time is whether a property owner can be held responsible if a tenant's dog bites someone. In most cases, the answer is no, but some circumstances leave the possibility open. If the property owner is aware of a dangerous animal and has not taken any steps to remove it, or can be said to have harbored such a situation or even contributed to it (perhaps by allowing gaps in a fence, for example), a case could be made for pursuing the landlord's liability coverage if the tenant's policy is inadequate.


This material is for general information and educational purposes only. Information is based on data gathered from what we believe are reliable sources. It is not guaranteed as to accuracy, does not purport to be complete and is not intended to be used as a primary basis for investment decisions.
Realized does not provide tax or legal advice. This material is not a substitute for seeking the advice of a qualified professional for your individual situation.