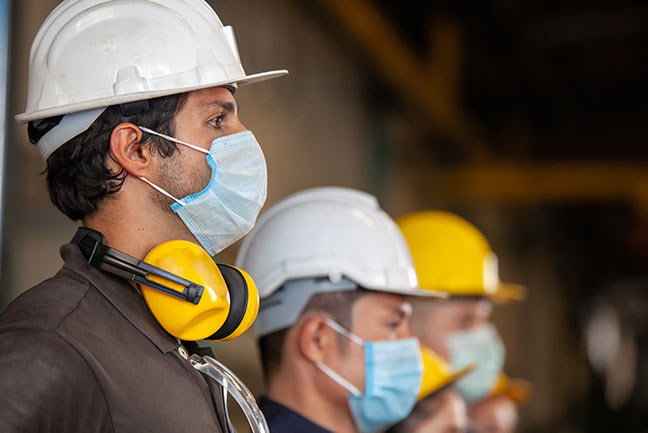 In the U.S., 2020 has brought a broad-based decline in commercial real estate due to COVID-19. Any business deemed non-essential has taken the brunt of the slide. Office leasing, retail, and other non-essential companies have seen their revenues dry up — and the astronomical drop in travel has led to the decline in hotels and other hospitality properties. But one area that hasn't completely stopped all activity is construction starts.
While commercial construction started the year off with growth, it has reversed course due to regional shutdowns hampering business operations. The Commercial Construction Index (as reported by USG and the U.S. Chamber of Commerce) suffered a significant quarterly drop from Q1 to Q2, losing 18 points to 56. The COVID-19 related decline is the largest the index has experienced since being established in 2017. But while commercial real estate investing has fallen on the global scale, many countries with access to deep capital reserves domestically have remained fairly unscathed. As JLL reported, Japan, Germany, and South Korea have each outperformed the broader market through the first six months of 2020 in terms of real estate investing. JLL's Head of Global Capital Markets Research Sean Coghlan contributes this in part to "...relatively high levels of market transparency, deep pools of domestic capital and strong government stimulus."
Contractor confidence has dropped from the first to the second quarter of 2020, as contractors express concerns over the pipeline of new business, project cancellations and postponements, and backlogs. While the Chamber report indicates that product supply disruptions have impacted over half of the contractors, this is not a significant increase over typical reports. Hiring forecasts show nearly a third of those surveyed anticipate an increase in hiring over the next six months, while only 15% expect to employ fewer workers.


2020 and Beyond
The AIA Consensus Construction Forecast from July 2020 anticipates a construction decrease for 2020 of 8.3 percent. The hotel sector is predicted to have the worst performance, with a reduction of over 20% and the best by retail with a 7.7% loss. The report forecasts the losses continuing into 2021, but with an overall drop of 3.3% for industrial projects. A highlight of the consensus report is a 15.6% increase in the Public Safety sector in 2020, along with 2.4% growth in Health projects. While the CARES Act benefits that received the most attention were those sending aid to companies and consumers, some provisions also helped the construction industry by funding specific projects relevant to the pandemic. These projects include $100 billion for hospitals to pay for new construction to increase patient capacity. There were other, smaller grants for nursing home projects and construction of vaccine and infectious disease facilities.
The companies that survive and thrive in the new environment forged from the pandemic's crucible are those that can prepare for the necessary changes in the industry. A May 2020 report from McKinsey & Company pointed out that the organizations that withstood the 2008 financial crisis "... typically moved fast and hard on productivity (including cost reduction), rapidly reallocated resources, and made bold moves (including early divestitures and acquisitions in recovery) to prepare for the future." How individual companies respond to this challenge will also define their futures.
The McKinsey report also highlighted the volatility of the construction industry — a function of decreased demand for new commercial and industrial facilities, and stilted demand for housing construction (a result, McKinsey presupposes, of decreased consumer confidence and all-around lower income levels). These factors can extend the recovery of commercial building beyond the overall GDP model. Companies need to meet the challenges presented in order to maintain and improve their position.


This material is for general information and educational purposes only. Information is based on data gathered from what we believe are reliable sources. It is not guaranteed as to accuracy, does not purport to be complete and is not intended to be used as a primary basis for investment decisions.