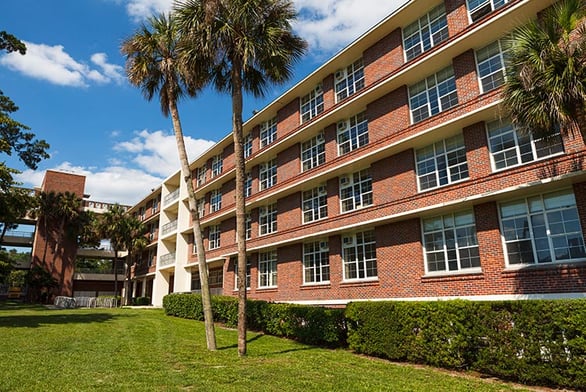 McKenna Jacona, a sophomore at the University of Nevada, Reno, was excited to move back to Reno this fall and start classes at UNR. Last year, the 19-year-old, along with a few thousand other UNR students, were forced to move out of the college's dorms on short notice after the university closed its student housing and campus in late March during the initial COVID-19 shutdown.
While Jacona now shares an apartment with three other students, she's not alone in her desire to resume in-class instruction. According to a recent College Reaction/Axios poll, three-quarters of the 800 college students polled plan to return to campus if allowed, and two-thirds prefer face-to-face instruction this fall versus continuing with distance learning.
The student housing market has long represented strong investment opportunities for 1031 exchange investors -- total investment capital topped $11 billion in 2018, CBRE reports. High college enrollment, coupled with limited supply, form the pillars of healthy market conditions for student housing investment opportunities.
But then COVID-19 hit. Below we'll take a closer look at the factors driving the student housing market through the 2020-2021 academic year.


Student Housing: Struggles, Highlights, and Investment Opportunities
Despite the wide-ranging impacts of COVID-19 on many sectors of commercial real estate -- including privately-owned student housing facilities -- demand for off-campus student housing remains strong, a panel of CBRE multifamily experts reports.
Here's a deeper dive into key areas currently affecting the student housing market:


De-densification
U.S. colleges and universities transitioned en masse to a 100-percent distance learning model last spring, but the overwhelming majority (80 percent) reopened this fall under social distancing guidelines. Of the many universities continuing remote-only instruction, the majority are concentrated in California, which was still operating under strict social limiting restrictions when the fall semester commenced.
In order to open their campuses, colleges reduced density at campus housing facilities, which sparked increased demand for off-campus housing solutions. Additionally, some colleges reserved on-campus housing facilities as quarantine space, if necessary. This de-densification, coupled with added pressure on off-campus student housing facilities from displaced students, should offset any potential enrollment declines and keep occupancy high across the student housing sector.


Rent Collections and Fall Semester Leasing
During the initial phase of the COVID-19 shutdown, colleges and universities across the U.S. predicted sharp declines in fall enrollment. As the semester neared, however, many institutions went on the offensive and proactively recruited students via increased communications, swag-bag giveaways, relaxed admissions standards, and a blitz of strategic social media campaigns. As a result, many postsecondary institutions reported only modest declines in enrollment. That's not to say all colleges are seeing strong enrollment numbers, though -- enrollment at colleges that primarily serve minority and low-income students has suffered. In Alabama, for instance, enrollment across the state's community college system was down almost 30 percent for the fall 2020 semester.
Regardless, rent collections across 460,000 tracked student housing beds remained at 93 percent in June, CBRE reports. And based on more than 600,000 beds surveyed that same month, leasing activity was off just 2.3 percent year-over-year.


Is Student Housing Truly Recession-Proof?
Younger adults historically pursue a college education in difficult economic times to buoy their prospects for future earnings and better job opportunities. And countless students, including the UNR sophomore mentioned above, are eager to return to off-campus housing facilities and reunite with friends and peers as they resume their education.
While some notable universities opened to online-only classes this fall -- Tulane, Howard, Princeton, Georgetown, Pepperdine -- far more reopened for in-person instruction. Regardless of the educational model, though, 1031 exchange investors need to look no further than the continued strength of leasing and occupancy -- verified "heads-on-beds" -- to demonstrate student housing's resilience to short-term economic volatility. The durability of student housing in the face of COVID-19 underpins the viability of this niche asset class for 1031 exchange investors.


This material is for general information and educational purposes only. Information is based on data gathered from what we believe are reliable sources. It is not guaranteed as to accuracy, does not purport to be complete and is not intended to be used as a primary basis for investment decisions.