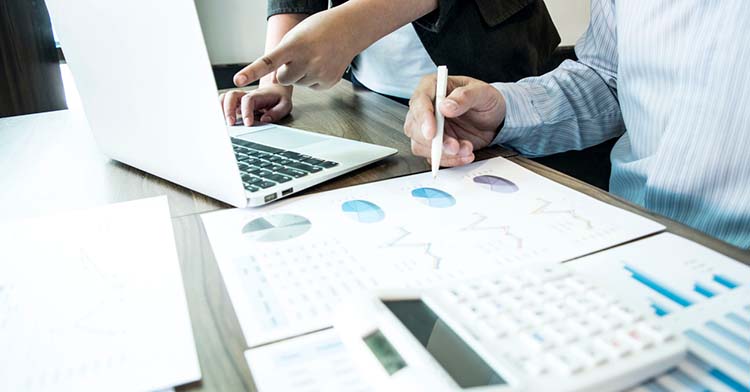 When crafting and managing your investment portfolio, one of the fundamental goals is to maintain a diverse array of components. A varied selection of holdings is typically designed to seek growth and manage volatility. Most likely, you have some professional help to guide you in this journey, but you also probably influence the process in large and small ways and educate yourself on current thinking about investing.
Of course, there are many approaches to investing, and experts don't necessarily agree on the optimal method of enhancing returns and managing risk. For example, some emphasize the importance of spreading your investments across industries and sectors, while others may prefer a certain number of different selections. The so-called Rule of 42 is one example of a philosophy that focuses on a large distribution of holdings, calling for a portfolio to include at least 42 choices while owning only a small amount of most of those choices.


How the Rule of 42 Works
Proponents of this approach posit that the old adage about not putting all your eggs in one basket is wise advice, which is why they suggest that an investor should have a wide array of investments, with most making up between two and three percent of their investment portfolio. By that formula, with at least 42 stocks at two percent of the holdings, that is 84 percent, leaving sixteen percent for weighting with some preferred investment options. The theory is that with that much variety, volatility with any small number of stocks won't have a significant adverse effect on the portfolio's overall performance. Further, this approach recommends careful distribution through different sectors and equity types to pursue even performance under changing market conditions.


Does the Specific Number Matter?
The answer to whether any specific number of securities is the best depends on whom you ask. Some say that 30 is enough, including Liz Young, head of investment strategy at SoFi, who draws the line at a minimum of 20. But others look for much higher numbers, including one study by Roxbury Capital that concluded that anything less than 60 stocks was risky. The goal is to have enough distribution between market sectors that your components aren't all subject to the same market forces.


Managing Downside and Fostering Upside
Investment advisers typically suggest that a good approach, regardless of a specific number of elements, is creating a portfolio that contains uncorrelated assets. When the same external factors don't influence the price of two assets, they are uncorrelated. That way, the average volatility of each asset is lower than the volatility of the individual holding. Suppose each piece has minimal ability to affect the overall portfolio's value. In that case, the potential downside can be managed while the individual elements can enjoy their particular growth potential opportunity. A portfolio that includes a balance of stocks in various industries and across growth and size categories, supplemented by bonds, real estate, and other investment instruments, may be balanced without reaching a specific numeric count.


This material is for general information and educational purposes only. Information is based on data gathered from what we believe are reliable sources. It is not guaranteed as to accuracy, does not purport to be complete and is not intended to be used as a primary basis for investment decisions. Realized does not provide tax or legal advice. This material is not a substitute for seeking the advice of a qualified professional for your individual situation. Diversification does not guarantee a profit or protect against a loss in a declining market. It is a method used to help manage investment risk. All investments have an inherent level of risk. The value of your investment will fluctuate with the value of the underlying investments. You could receive back less than you initially invested and there is no guarantee that you will receive any income.