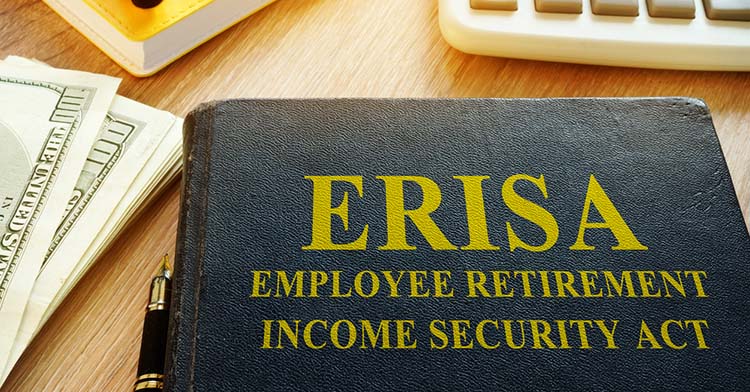 On Sept. 2, 1974 (Labor Day), President Gerald Ford signed the Employee Retirement Income Security Act of 1974 into law. Close to 50 years later, this federal legislation ensures that your voluntarily established defined benefits plan (pension) or defined contribution plan (IRA or 401(k)) is protected from abuses and lack of transparency.


ERISA Protections
Under ERISA requirements, your plans' sponsors must provide you with essential information, such as:
Plan features and funding
Minimum participation standards
Vesting, benefit, accrual and funding
A grievance and appeals process
The right to sue for benefits and breaches of fiduciary duty
ERISA also focuses on the following:
Reporting. Plan administrators must submit detailed reports each year to the federal government.
Protection. The law requires clarity pertaining to the protection of assets in retirement plans.
Plan participation. ERISA emphatically indicates anti-discrimination regulations on plan participation. For example, high earners often cannot contribute a significantly higher proportion of their salaries than low earners.
Fiduciary standards. Administrators are required to act in employees' best interests, not their own.
Information disclosures. As mentioned above, plan sponsors are required to provide specific information about their plans.
ERISA also guarantees payment of certain benefits through the Pension Benefit Guaranty Corporation (PBGC) if your plan is terminated. Speaking of which, the PBGC is one of three agencies involved with ERISA oversight; the other two are the Department of Labor (through the Employee Benefits Security Administration) and the IRS.


Background and History
It's taken for granted that pensions and contribution plans are protected, but this wasn't always the case. Before ERISA was made into law, pension plan issues such as insufficient funding, lost benefits, and long vesting schedules were common. In some cases, companies fired employees a few months before they were fully vested to avoid paying pension benefits.
Then in 1963, Studebaker declared bankruptcy, officially closing its automobile plant in South Bend, IN. Much to many of the workers' surprise and dismay, the result was severely reduced pension benefits; many employees didn't receive anything. This brought attention to the pension problem.
What solidified the issue in the public's mind was "Pensions—The Broken Promise," a television special that aired less than 10 years later on NBC. Narrated by veteran journalist Edwin Newman, the special provoked a national outcry, eventually leading to the introduction and passage of the ERISA.


What ERISA Is Not
While ERISA provides many protections for retirement and health plans, it isn't all-encompassing legislation. The law doesn't oversee plans created and maintained by government entities or religious institutions. Nor does ERISA mandate employers offer defined benefits or defined contribution plans; it has requirements for those who offer these perks.
The legislation also doesn't cover plans created in compliance with applicable worker's compensation, unemployment, or disability. Finally, ERISA doesn't cover plans developed and maintained outside of the United States, which might benefit foreign nonresidents.
Overall, ERISA has helped protect the assets of billions of employees over the years, helping ensure their financial safety and well-being.


This material is for general information and educational purposes only. Information is based on data gathered from what we believe are reliable sources. It is not guaranteed as to accuracy, does not purport to be complete and is not intended to be used as a primary basis for investment decisions. It should also not be construed as advice, meeting the particular investment needs of any investor. Realized does not provide tax or legal advice. This material is not a substitute for seeking the advice of a qualified professional for your individual situation.