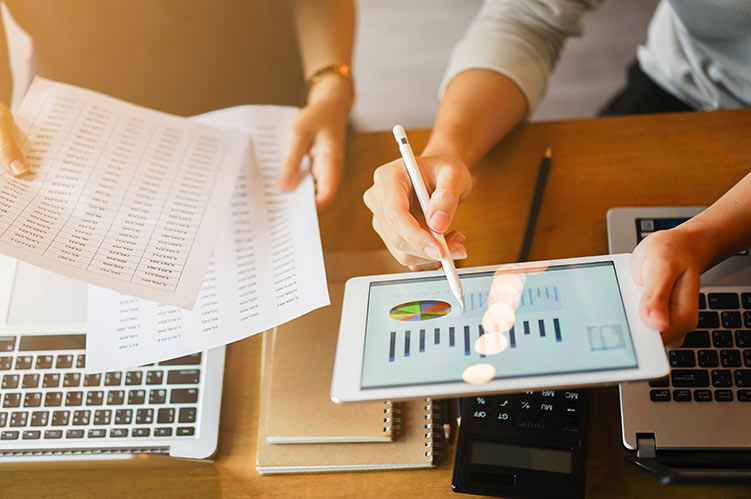 For investors, crafting a portfolio involves several steps, typically repeated periodically. After all, an investor's needs and circumstances change, which likely means their approach to investing should also. One of the essential steps is deciding on your asset allocation, which is one of the key determinants of your portfolio composition. It's up to you to determine the appropriate distribution of your available assets based on your investment goals and risk appetite.
Does the allocation in my portfolio impact my results?
Asset allocation is a strategy intended to help achieve the investor's goals. For example, if you are looking for income growth, you will likely weigh your portfolio toward stocks, which may have higher return potential than fixed income options like bonds. However, it's vital to remember that those reward opportunities come with the potential for loss. Thus, the investor seeking greater returns must also be willing to accept more significant risks.
It's an investing axiom that the stock market is the best bet over time—long term, investing in stocks is likely to have a positive outcome. The trick is often timing. For example, you may sell at a loss if you need access to your assets when the market is low. That's one reason investors use an allocation that distributes their investments between risk classes.
How much do the long-term returns vary according to the allocation?
Historically, there is a significant difference in return between income-oriented and growth-driven portfolios. For example, Vanguard Advisors reported data covering 1926 to 2019, which shows that a 100 percent fixed income portfolio has an average annual return over those 94 years of 5.33 percent. Over the same time, a portfolio invested 100 percent in equities had a return averaging 10.29 percent—nearly double. 1
Yet, the 100 percent fixed income fund grew by 32.62 percent in its best year and lost 8.13 percent in its worst. In contrast, the 100 percent equities fund earned 54.2 percent in its best year but shrunk by 43.13 percent in its worst. 2
Is an aggressive allocation smart?
A portfolio at least 70 percent invested in equities is considered aggressive. That means the account is focused on pursuing growth and is likely to be more volatile. Over the long term, a portfolio invested 70 percent in equities has earned an average annual return of 9.21 percent. Similarly, a portfolio allocated 80 percent to stocks has an average yearly return of 9.61 percent. This allocation may be appropriate if an investor has a substantial time horizon and compatible risk appetite and tolerance.
On the other hand, if the investor is concerned about the potential loss of capital or foresees needing access to part of their invested assets in the near to mid-term future, many advisors would likely recommend a more conservative allocation. The decision depends on the individual's needs and preferences.
1 advisors.vanguard.com. "Portfolio allocations: Historical index risk/return (1926-2019)"
2 Vanguard used various representative index funds for comparison, depending on the time period.
This material is for general information and educational purposes only. Information is based on data gathered from what we believe are reliable sources. It is not guaranteed as to accuracy, does not purport to be complete and is not intended to be used as a primary basis for investment decisions.
Realized does not provide tax or legal advice. This material is not a substitute for seeking the advice of a qualified professional for your individual situation.
Examples are hypothetical and for illustrative purposes only. Withdrawal strategies should take into account the investment objectives, financial situation and particular needs of the individual.
Neither Asset Allocation nor diversification guarantee a profit or protect against a loss in a declining market. They are methods used to help manage investment risk.
Past performance is not a guarantee or indication of future results. All investments have an inherent level of risk. The value of your investment will fluctuate with the value of the underlying investments. You could receive back less than you initially invested and there is no guarantee that you will receive any income.