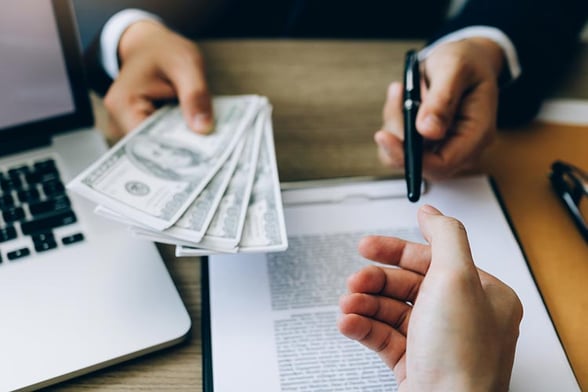 As a subset of alternative credit, private credit can also be referred to as private lending, direct lending, or non-bank lending. It can be described as an asset class where the debt is not issued or traded on the public markets. They can be comprised of potentially higher-yielding, illiquid investment opportunities ranging from senior secured debt with income-like characteristics to distressed debt with equity-like risk and returns.

Understanding Private Credit
When private companies need to raise funds to support their businesses' daily operations, they may not have access to the same financing options as public companies which can issue stocks or bonds to the public market. Private companies typically borrow the funds they need from private lenders. Over the past couple of years, institutional investors have moved towards private credit due to possible benefits in exchange for taking on additional risk.
Benefits of private credit include:
Potential diversification
Possible yield enhancement
Capital deployment opportunities
Private credit is comprised of a large variety of debt instruments and each has its own risk/return profile. These asset classes generally have an increased risk of default due to their focus on companies with limited financing options.


The Growth of Private Credit
According to a global survey conducted several years ago, 91% of institutional private credit investors said that they planned to maintain or increase their private debt allocations over the longer term. Several factors have contributed to the growth of private credit:
Moving away from traditional bank lending: Since the 2008 financial crisis, private credit has exploded due to the reluctance of banks to lend to smaller or riskier borrowers.
The potential for greater returns for lenders: Loans in the private credit market can be potentially higher yielding compared to bigger companies.
Borrower appeal: Private credit can come with greater structure customization and longer maturity profiles.


The Future of Private Credit
Although the pandemic caused global disruptions in nearly every sector, private credit portfolios appear to have been less impacted by volatility. Since they are not traded publicly, they are less exposed to market volatility. Almost $1 trillion of capital is in private credit — and it's growing. It's forecasted to grow 11.4% annually to $1.46 trillion at the end of 2025.
However, despite the benefits, there's potential for risk, such as:
Credit risk: Risk of nonpayment of scheduled principal and interest payments on a debt investment as well as the risk of default.
Interest rate risk: Interest rate fluctuations can affect the amount of interest paid by the borrower with a floating rate term.
Longer investment time horizons: Because private credit is generally illiquid, it may require longer investment time horizons.
When considering private credit, many institutional investors agree that one of the most important factors in the decision making process is the track record of the manager. A growing number of those in credit management are also beginning to see the demand for private credit and are bringing their services to retail investors in the form of non-traded closed-end funds.
This material is for general information and educational purposes only. Information is based on data gathered from what we believe are reliable sources. It is not guaranteed as to accuracy, does not purport to be complete and is not intended to be used as a primary basis for investment decisions. Realized does not provide tax or legal advice. This material is not a substitute for seeking the advice of a qualified professional for your individual situation. All real estate investments have the potential to lose value during the life of the investment. All financed real estate investments have the potential for foreclosure. Diversification does not guarantee a profit or protect against a loss in a declining market. It is a method used to help manage investment risk.