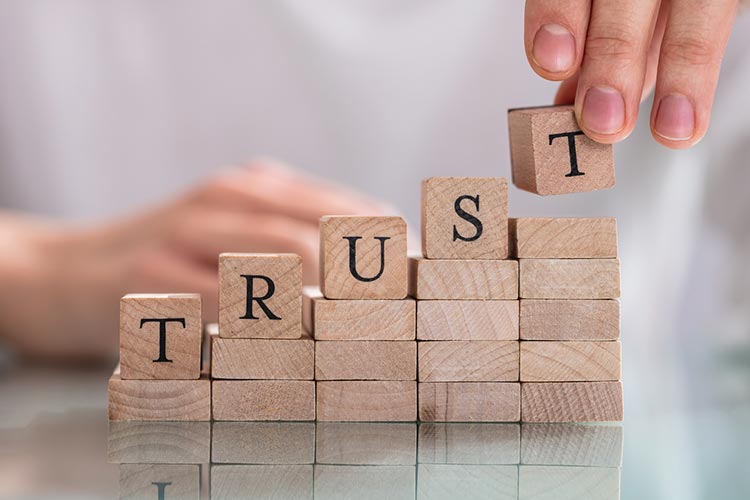 Individuals sometimes use an A-B trust, or bypass trust, in their last will and testament or living trust for potential estate tax benefits. It is generally only used by couples whose estate is over the estate tax filing threshold, which in 2022 was $12.06 million.
In an A-B trust, the couple places their assets into a trust. The trust will have a named beneficiary or beneficiaries. The beneficiary can't be a spouse.
It is called an A-B trust because it splits the estate into two trusts when one spouse dies. Trust A is for the surviving spouse, and trust B becomes the estate of the deceased spouse. Trust B becomes an irrevocable trust, which the surviving spouse only has access to if specified in the original trust. The surviving spouse has complete control of trust A.
It is sometimes called a bypass trust because by splitting the estate into two separate trusts when one spouse dies only the decedents trust, or trust B, is subject to estate taxes at that time. The estate taxes are deducted from the assets in trust B. The assets in trust A bypass the estate taxes, which are deferred until after their death. Without the A-B trust, there is potential for double taxation after the surviving spouse dies.
Using A-B Trusts in Estate Planning
A-B trusts have become much less common because of changes in estate tax laws. The thresholds for filing an estate tax return have climbed so that usually only wealthy individuals have a need for a bypass trust. In 2022, the estate tax threshold for filing is just over $12 million. Any amount over this is subject to taxes as high as 40%.
For instance, if the couple's estate is worth $18 million when both are alive, it will split into two trusts of $9 million. This falls below the threshold for filing an estate tax return. Because of this, a bypass trust is usually only beneficial to couples with estates higher than the exemption threshold.
Estate planning is complex, and to decide if an A-B trust is appropriate, it is best to consult a qualified estate planner or attorney.
This material is for general information and educational purposes only. Information is based on data gathered from what we believe are reliable sources. It is not guaranteed as to accuracy, does not purport to be complete and is not intended to be used as a primary basis for investment decisions. It should also not be construed as advice meeting the particular investment needs of any investor.
Realized does not provide tax or legal advice. This material is not a substitute for seeking the advice of a qualified professional for your individual situation.