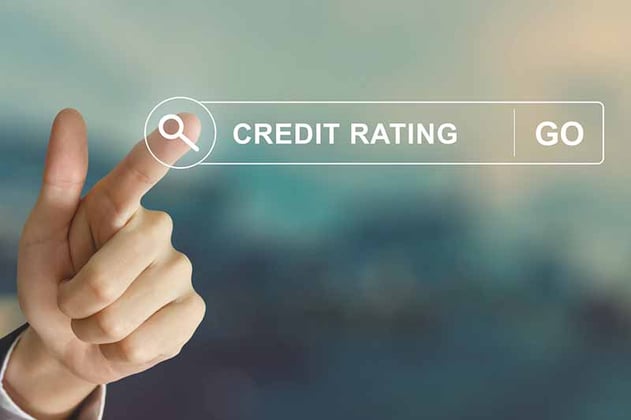 A key concept in real estate investing, particularly with single-tenant, net-leased properties, is the credit quality of the underlying tenant. A credit rating is an estimate of an entity's ability to honor its financial commitments. Credit ratings apply to debt securities such as bonds and loans, but do not apply to equity securities like common stock. Analysis of an entity's credit rating is based on likelihood of payment, nature of the obligation and protection from bankruptcy. When considering a single-tenant net lease, it is important to consider the tenant's credit rating and thus the likelihood that the tenant can honor its contractual lease obligations. Holding all else constant, the riskier a tenant's credit rating, generally, the higher the required investor yields for the underlying property.
Ratings agencies
Credit ratings are typically provided by one or more of the "big three" credit ratings agencies: Standards and Poor's (S&P), Moody's and Fitch.
S&P: Credit ratings are scored on a scale from AAA to D, with AAA being the strongest rating and D being the weakest.
Moody's: Credit ratings are scored on a scale from Aaa to C, with Aaa being the lowest risk profile and C being the highest risk profile.
Fitch: Fitch's ratings, like S&P, are assigned on a scale from AAA to D, with AAA being the highest and D being the lowest.
An S&P rating of BBB- (and its equivalent) or better is known as "investment grade." Ratings below BBB- (or equivalent) are known as "non-investment grade" and sometimes referred to as "junk" and are regarded as having "question marks" regarding its long-term financial viability.
Moody's
S&P
Fitch

Rating Description

Aaa
AAA
AAA
Prime

Investment grade

Aa1
AA+
AA+

High Grade

Aa2
AA
AA
Aa3
AA-
AA-
A1
A+
A+

Upper Medium Grade

A2
A
A
A3
A-
A-
Baa1
BBB+
BBB+

Lower Medium Grade

Baa2
BBB
BBB
Baa3
BBB-
BBB-
Ba1
BB+
BB+

Non-investment grade speculative

Non-investment grade

Ba2
BB
BB
Ba3
BB-
BB-
B1
B+
B+

Highly Speculative

B2
B
B
B3
B-
B-
Caa1
CCC+

CCC

Substantial Risks
Caa2
CCC
Extremely Speculative
Caa3
CCC-

Default Imminent with little prospect for recovery

Ca

CC
C
C

D

DDD

In default

l

DD
D
Source: Moody's, S&P, Fitch
The chart below illustrates a range of credit ratings by common tenants of NNN properties. It should be noted that not every company has a credit rating. Generally speaking, credit ratings apply to companies with publicly traded debt or bonds. Companies with no debt may not have a credit rating, but may be considered a low-risk tenant. Small private companies are less likely to have credit ratings and "mom-and-pop" businesses are not rated. For non-rated tenants, investors may need to review the company's financial statements or otherwise determine their financial soundness.
Credit ratings examples:
| | | | |
| --- | --- | --- | --- |
| Tenant | Stock Symbol | Moody's | S&P |
| Walmart | WMT | Aa2 | AA |
| 7-Eleven | N/A | Baa1 | AA- |
| McDonald's | MCD | A2 | A |
| CVS | CVS | Baa1 | BBB+ |
| O'Reilly Auto Parts | ORLY | Baa1 | BBB+ |
| FedEx | FDX | Baa1 | BBB |
| Walgreens | WBA | Baa2 | BBB |
| Dollar General | DG | Baa3 | BBB- |
| Family Dollar | FDO | Baa3 | BBB- |
| Burger King | N/A | B3 | B+ |

Credit ratings are a very useful tool in evaluating the strength of a property's tenants. However, credit ratings are just one of many tools that should be considered in making investment decisions. To see more credit ratings of commonly traded single-tenant, net-leased properties, see our NNN tenant profile page, or view our online Marketplace for a variety of real estate investment options.