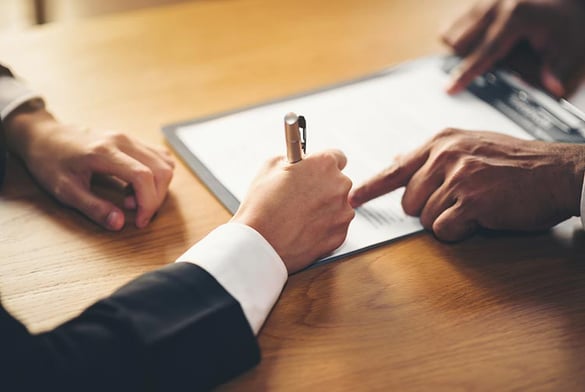 Understanding how escrow works can be important in real estate investing. Escrow accounts protect you during a real estate transaction and ensure that both parties meet all requirements before money is exchanged.
Escrow affects all types of real estate investing, from buying your first rental property to utilizing a 1031 Exchange in an effort to defer taxes. Learn what escrow means in real estate, how it works, and the pros and cons of using an escrow account when conducting real estate investment transactions.


What Is Escrow in Real Estate?
As a real estate concept, escrow refers to a third party that holds money in an account on behalf of the buyer and seller of a property. The third party is typically a title company or financial institution that is part of the real estate transaction. Escrow accounts are managed by escrow agents, who ensure that all agreed-upon terms of the real estate contract are fulfilled before the money is released to the seller.
Escrow accounts can hold securities, money, and other assets. These are referred to as escrow funds and are placed in the account by the investor while the real estate transaction is processing.
Escrow funds act as a guarantee to the seller that the investor has the capital for the investment. They also give the investor time to ensure that any agreed-upon repairs, inspections, and other terms are satisfactory before going through with the final purchase.


How Does Escrow Work?
Escrow accounts are established to ensure that an investor has the funds available to pay for the sale of the property, as well as taxes, mortgage fees, and insurance premiums.
They work by allowing buyers to place funds into the account until the transaction is complete.
It is common for escrow agents to require investors to place up to two months' worth of insurance and property taxes in the account during a purchase. As soon as the agreed-upon conditions of the sale have been met, the escrow agent will send a closing statement and disperse the funds to the seller.
Escrow accounts are usually required for investors who put less than 20% toward the real estate purchase. If you are exchanging the proceeds from an investment property in a 1031 exchange for a home of greater value, you may or may not be required to use an escrow, depending on how much capital you put towards the purchase.


Pros of Using an Escrow Account
Escrow accounts are typically required on real estate investment purchases. This is because they provide numerous benefits to both the investor and seller during the transaction. The benefits of using escrow in real estate investing include:
Minimizes risk for all parties
Allows time to meet contract requirements
Provides investors with the ability to make payments rather than a large lump sum
Ensures on-time payments and reduces late fees


Escrow Protects Investor Assets
Escrow accounts protect all parties during the real estate transaction. Rather than place your wealth in a potentially risky transaction, escrow allows you to put the necessary funds into a safe third-party administered account until the sale is complete.
This material is for general information and educational purposes only. Information is based on data gathered from what we believe are reliable sources. It is not guaranteed as to accuracy, does not purport to be complete and is not intended to be used as a primary basis for investment decisions. It should also not be construed as advice meeting the particular investment needs of any investor. Realized does not provide tax or legal advice. This material is not a substitute for seeking the advice of a qualified professional for your individual situation. Costs associated with a 1031 transaction may impact investor's returns and may outweigh the tax benefits.