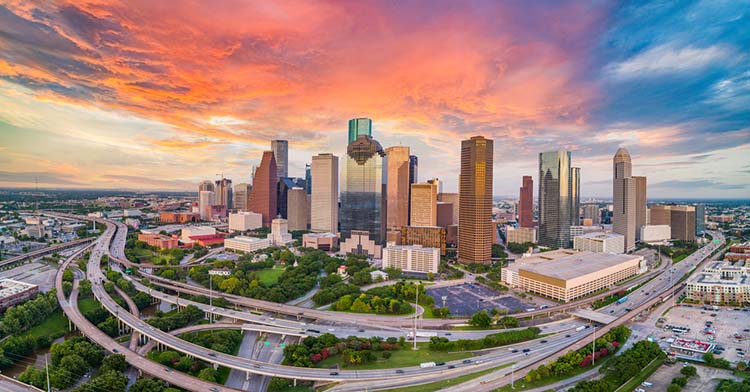 Real estate investors have long looked to Texas for commercial (and residential) investment properties. Small wonder – Texas has many large metropolitan areas that continue to flourish and grow, and it's earned a reputation as a tax and business-friendly state. Tesla and Oracle already abandoned their California headquarters for new digs in Austin, while Hewlett-Packard is moving its corporate operations to Houston later in 2022.¹
Moves such as this, combined with the Lone Star state's continued growth, make Texas an attractive place to park investment capital for institutional and retail investors alike. In this article we'll take a look at the advantages of investing in triple net leases in Texas.


Why Invest in a Triple Net Lease in Texas: Texas Is Growing
Likely you've heard the phrase, "Everything's bigger in Texas." Well, it's pretty much true. At 261,914 square miles, Texas trails only Alaska in size and dwarfs the nation's third-largest state, California (155,973 square miles).
Texas also is home to three of the Top-10 largest cities in the U.S.:
#4 Houston, 2.3 million
#7 San Antonio, 1.43 million
#9 Dallas, 1.3 million²
Several other cities are in the Top-20, including Austin at No. 11 and Fort Worth at No. 13. El Paso just missed the Top-20 at No. 21.³ We mention population because single tenant net leases, also called triple net or NNN leases, are often heavily frequented establishments. These properties can include:
Retail pharmacies and drug stores
Discount variety stores
Quick-serve and fast food restaurants
Child care centers
Gas Stations and convenience stores
Drive-through coffee shops
Auto parts retailers
Dental, medical, and veterinary clinics
Car Washes
Many of these businesses require heavy foot traffic to keep business brisk. Investing in a triple net lease property in a huge population center doesn't necessarily guarantee success, but the sheer amount of people living in and moving to the Lone Star state – Texas has led the nation in population growth for 15 consecutive years – is one of the reasons it's considered a hotbed for commercial real estate.


Benefits of Triple Net Lease Properties in Texas
Consider this: If Texas were its own nation, it would have the 10th largest economy in the world.⁴ Texas is business-friendly – it doesn't levy corporate or personal income taxes – and it has some of the lowest business operating costs in the U.S.5
Single tenant net lease properties in Texas can offer investors many potential benefits. For starters, NNN properties are among the most passive real estate investments you can buy. The tenant is responsible for major expenses such as insurance, property taxes, and common area maintenance, as well as utilities and building repairs over the term of the lease. Additional potential benefits can include:
Long-term income and occupancy. NNN leases are often inked by tenants with a substantial national footprint and lengthy business history. Lease terms can be for 20 years or more.
Creditworthy tenants. Tenant quality varies, but countless triple net lease properties in Texas are home to credit-grade tenants that offer a lower risk of default.
Increased asset equity. Every time your tenant pays its rent, a portion of that payment is used to pay down your mortgage. You can realize substantiation equity upon divestiture due to principal reduction of your commercial loan.
More free time for other endeavors. NNN properties are passive real estate investments. You won't have day-to-day management duties, which leaves you with more free time to devote to other ventures.
Lease transfer upon sale. The existing lease remains in effect when you purchase a triple net lease property in Texas.
Protection from increases in operating expenses. Operating expenses are passed on to your tenant, so hikes in taxes or insurance won't affect your bottom line.
Rent increases. NNN leases have periodic rent escalations over time that can increase your potential returns on the investment.


The Bottom Line
Although Texas has a well-earned reputation for being a business-friendly state, investors still should carefully examine the risk/reward profile of triple net lease investment properties in the Lone Star state to determine if those investments match their tolerance for risk, time horizon, and other objectives. While there can be many potential advantages of investing in triple net lease properties in Texas, there can be some drawbacks as well.


Sources:
1. California Companies Moving to Texas Now Have to Make a Choice, TheStreet, https://www.thestreet.com/investing/after-roe-will-big-tech-from-california-keep-moving-to-texas
2. U.S. Cities Population, PopulationU.com, https://www.populationu.com/us-cities
3. Largest Cities in the U.S. by Population, Moving.com, https://www.moving.com/tips/largest-cities-in-us/
4. Why Texas, Texas Economic Development, https://gov.texas.gov/business/page/why-texas
5. Business Climate, Texas Economic Development, https://gov.texas.gov/business/page/business-climate
Realized does not provide tax or legal advice. This material is not a substitute for seeking the advice of a qualified professional for your individual situation. Programs that depend on tenants for their revenue may suffer adverse consequences as a result of any financial difficulties, bankruptcy or insolvency of their tenants. All real estate investments have the potential to lose value during the life of the investment.