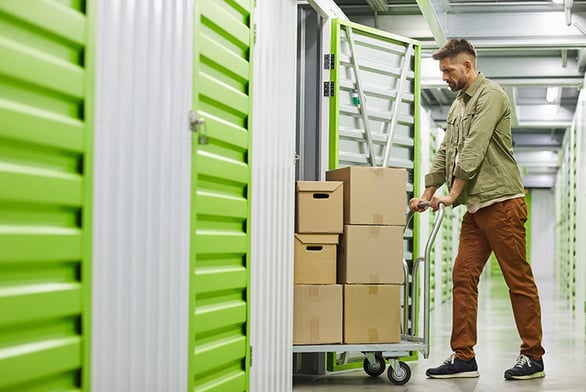 Self-storage can be an intriguing sector in commercial real estate and one that investors may want to consider. The U.S. currently offers approximately 1.9 billion square feet of personal storage space1, and the market continues to grow since occupancy is at record levels in many metropolitan areas, according to recent remarks by Aaron Swerdlin, vice chairman of Newmark.
The perceived value and attractiveness of the assets in the sector may be tempting current owners to consider selling, opening opportunities for new investors to enter the self-storage market. Steven Weinstock, national director of the self-storage division at Marcus & Millichap, commented that owners may want to "harvest the gains" that are available now while activity and values are high. Even so, most investors surveyed by the firm think the prices for self-storage assets will continue to rise.


How Can an Investor Participate?
As an investor, you can consider some alternate paths to ownership in self-storage properties. Direct ownership might be attractive to some. Compared to residential and some other commercial sector properties, for example, management demands may be less onerous. There are no tenants, and customers who use the storage do not occupy the spaces, so they may need less maintenance.
There are risks, of course, some of which may be identifiable before purchase (condition, location, and competition, for example), and others that may develop after your investment. As an investor/owner, you can't control the local saturation, which may substantially affect your ability to manage pricing. And unlike other leases, most agreements with customers are short-term—even month-to-month, which makes turnover unpredictable and higher than other real estate types. However, the turnover cost for the owner tends to be lower than preparing for a new tenant in an apartment or office, for example).


Fractional Ownership
While most self-storage facilities are owned and operated by individual investors or small companies2, particularly in the secondary markets, there is some indication of growing consolidation.
REITs (Real Estate Investment Trusts) are trusts that own, finance, or invest in real estate or real estate-related assets. Some specialize in targeted sectors, including self-storage. According to Nareit, a national association dedicated to the REIT business, a small number of significant publicly traded REIT funds focus on self-storage ownership. They own between 700 and 2700 facilities from smallest to largest.
Non-traded REITs participate in the sector as well. Frank Cohen, CEO of BREIT, calls self-storage "a resilient sector through economic cycles because of low tenant turnover, minimal maintenance costs, and stable cash flows."
As with other specialty REIT investments, self-storage offers investors an opportunity to participate in the desired target sector by owning property that might be out of reach on an individual basis but which is available to them on a fractional level through investment in a REIT.
Whether an investor chooses direct ownership or fractional participation, self-storage assets, like any real estate investment, have risks. Real estate is illiquid, and the property may prove difficult to dispose of when desired. Publicly traded or non-traded REIT shares have other risks, and investors should assess their individual risk appetite and consult their financial advisor.


1. Sparefoot.com: self-storage news
2. dnb.com
This material is for general information and educational purposes only. Information is based on data gathered from what we believe are reliable sources. It is not guaranteed as to accuracy, does not purport to be complete and is not intended to be used as a primary basis for investment decisions. A REIT is a security that sells like a stock on the major exchanges and invests in real estate directly, either through properties or mortgages. REITs receive special tax considerations and typically offer investors high yields, as well as a highly liquid method of investing in real estate. There are risks associated with these types of investments and include but are not limited to the following: Typically no secondary market exists for the security listed above. Potential difficulty discerning between routine interest payments and principal repayment. Redemption price of a REIT may be worth more or less than the original price paid. Value of the shares in the trust will fluctuate with the portfolio of underlying real estate. Involves risks such as refinancing in the real estate industry, interest rates, availability of mortgage funds, operating expenses, cost of insurance, lease terminations, potential economic and regulatory changes. This is neither an offer to sell nor a solicitation or an offer to buy the securities described herein. The offering is made only by the Prospectus. Forward-looking statements are subject to certain risks and uncertainties. Actual results, performance, or achievements may differ materially from those expressed or implied. All real estate investments have the potential to lose value during the life of the investment. Costs associated with a real estate transaction may impact investor's returns and may outweigh the tax benefits. TIC properties employ professional asset and property management, so while TIC co-owners vote on major issues, they do not have direct say over day-to-day property management situations. Programs that depend on tenants for their revenue may suffer adverse consequences as a result of any financial difficulties, bankruptcy or insolvency of their tenants.