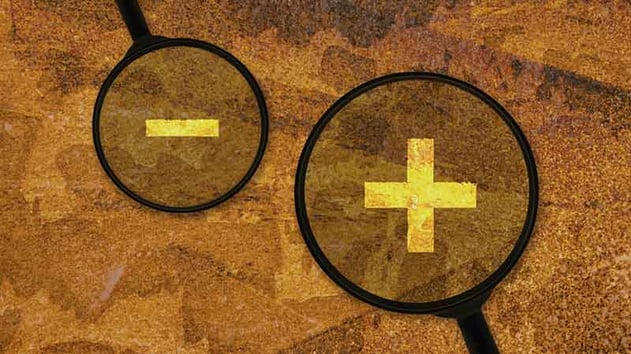 We've talked before about 1031 Exchanges and Delaware Statutory Trusts (DSTs). Delaware Statutory Trusts can be attractive investments, especially if you want to own real estate, but don't want the hands-on hassle. The DST can also provide a terrific tax-deferral mechanism if you decide to exchange into it from a real estate asset sale.
Occasionally, we get phone calls from real estate owners asking about a different DST – the Deferred Sales Trust. Much like the Delaware Statutory Trust, the Deferred Sales Trust can defer the capital gain taxes due on the sale of an asset that has been held for investment. But that's about the only thing these financial tools share in common, as you can see in the chart below.


The Difference Between the DSTs
| | | |
| --- | --- | --- |
| | Deferred Sales Trust | Delaware Statutory Trust |
| Governed By | IRC 453 | IRC 1031 |
| Transaction Type | Taxable sale of real estate incorporating deferred-payments | Exchange of direct ownership of real estate assets into fractional real estate ownership |
| Process | Investor sells real estate asset to third-party trust in exchange for promissory note or deferred payments arrangement. Third-party trust then sells the real estate asset to another investor and uses proceeds to make payments on the promissory note. | Investor sells real estate asset and proceeds are deposited with a Qualified intermediary who then invests in a Delaware Statutory Trust on behalf of the investor. |
| Usage | Trust can provide income to investor, based on pre-arranged promissory note. Capital gains taxes are incurred as principal payments are received on the promissory note, not when real estate asset is sold. | Capital gains taxes are deferred until the Delaware Statutory Trust is liquidated with the sale of the asset, typically after a 5 to 10 year hold. Investors have the option to do another 1031 exchange at that time. |
| Advantages | Investors are able to access their real estate equity over time while spreading the payment of capital gains taxes over several years. Investors can end up paying significantly less in capital gains taxes. | Investors can receive tax-sheltered distributions from passive investment in potentially high-quality real estate. Ability to defer capital gains taxes repeatedly and ultimate pass on to heirs with no capital gains tax. |
| Disadvantages | Contains many rules and regulations. Can be costly to set up and maintain. | No control over the real estate asset. Investments are illiquid. |
Now that you have this overview, let's dive into the Deferred Sales Trust.


The Process
A Deferred Sales Trust is one you create while engaging a true third-party company to act as trustee. You would sell your investment real estate to this trust in exchange for a promissory note or deferred installment contract, which you design and document in advance. Although you'll be the beneficiary of the trust, the third-party company will act as trustee. The trust you create will then sell the investment real estate and retain the proceeds which will be distributed to you, the beneficiary, according to the agreed-upon promissory note or installment contract. Any undistributed proceeds from the sale can be held in cash or reinvested by the trust. The capital gains tax on the sale of the investment real estate is deferred; instead, you incur capital gains tax liability as you receive principal payments from the trust.


The Rules
As with any kind of tax-deferral investment, the Internal Revenue Service (IRS) has necessary qualifications for the Deferred Sales Trust.
Independence. "Independence" means the trust is independent of you, your business interests, or your personal interests. If your uncle or sister-in-law is the trustee, the IRS could take a dim view of your activities.
No Money. The IRS is very clear that, for a Deferred Sales Trust to qualify as such, an investor is not allowed to take "constructive receipt" of money when disposing of an asset. Leave all of that to your independent trustee.
No Ownership. Before the asset sale takes place, you must transfer it to the trust, relinquishing your ownership of it. If the trust doesn't legitimately own the real estate, you might not be able to enjoy the tax-deferred benefits.


The Advantages
Tax deferral is the main advantage with a Deferred Sales Trust. Other potential advantages can include:
Option for a failed exchange. If you miss a 1031 Exchange deadline, the exchange isn't considered complete, your Qualified Intermediary (QI) might relinquish the funds back to you. You could then be responsible for capital gains taxes and depreciation recapture taxes. With a Deferred Sales Trust, however, the QI releases any funds to the trust, rather than you, sparing you immediate taxes on a lump-sum payment.
More investment options. A Deferred Sales Trust can be a useful tool for those who are planning for retirement and are looking to diversify into other holdings. Unlike a 1031 exchange, the seller has more investment options with a Deferred Sales Trust. A 1031 exchange restricts the seller to like-kind property, which is typically limited to real estate, while a Deferred Sales Trust can be used to acquire assets or financial instruments that are disallowed by other capital gain deferral methods. This can include investments such as stocks, bonds, or mutual funds. This is especially beneficial if the seller cannot find any value in real estate or the real estate market is experiencing a slump. The investor can remain in the Deferred Sales Trust for years while waiting for the market to come back.
Although these advantages exist, Deferred Sales Trusts come with a number of caveats that add risks related to the trust's formation and usage. Next, we'll go over the various issues to be aware of when getting involved with Deferred Sales Trusts.


The Disadvantages
There is, of course, another side to the Deferred Sales Trust set-up and usage. A couple of possible pitfalls could include:
Complexity. Few tax-deferral programs are simple to set up. However, the Deferred Sales Trust can be somewhat more difficult to launch and manage than, say, a Delaware Statutory Trust. The set-up fees could be higher, as well.
Not all depreciation recapture taxes are deferred. You'll need solid advice from your tax professional here. Any depreciation taken on the relinquished property using accelerated depreciation methods, which resulted in depreciation deductions greater than the straight-line method, could still incur depreciation recapture taxes when using the Deferred Sales Trust.
Tax Deferred, Not Tax Eliminated. A 1031 Exchange, whether you use a Delaware Statutory Trust or some other qualifying replacement investment, does not eliminate capital gains taxes, they're deferred. Same thing with a Deferred Sale Trust – at least, until you start receiving the cash flow, which triggers capital gains tax exposure.


Other Issues with Deferred Sales Trusts
Potential for Mismanagement. With a Deferred Sales Trust, there is little regulation throughout the entire process. Be aware that if the trust is improperly managed, it can be declared a "sham trust" by the IRS. This will cause any profits from the initial sale to be taxed at your full capital gain tax rate. Further, the Deferred Sales Trust's validity will be based on state laws applicable to how the legal arrangement is set up, and how it is used.
Some States Do Not Recognize Deferred Sales Trusts. Some states, for example, California, have just declared that these types of installment sale arrangements do not qualify for deferral recognition under IRS tax code 453 or IRC 1031.1 For this reason, due diligence with your accountant and choosing a good third-party trust agent is especially important.
Some Qualified Intermediaries Will Not Release Funds. For those looking to complete a 1031 exchange, note that some Qualified Intermediaries will take the stance that Deferred Sales Trusts do not qualify for 1031 exchange tax treatment, and will not release funds to a Deferred Sales Trust. This is similar to the stance that some states have taken, as mentioned above. If you are willing to take on the tax risk associated with deferring real estate gains through a Deferred Sales Trust, make sure you are aware of your Qualified Intermediary's stance.
Do you have questions on tax deferral strategies when selling real estate? Realized 1031 can provide information on how a structured trust can help you defer taxes on your investments. Find out more by calling 877-797-1031 or logging on to www.realized1031.com.
This material is for general information and educational purposes only. Information is based on data gathered from what we believe are reliable sources. It is not guaranteed as to accuracy, does not purport to be complete and is not intended to be used as a primary basis for investment decisions.