What is the first thing that comes to mind with the words "off-campus student housing?"
If you're picturing Farber College's Delta Tau Chi house from the classic movie "Animal House," you should probably upgrade your thinking. Certainly, off-campus housing for university students once consisted of ramshackle apartments and older homes. However, since the late 1990s, such housing, also dubbed "purpose-built student housing," or "privately owned student housing" (POSH) has changed significantly. Many universities have decided to get "out of the housing business" and rely on private developers to help meet the demand for apartments around their campuses.
As a result, purpose-built student housing properties often incorporate modern designs and numerous amenities. Common features include both private and public study spaces, spaces for recreation, restaurants, and large common areas where students can gather and talk.
Not Your Average Multifamily
Though student housing is a subcategory of the multifamily sector, these two product types differ in some of the following ways.
Location. An apartment complex's location is considered ideal if it is close to mass transportation or employment centers. For student housing, the best location is close to campus, optimally within walking distance and at the very least on the university's bus route.
Metrics. Student housing is depicted by number of beds, rather than number of units.
Lease terms. A standard student housing lease is one year, similar to most multifamily leases. But move-in and move-out time is different. The time frame is narrower as it coincides with the start, and completion of a school year.
Demand Over Supply
According to data from National Center for Education Statistics (NCES), the research arm of the US Department of Education, between 2000-2015 undergraduate enrollment increased 30%, from 13.2 million to 17.0 million. By 2026, the NCES forecasts enrollment at 19.3 million students. Millennials, born between 1981-1997, have been driving higher enrollment numbers since before the Great Recession. Though millennials are at the end of their college-going years, Generation Z is right behind; the oldest of this population are starting to attend college. At 69-million strong, the Generation Z cohort will likely continue having a positive influence on undergraduate enrollment. That being said, changes in undergraduate enrollment does not directly translate to increase the demand for student housing.
Meanwhile, on the supply side, across the entire US, a shortage of beds remains. Axiometrics, a RealPage company that collects and analyzes privately owned student housing data across major universities nationwide, pointed out that more than 37,000 beds were delivered in 2017, with 8,000 more in the pipeline, or anticipated to be delivered soon. Though this might seem like a large number, supply continues to lag demand, as it has done since the recession.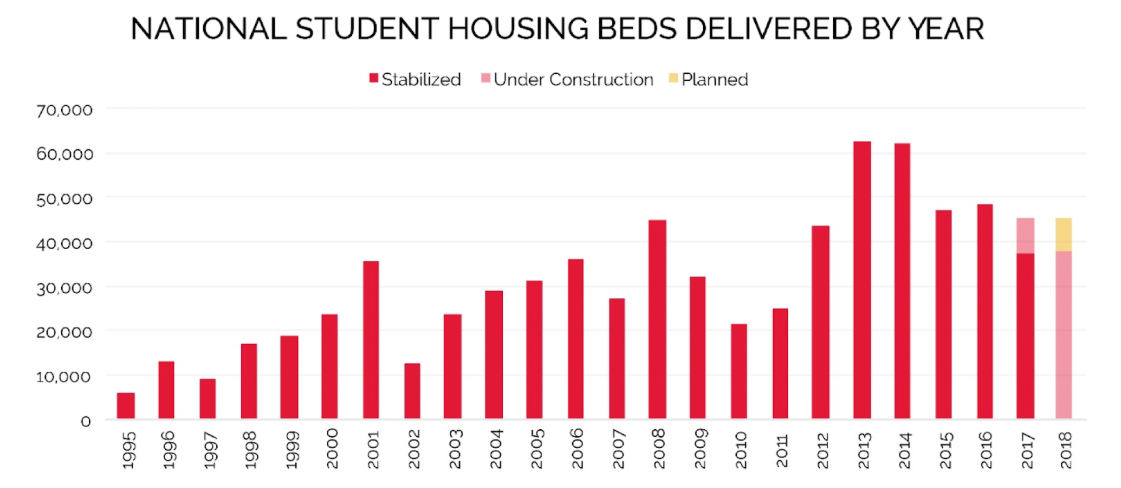 Source: Axiometrics, a RealPage Company
Adding to the scarcity is that much of the available on-campus housing is antiquated. According to Bill Bayless, CEO of American Campus Communities, one of the nation's largest owner of student housing "the median age of the housing in the 65 markets we are in is 51 years."
For large, cash-strapped universities, justifying the cost of retrofitting these older "dorms" with modern technology and amenities can be difficult. As such, older dilapidated dorms are being torn down to make space for new classrooms. This, in turn, may drive students from on-campus living to nearby, newer off-campus, purpose-built housing.
Recession Resistant?
During the past decade, the student housing sector has garnered the attention of REITs, pension fund and other large investors who point to the data showing lower rental rate volatility than traditional apartments. The chart below shows that university enrollment in the US tends to grow at a faster pace during recessionary periods, than during non-recessionary periods. While it is important to note that the increase in undergraduate enrollment rate does not automatically translate to an increase in demand for student housing at the same rate, student enrollment remains one of the most important factors that drives the student housing demand. Even so, it is critical to recognize that each student housing property is unique with supply and demand fundamentals that may not follow national trends.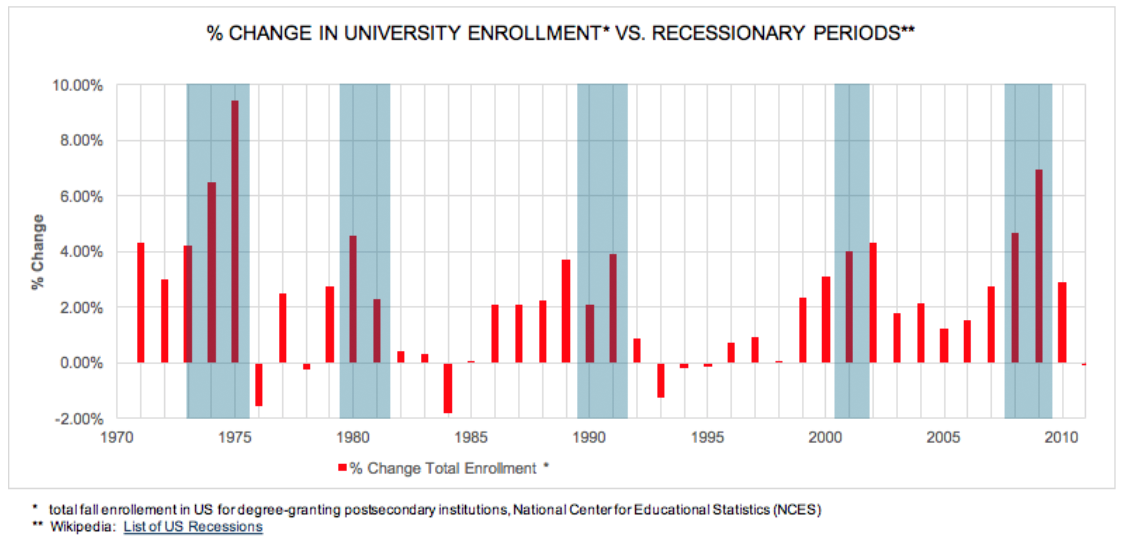 The Positives of Student Housing Ownership
To summarize, continued demand and scarce supply are two factors that help make privately owned student housing a potentially viable asset. Furthermore, this investment could offer:
High Current Occupancy Rates. According to REIS, a commercial real estate data provider, in the Fall of 2017, average occupancy for student housing properties nationwide was 96.5%.
Decent cap rates. According to data from Real Capital Analytics, cap rates on student housing properties have historically been 0.5%-0.75% higher than multifamily investments.
Captive tenants. Students typically have finite living options in university markets, making nearby, off-campus options attractive.
Parental guarantees. Operators of student housing properties often require that each resident on the lease have a guarantee from a parent. These guarantees may provide a higher likelihood that anticipated rents are actually received. And what happens when a resident doesn't pay? Student housing properties often have the ability to shut off the units internet and television service to the unit -- ouch!
But Be Careful
But, not all student housing is created equal. Before jumping into such an investment, you should consider the following.
Geography. Schools in different parts of the country attract more students than others. As such, you should understand a university's enrollment numbers, competition and local supply before buying.
Location. A student housing complex situated two miles from campus, with no bus line available, might not be a good one to own. The rule of thumb is, the closer the property to classes, the more desirable it is to students, and the higher your occupancy rate and rents per bed.

Property management

. Student housing property management is highly intensive, with operations potentially making or breaking your returns. Those with oversight of your asset must be well trained in operating student-housing properties.
Leasing Season. Student housing properties generally have a narrow window between March and June to lease their beds. Missing this window, or being negatively impacted by new supply, can translate into living with higher vacancy for a full 12-months.
Even with the caveats above, a student housing property could be a viable addition to your portfolio, with the potential for revenue growth and appreciation based on a location.
The Realized team recognizes the potential opportunity of student housing investments and their impact on your portfolio. Contact us today by logging on to realized1031.com or calling (877) 797-1031 to learn how to tap into this relatively stable asset class.