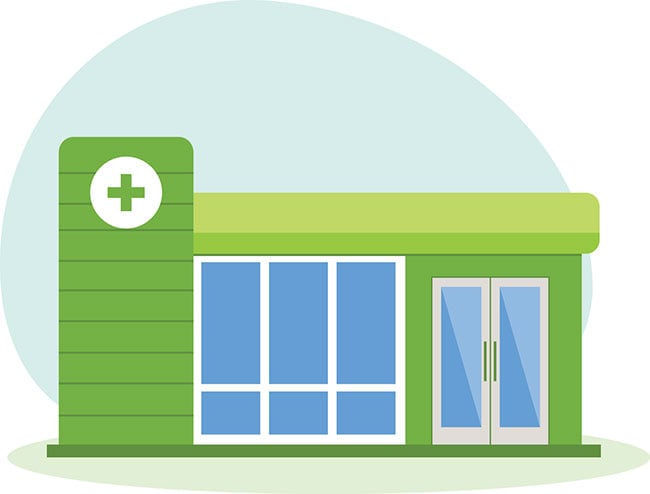 Once upon a time, if you were ill or required a physical check-up, you likely paid a visit to your primary care physician. That doctor might have had his or her office on a hospital campus, or in a nearby medical office building; in fact, that hospital could have owned that building.
In the past couple of decades, that "hospital-centric" model of healthcare delivery has moved toward "patient-centric," as providers are moving off the hospital campus and into the community. Meanwhile, the medical office sector has moved from hospital ownership to a viable real estate class, capturing the interest of both institutional and private investors.
In addition to medical office buildings, retail-based clinics, the latest iteration of healthcare delivery, are also considered investor-friendly. The reasons include solid locations, long-term leases and creditworthy tenants.
Examining the RBC...
RBCs, or retail-based clinics, span everything from on-site clinics in pharmacies, grocery stores and big-box retailers (i.e., the Targets and Walmarts), to store fronts and stand-alone facilities. The first retail clinics opened in 2000, and recent estimates put the number of these clinics at approximately 2,800 at the end of 2017.1 What led to such a boom?
Researchers in a study published by the American Journal of Medical Quality discovered that patients with primary care physicians ended up at an RBC because their primary care doctors were not available when needed.2 Another contributing factor had been the growing number of young adults who lacked insurance or a primary care provider, thus leading them to seek treatment at an RBC type practice.1 Along with a need for quick service, stand-alone RBCs can deliver specialty services, such as outpatient surgery, cancer treatments and kidney care.
On the investment side, stand-alone urgent care centers, surgical centers and plasma clinics can offer low-entry price points, creditworthy tenants and the potential for income flow.3 While medical office buildings can cost up to millions of dollars to construct or buy, stand-alone RBCs can be acquired for as little as $3 million, and have an average capitalization rate of 6.5%.3
And Breaking Down the Kidney Care RBCs
Getting back to our "once-upon-a-time" scenario, dialysis was one of those activities requiring a hospital visit. As technology improved, so did kidney care services. These days, those with chronic kidney disease (CKD) or end-stage renal disease (ESRD) can head to a local kidney care clinic for on-site treatment or to pick up a dialysis machine for home use. Currently, the two largest providers of kidney care services are DaVita Inc., through its DaVita Kidney Care Company, and Fresenius Medical Care. Together, these two companies currently control nearly three-fourths of the US dialysis clinic market.4
The market these kidney care companies reach is extensive: The Centers for Disease Control (CDC) reported that 30 million people in the United States have some kind of chronic kidney disease.5 At the end of 2016, more than 661,000 Americans had kidney failure, with 71% (468,000 individuals) of that population being dialysis patients.6
Demand is one reason why such clinics can be favorable for investors. Another is that kidney clinics and other RBCs have long-term leases (generally 10 years, or longer), with creditworthy tenants backed by national companies. Furthermore, tenants are not as motivated to relocate when the lease expires, given the investment made toward outfitting the space to specifications.
The Upshot
Though question marks do surround the U.S. healthcare system right now, stand-alone RBCs will likely continue to thrive as investments, due to fundamentals that include an aging population in need of medical services. As such, a retail-based clinic, with their low entry price points, can provide an attractive risk-adjusted return on investment.
As with any real estate deal, however, be sure to perform sufficient due diligence, as there can be risks involved with a RBC investment. Similar to other retail property types, RBCs may suffer from undesirable locations, competition, or poor market fundamentals. Never forget that RBCs are 'clinics' as well, and are subject to industry risk, as laws relating to healthcare certification and practice are constantly changing. Being well educated remains crucial when investing in this property type.
At Realized, we're familiar with the ins and outs of owning RBCs and other types of real estate investments. Learn more about how this type of real estate can add more heft to your portfolio by contacting us at www.realized1031.com or 877-797-1031.
1. The Evolving Role of Retail Clinics. RAND Corporation, 2016.
2. Why do Patients Seek Care at Retail Clinics, and What Alternatives Did They Consider? American Journal of Medical Quality, February 8, 2010.
3. NNN Dialysis Clinics for your Portfolio's Health. Calkain Companies, December 27, 2017.
4. About Davita Inc. Vault.com.
5. National Chronic Kidney Disease Fact Sheet, 2017. Centers for Disease Control and Prevention.
6. Kidney Disease Statistics for the United States. National Institute of Diabetes and Digestive and Kidney Diseases.