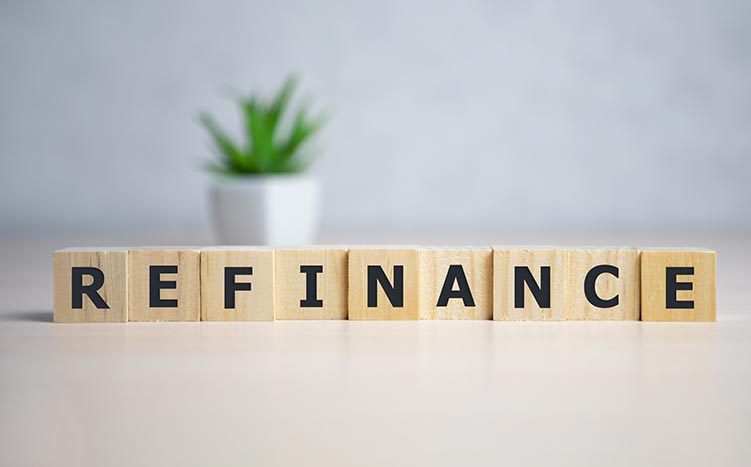 When interest rates drop, many homeowners decide to refinance their home loans to take advantage of lower mortgage interest rates. A slight decrease can make a big difference in the monthly payment and the amount you pay over a loan's life. As an investment property owner, you may hope to do the same. While it isn't as easy to refinance a rental property as it is an owner-occupied home, you can do it, and it may be well worth the effort.


How is the Interest Rate Determined for an Investment Property?
Current market rates are not the only factors that impact what a lender will charge you for a loan (either for your primary residence or an investment asset.) Other key elements include:
Your credit score
How much of a cash reserve you maintain
Your debt-to-income ratio (aside from the impact this has on your credit score, it's a separate consideration)
The property's LTV (loan-to-value) ratio (you can favorably affect this with the down payment)
Business investments are riskier for lenders than properties that borrowers live in. That's true whether you are taking out the loan for the first time or refinancing for a better rate, and particularly if you are refinancing to take out cash.


Keep Carrying Costs Low
One of the essential goals in rental property is to keep the carrying costs (that's the amount you spend to own the property and maintain it) low. Doing this helps you earn a better return and makes it more likely that you can hold onto the property if something goes wrong. Suppose you must pay for a significant repair, or the property is vacant for a lengthy period? A lower mortgage interest rate will reduce the monthly outflow of money.


Finance Another Property
This scenario is one of the best examples of rental property earnings working for you. If you own a rental and you can refinance the mortgage and take out equity to use as the down payment on an additional rental property, that is a massive win as an investor. If the market rates provide you with the ability to do this with minimal increase in your expenses, that's ideal.
You can also use cash from the equity in a rental property to improve the property, which may allow you to increase the rental price, which provides higher income. Making property improvements is also beneficial from your tax perspective (always consult your tax advisor).
Alternatively, you can use the refinance proceeds to pay off other real estate or personal debts or simply shore up your cash reserves. Remember, more substantial reserve holdings will positively affect the interest rate you pay on a mortgage (private or investment).


Creditworthiness
To successfully refinance a rental property mortgage, you will need an excellent credit score (probably near 700 for many lenders), substantial cash reserves, and maintain equity of probably 25% in the property. Suppose you bought the property initially using a hard money loan (often a loan offered by private investors at a higher than the standard interest rate). In that case, you might want to look at refinancing with a conventional mortgage once you have improved your credit score to the point that you qualify for more favorable terms. Keep in mind that many hard money loans have a prepayment penalty (sometimes called an interest guarantee) that may make the refinance less attractive to you.


This material is for general information and educational purposes only. Information is based on data gathered from what we believe are reliable sources. It is not guaranteed as to accuracy, does not purport to be complete and is not intended to be used as a primary basis for investment decisions.