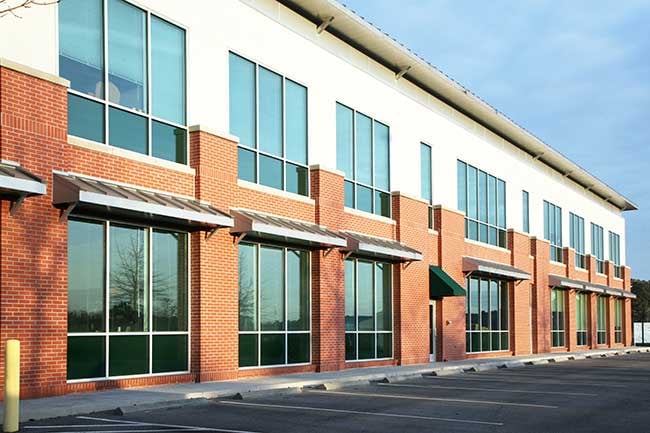 When you think of the words "industrial real estate," what comes to mind? If your first thought involves massive factories and production plants, you're partially right. Industrial real estate encompasses a wide spectrum of property types, and includes warehouses, manufacturing buildings, and flex properties to name a few. Typically housing multiple tenants, this asset class is becoming a hot investment commodity, due to current pricing, growing demand, and mostly hands-off maintenance.
Defining Industrial CRE
Before exploring the investment upside of multi-tenant industrial, let's take a look at the asset class. The National Association for Industrial and Office Parks (NAIOP) clarifies the issue by dividing the industrial asset class into three categories1:
Flex: smaller areas that can include office space

Warehouse/distribution: which focuses on storage and distribution

Manufacturing: facilities in which goods are produced
In this blog, we're examining flex properties. Contrary to other industrial property types, flex properties tend to have higher curb appeal, a flexible design, and a high percentage of office build-out. Typically divided into units, or suites, these properties can see office space ranges 25% to 80%.2
Why Multi-Tenant Industrial is Hot
Brian Malliet, CEO and Co-founder of BKM Capital Partners, noted some interesting facts about the asset class. First, 40% of all industrial space in the U.S. is multi-tenant space.3 And second, more than 60% of new industrial leases in 2017 involved spaces smaller than 15,000 square feet.3 Here's why:
Small-business owners are shaking off the last dregs of the recession, and want to work from smaller spaces. These businesses can range from plumbers and electricians, to auto technicians, to research and development companies.
Why Multi-Tenant Industrial Could Be a Viable Investment
One huge advantage of a multi-tenant industrial property is it can be hands-off. Leases for such a facility can range from net (in which the tenant pays at least a portion of the property costs, in addition to monthly rent) to triple net (in which the tenant pays 100% of the costs, including taxes, maintenance and improvements). A lot less could be coming out of your pocket for upkeep and maintenance.
Another reason is the potential low cost to invest. Compared against other property types such as multifamily, retail, and office, industrial transaction prices per square foot remain the lowest. As of the third quarter of 2018, industrial property prices hovered around $100 per square foot on average, compared to the average for all property types of $219. This relatively low price could provide the opportunity for an attractive buy-in.5
Finally, demand is ramping up, while supply is limited. At a vacancy rate of 4.8% in the fourth quarter of 2018, industrial vacancy is 120 basis points below the 5-year historical average of 6.0% for all industrial property types.6 Tight markets may lead to the ability to push rents, which in turn has the potential to drive a higher risk-adjusted return.
Why Multi-Tenant Industrial Could Be a Problem
As with any kind of real estate, there are risks. Multi-tenant properties are no exception. Here are things to watch out for.
Geography. Multi-tenant industrial space is popular among entrepreneurs who are just getting started. If your geographic area doesn't have much in the way of new talent, you might want to reconsider that investment.
Shorter leases. While tenants in these smaller industrial properties can be signed to net leases, those agreements might range from only 3-5 years. Certainly, this gives you the opportunity to increase rents. It also means your tenant could vacate, giving you the headache of having to find another one.
Tenant Improvements. One benefit multi-tenant industrial space offers to tenants is that it's flexible, and can accompany a firm's growth or decline. However, this change in workspace – the tenant improvements – could come out of your pocket.
Economically Volatile. When times are good, your property could attract demand. But this is not a recession-proof property type. If the economy dips, so could your tenant base.
It's true that multi-tenant industrial properties could provide an attractive risk-adjusted return for little out-of-pocket costs. Making this asset class work requires in-depth research to ensure generation of enough income to meet your financial goals.
Need help determining if a multi-tenant industrial property is the right investment for you? At Realized 1031, we can provide you with insight about these specific assets, and others. For a free consultation, log on to www.realized1031.com, or call us at 877.797.1031.
NAIOP Terms and Definitions: North American Office and Industrial Market. Commercial Real Estate Development Association.
Excerpts from Chapter 1: Guide to Classifying Industrial Property. Urban Land Institute.
National Real Estate Investor. Demand for Light Multi-Tenant Industrial Product Is on the Rise. September 29, 2017.
Don Ankey. Multi-Tenant Infill Industrial: Unicorn of CRE Investment. Commercial Property Executive, March 1, 2017.
2018 Pricing. Commercial Property Executive, November 9, 2018.
Cushman & Wakefield. U.S. Industrial Marketbeat, Q4 2018.