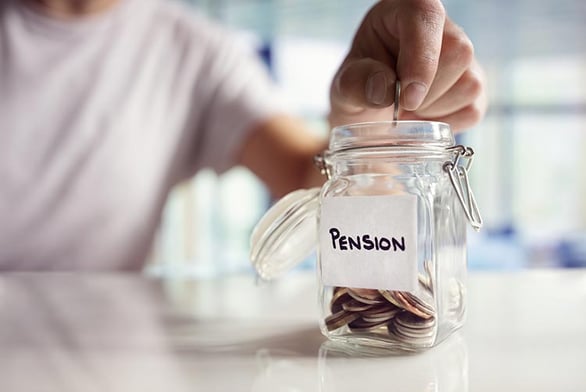 You receive a retirement pension payment after you stop working, but is it considered income?
This is a frequent question we see about pension payments. You will go through many changes to your finances, and there is a lot to learn. How the government categorizes your retirement pension is one of them.
The short answer: if your pension was funded with pre-tax dollars, it will likely be counted as income for tax purposes when you receive the funds. Most pensions fall under this category.


What is a Retirement Pension?
A retirement pension is a plan offered through an employer that is usually paid out in fixed payments once you retire. A pension is funded by the employer and the payout is based on several things like years of employment, salary, and age at retirement.
A pension is different from a 401(k). A 401(k) retirement plan is when an employee makes contributions to the plan. The employer sometimes matches those contributions. The payments from a 401(k) depend on the performance of the investment options chosen through the plan.
In a pension, the employer takes on the investment risk and the payments are a fixed amount. Some employers allow employees to contribute to their own pension. Pensions are becoming more and more rare, especially in public companies, but they do still exist. They are more common in public sector jobs, like education and government.


Is a Retirement Pension Considered Income?
In most cases, the IRS considers a pension retirement income for tax purposes, which means you will pay income tax. Once in retirement, you should receive a 1099 tax form that will tell you how much of your pension is taxable as income.
Generally, if the contributions to the pension are pre-tax dollars, it will be considered income when it is paid out in retirement. The actual income tax rate you will pay will depend on your tax bracket that year. If you take a lump-sum payment, the income taxes will probably all be due in that tax year.
Some states do not consider pension payments taxable income for state income taxes. It is best to check your specific state's laws.


Are There Any Exceptions?
There are some exceptions when a retirement pension isn't considered income for tax purposes.
Some military or government pensions are income-tax-free or only partially taxed if retirement is because of disability.
If you contributed to your own pension with after-tax dollars, those funds are not likely to count as income.
Pension payments will not count towards social security earnings as income, because you will not pay social security taxes on the payments.
If you have questions about your retirement income, consult with a tax advisor and they can help you look at the specifics of your situation.


This material is for general information and educational purposes only. Information is based on data gathered from what we believe are reliable sources. It is not guaranteed as to accuracy, does not purport to be complete and is not intended to be used as a primary basis for investment decisions.