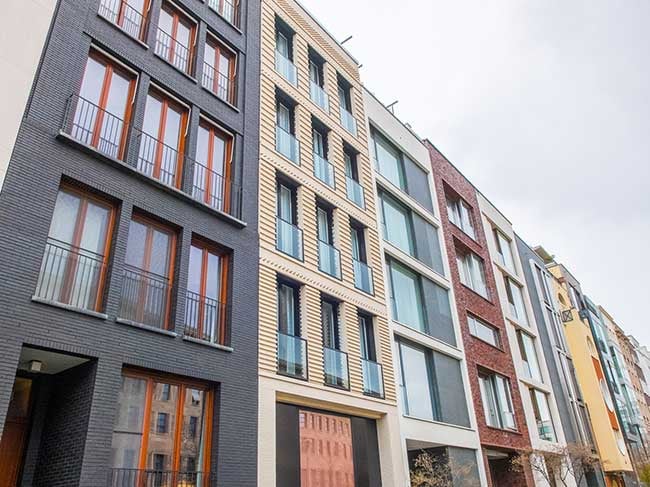 Multifamily homes are being touted as great opportunities for investments, and for good reason. Real estate market trends point to an increase in renting over home ownership1, meaning that multifamily assets can provide steady income flow as occupancy rates increase. As a result, investors are looking to make multifamily ownership a part of their portfolio. According to Real Capital Analytics, apartment sales through the first half of 2018 totaled $69.9 billion, a 7.9 percent increase compared to the first of 2017.2
While multifamily homes can provide good cash flow, these hands-on investments might not be for everyone.
What is It?
What's interesting is that housing sites (Zillow, Trulia), and major industry organizations (National Multifamily Housing Council, National Apartment Association) don't offer a specific definition of multifamily. Turning to Black's Law Dictionary, a multifamily property is:
A building or structure housing several different families in separate units.

A collection including duplexes, quadruplexes, townhomes and multi-unit apartment buildings

Characterized by the idea that an entity (a person, company, partnership or other structure) owns the structure, and rents units to others
The key here is multiple units and rentals, which would exclude condominiums. The best way to think of a multifamily property is as a building containing at least two adjacent housing units, with shared physical systems that you, the investor, rent out to individuals or families.
Why Multifamily Can be a Good Investment
Demand Drivers. According to a report published by Pew Research Center3, more U.S. households are headed by renters than at any point since at least 1965. The report notes that between 2006-2016, the total number of households grew by 7.6 million. Yet, the number of owner-headed households remained flat, in part, due to what Pew called "the lingering effects of the housing crisis." But, the share of households renting increased from 31.2% in 2006 to 36.6% in 2016.3
Making up these renters are millennials, who are finally moving off their parents' couches into rental housing. Also in this group are retiring baby boomers, who are selling their houses to relocate to adult-only multifamily housing, or urban-area apartments.
Financing. Though acquiring multifamily properties can be expensive, finding capital to buy can be a little easier. A recent Connect Apartments conference noted that plenty of debt and equity are available4, with the following caveats:
The current economic recovery is in the late stages.

It's uncertain how long the capital spigot will remain open.
Still, multifamily investors can turn to funding through government-sponsored entities Federal National Mortgage Association (Fannie Mae) and Federal Home Loan Mortgage Corporation (Freddie Mac). Additionally, lending experts at another Connect Media conference noted that plenty of capital exists for affordable, environmentally sustainable multifamily housing5. Hunt Mortgage Group's Vic Clark commented: "If you're looking for $1 million - $20 million and your project is green and affordable, that's where the money is."
And What to Watch Out For
Hands-on Investment. Managing multifamily properties is difficult. You need to field tenant complaints and repair broken things. You need to ensure that properties are up to municipal codes. You need to build plenty of interior and exterior property appeal. You can always hire a property manager to deal with these issues, however, hiring such an individual could cost 3-10% of your rents.6
Liquidity Needs. Your multifamily asset could bring you a nice income flow. But, you also need a well-stocked emergency fund for when an air-conditioning unit breaks, or the water heater explodes. Before investing in that appealing duplex or cute 10-unit apartment building, it's best to examine all expenses, from the down payment to the appliance replacement costs.
Competition. There is always an ongoing competition for tenants in a market or submarket. Other multifamily developments in the area may be less expensive, offer more amenities, or just be flat out newer, driving potential tenants away from your investment. In order to mitigate vacancy risk, one must always make sure that their multifamily investment has a competitive advantage, or a reason for tenants to choose their property over another. These advantages can range from how the property is marketed to unit upgrades.
The Takeaway
Multifamily investments have the potential to produce respectable risk-adjusted returns, thanks to demand and relative ease of funding. But such ownership is not for the faint of heart. Performing due diligence, understanding upkeep expenses and having the right team in place can make the difference between an investment providing a regular income flow, or one ending up in disaster.
At Realized 1031, we are happy to work with you on using multifamily investment vehicles to help you achieve your wealth management goals. We would enjoy finding investments to match your portfolio objectives. For more information, contact us at www.realized1031.com, or call (877) 797-1031.
U.S. Homeownership Rate Hits 48-Year Low. The Wall Street Journal. July 28, 2015.
2018 Multifamily Investment Volume to Surpass Last Year, Say Apartment Association Panelists. REBusinessOnline.com. August 21, 2018.
More U.S. households are renting than at any point in 50 years. Pew Research Center. July 19, 2017.
Connect Apartments 2017 Institutional Capital: Investing in Multifamily. Connect Commercial Real Estate. October 2, 2017.
Texas Multifamily Lenders: Competition is Great. Connect Commercial Real Estate. September 1, 2017.
Lee Kiser. Five Things You Should Know Before Investing in Multifamily. Forbes. January 3, 2018.