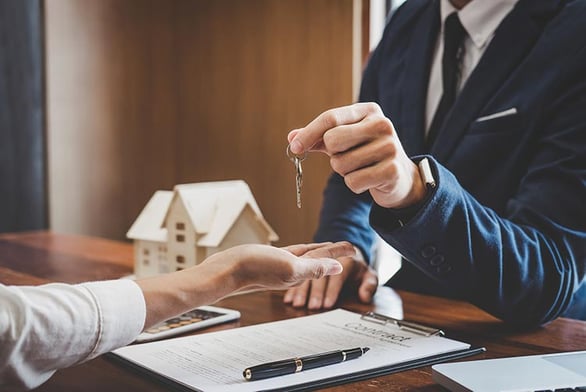 If you've gone down the list of available investments with your IRA provider, real estate is probably not one of them. However, people do buy investment properties using their IRAs. But there's a little work and a few fees involved to make that happen. So go over what's needed to use your IRA to buy an investment property.


Restrictions of Traditional Financial Institutions
Many traditional financial institutions (i.e., Schwab and Fidelity) have specific classes of investments available, which usually include funds, stocks, bonds, and maybe ETFs. Outside of those classes, you may be out of luck. This means no cryptocurrencies, futures, options, private funds, or real estate.
Just because a financial institution doesn't offer other classes of investments doesn't mean they aren't available to invest in. It's up to the financial institution as to what they want to offer. Traditional financial institutions, such as those mentioned above, usually stick to simple investments.
To buy an investment property using an IRA, investors will most likely have to step away from traditional financial institutions. This is where self-directed IRA custodians come in.


Self-Directed IRAs
A self-directed IRA (SDIRA) is one that is held at a special custodian and allows investing in many alternative assets such as cryptocurrencies, real estate, and gold. Available assets will depend on the custodian.
To open an SDIRA, the investor must first find a SDIRA custodian, open an account there, and transfer funds from their financial institution to the SDIRA custodian. Those funds are then used to invest in alternative assets.
Investing in real estate through an SDIRA isn't the same as buying direct real estate. SDIRA real estate investing is passive, just like investing in funds via an IRA through a traditional financial institution is passive. This means SDIRA investors can't be directly involved with the management of the property. Instead, a management company and realtor must be hired.
Investing in real estate through an SDIRA is similar to investing in a real estate fund vs. buying direct real estate. Just like a fund, some of the tax advantages aren't available. These include depreciation and expense deductions. Also, the SDIRA investor does not own the real estate. The IRA owns it.


Flat Fees
Investing in stocks, ETFs, and funds through a traditional financial institution may involve commissions or fees. These fees are usually percentage-based, such as 0.50% or 1.0%.
SDIRA fees are flat-rate fees, which means they charge a fixed fee. Fees involved are setup, annual maintenance, and transfer of funds. However, the actual investment will have its own fee structure, independent of the SDIRA custodian.


Avoiding Taxable Events
Investors who take money out of their IRA before age 59.5 may generate a taxable event. In addition to paying a penalty, withdrawn funds may be taxed.
Taxable events can also occur in SDIRA's if investors aren't careful to follow the rules. For example, an income-generating property is held in a SDIRA. The investor wants to withdraw some of that income. However, income from this property goes back into the SDIRA. Therefore, any withdrawal of income will generate a taxable event. Remember, the property and any of its income belong to the SDIRA.
Funds in the SDIRA also have certain restrictions. For example, the investor cannot purchase a second home with those funds unless the home is being rented out.
Using an IRA to invest in real estate is another route to real estate investing. Rather than using a traditional financial institution, investors will need to use a self-directed IRA custodian. It's also important that investors know the restrictions and potential taxable events that can be triggered. A good real estate tax accountant can help investors navigate these complex waters.
This material is for general information and educational purposes only. Information is based on data gathered from what we believe are reliable sources. It is not guaranteed as to accuracy, does not purport to be complete and is not intended to be used as a primary basis for investment decisions.