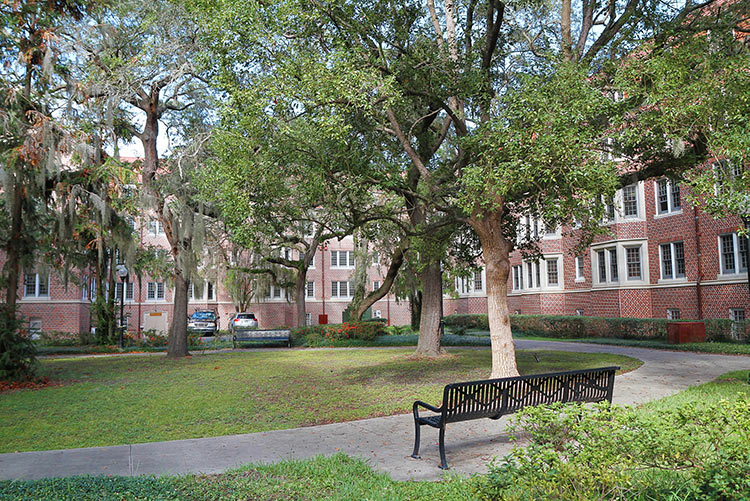 Student housing is prevalent in pretty much all college towns across the country, but a frequent question we get is how to get started investing in student housing.
In many aspects, it is the same as investing in other types of residential real estate, but there are differences. For one, the number of students renting properties is usually consistent over time, and so the rental market might be more stable than in some other cities. As long as there are students, there will be people looking for rentals.
Besides directly purchasing a student housing property, investors can also consider investing indirectly through a publicly traded, student housing REIT called American Campus Communities, which is the largest and only REIT for student housing.
No matter how you choose to invest, statistics show there is not likely to be a shortage of students who need housing.
According to the National Center for Education Statistics, in 2018 63% of students lived off campus, and not with their parents. So, if you look at the average college enrollment, which is expected to jump to 17 million students by 2029. That is a lot of potential renters for student housing.
So, let's discuss some things to understand before investing in student housing.
What type of property do you want to invest in?
Student housing rentals can be single-family homes, duplexes, apartments, or even entire buildings catered specifically to students. You can also consider a student housing REIT, as we discussed earlier.
Are there local statutes that might impact your rental?
In some cities there are special permits that renters need to submit before they are allowed to rent to students, and some need to be done annually. There are also occupancy laws that regulate how many tenants can be in a rental. Checking the local laws is essential before investing in student housing.
What type of lease will you offer?
The most common lease is 12-months. For students, this can be an issue because the school year is only 9-months of the year. Some renters decide to allow a 9-month lease, while others do a 12-month lease and allow the renter to sublet the property during the summer.
Who will pay the utilities?
If the tenants are required to pay the utilities some landlords report they are more likely to use electricity and water more efficiently. While not a huge issue, it is one thing on the list of things to consider before investing in student housing.
Do you want to manage the property?
Rental properties can take a lot of time to manage. Maintenance, making sure rent is paid, handling complaints...the list of things can get lengthy. If you don't plan to handle this on your own, there are property management companies you can hire. You will need to figure in this cost to your monthly cash flow if it is the route you plan to take.
This is just a short list of things to consider when looking to invest in student housing. Other items to consider include:
What security deposit will you charge?
Will you require parents to co-sign on the lease?
What are the vacancy rates of the rental market?
What is the cash flow you need each month?
What are the trends of rental prices in the market you plan to invest in?
What type of loan will you need?
What percentage of students live off-campus in the city?
Ultimately, when enrollment rates are consistent, or increasing, there is likely to be an abundance of renters, making student housing a good option for some real estate investors. The key? Understanding everything about the process before jumping in.


This material is for general information and educational purposes only. Information is based on data gathered from what we believe are reliable sources. It is not guaranteed as to accuracy, does not purport to be complete and is not intended to be used as a primary basis for investment decisions.