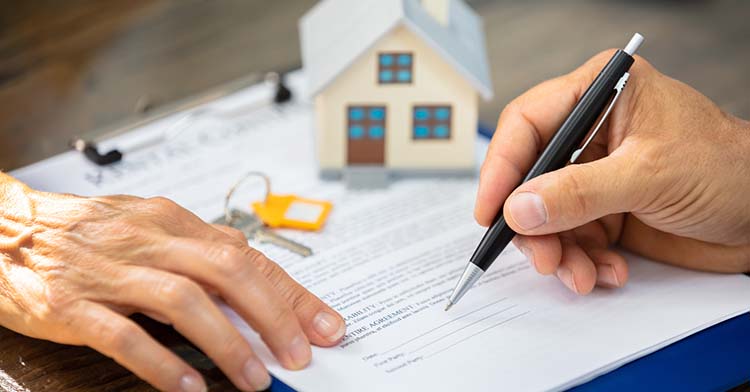 Possession may be nine-tenths of the law, but a property deed in your name unequivocally proves you are the legal owner of a real property asset.
Deeds are valuable documents that should be stored in a safe and convenient place. You won't need to access the document often, but you definitely will need it if you ever decide to sell your home. It also will be necessary to have it in hand if you have an estate planning attorney draw up legal documents, and it's also necessary to transfer property ownership for inheritance in the event of the legal property owner's passing.
Wise counsel suggests keeping important paperwork such as property deeds in a fireproof safe – better yet, in a safe deposit box at a local bank. Alternatively, you can keep the document with your estate planner, if possible.
If you haphazardly placed the deed to your home or investment property in a stack of old newspaper that accidentally got filed in the trash bin, here is how to get a replacement property deed.


Where Your Deed Is Registered
In the U.S., real property deeds are commonly filed at the county recorder's office. Depending on where you live, this division of the county government goes by many different names, though. These titles include:
Recorder of Deeds
Recording and Land Records
County Recorder
Land Records Division
Land Record Services
Real Property Records
Records and Deeds
Register of Deeds
Recorder's Office
Property Records
Office of Real Property
If you need a replacement property deed, this office is the first place to go.
If you go to the recorder's office in person, bring proof of identification so you can get replacement documents. The county recorder staff can search for your deed in a number of ways: address, name, or legal description of the property. You either can get unofficial or certified copies of the property deed depending on your needs. There's usually a small fee attached to search and document-generation services.
If you can't go to the county recorder's office in person, you may be able to get a replacement property deed online. Check with your county recorder to see if this option is available for the county in which you live.
Alternatively, you could inquire with the title company that assisted you with the purchase of the property. They may have a copy of your deed on file, though it likely will be a copy and not an official document.


Receiving a Replacement Property Deed in a 1031 Exchange
Investors completing 1031 exchanges don't have to worry about securing property deeds for their replacement properties – your Qualified Intermediary will handle all aspects of the transaction for you, as required by the Internal Revenue Service.
Once you close on a replacement property with the 180-day window given to complete your exchange, your QI will transfer the deed for the new investment property to you.


The Bottom Line
Most counties in the United States keep records of real property transactions at the office of the registrar of deeds or county recorder. If you need a replacement property deed, just head down to the county recorder's office. You likely will be asked for a state-issued identification card and perhaps some other proof of property ownership. If you want to save a trip, you may be able to get replacement documents online.


This material is for general information and educational purposes only. Information is based on data gathered from what we believe are reliable sources. It is not guaranteed as to accuracy, does not purport to be complete and is not intended to be used as a primary basis for investment decisions. It should also not be construed as advice meeting the particular investment needs of any investor. Realized does not provide tax or legal advice. This material is not a substitute for seeking the advice of a qualified professional for your individual situation.