Creating a retirement portfolio is sort of like getting dressed in the morning. Personal preference dictates that our choice of outfits won't be the same, just as no two retirement portfolios will look the same, either.
When crafting a retirement portfolio, your investment choices are largely dictated by your investment goals, tolerance for risk, financial situation, investment horizon, and current needs – factors that will be different for each individual investor. Still, there are some basics that we can discuss that may help guide your decisions as you create a retirement portfolio.
Importance of Diversification in Your Retirement Portfolio
Cast aside all considerations about your personal financial situation and other individual factors. When it comes to your retirement portfolio, you join all retirees with one shared goal: Don't run out of money.
Capital preservation is an overriding concern for retirees, but there are many other facets of a retirement portfolio to account for, including its potential for growth, hedging for inflation, longevity, and where and how to take distributions if you find yourself in need of additional liquidity. Your goal when creating a retirement portfolio, therefore, is to strike a balance between these often conflicting needs.
Diversification is an important aspect of creating a retirement portfolio because it will help achieve that delicate balance between your liquidity needs and capital preservation. A highly diversified portfolio offers the potential to return sufficient capital while also surviving bear market runs. Diversification across a variety of equity asset classes also can offer investors the potential to manage their exposure to risk from market volatility while retaining the potential for long-term growth. Investing in fixed-income assets, meanwhile, offers the potential for capital preservation, regular distributions, and potentially less risk than investing solely in growth stocks or alternative assets like real estate.
Create a Slush Fund
Many financial experts suggest setting aside a year's worth of cash to cover all your expenses. Use this money to supplement Social Security income and pay all your regularly occurring bills, such as mortgage, utilities, and insurance premiums. This fund, which can be held in a standard checking account or portioned into short-term certificates of deposit, will prevent you from invading your portfolio's principal, which could result in lower overall returns. If you can't parse out a year's worth of cash and need to draw down your portfolio, keep in mind the 4 percent rule – don't withdraw more than 4 percent of your portfolio's total value in any year.
Tolerance for Risk in Retirement
As you think about crafting your retirement portfolio, consider your current age. Retirees in their early to mid 60s can typically afford to take on a bit more risk than retirees in their Golden Years. If you have that years' worth of cash on hand, you can choose an appropriate mix of stocks, bonds, and fixed-income investments that offer the potential for growth at a comfortable level of risk. You'll likely want to rebalance your retirement portfolio as you reach major age milestones such as 70 and 80 years old. By the time you hit age 80, your main goal should be the preservation of wealth rather than the creation of additional capital. Your investment choices should reflect this much more conservative approach to investing.
Here's that theory in practice: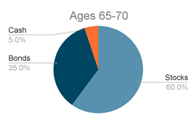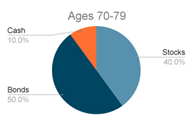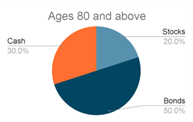 This strategy, just like deciding what to wear each morning, will be different for each investor. Consider working with a retirement planner to create a retirement portfolio that meets your investment goals, provides liquidity, preserves capital, and attempts to manage risk.
This material is for general information and educational purposes only. Information is based on data gathered from what we believe are reliable sources. It is not guaranteed as to accuracy, does not purport to be complete and is not intended to be used as a primary basis for investment decisions. It should also not be construed as advice meeting the particular investment needs of any investor.
Realized does not provide tax or legal advice. This material is not a substitute for seeking the advice of a qualified professional for your individual situation.
Neither asset allocation nor diversification guarantee a profit or protect against a loss in a declining market. They are methods used to help manage investment risk.
All investments have an inherent level of risk. The value of your investment will fluctuate with the value of the underlying investments. You could receive back less than you initially invested and there is no guarantee that you will receive any income.