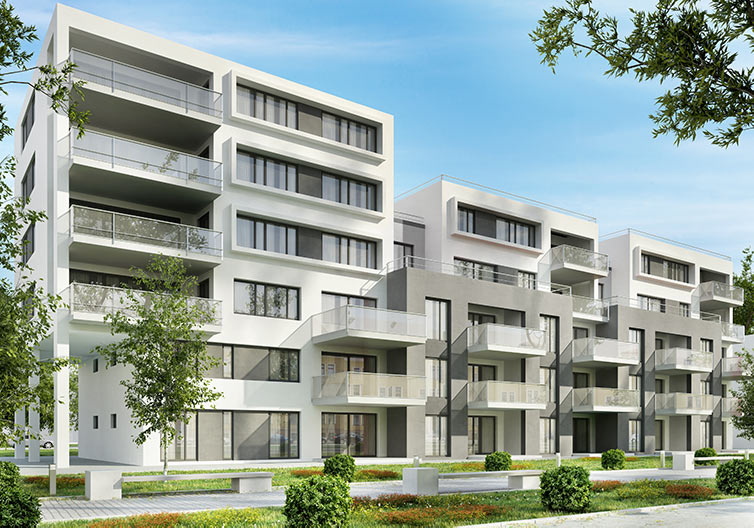 As a real estate investor, perhaps you started buying and renting single-family homes, and now you want to expand your portfolio into multi-family housing. Or, maybe you are already house hacking (if you own a duplex, triplex, or quad (which are considered residential) even if you live in one unit and rent out the others) but still want to expand into more significant multi-tenant properties. What is the best way to leap into multi-family housing ownership?
As with many sectors, there probably is no one best way. Investors are different, with personal goals, individual risk tolerances and appetites, and budgets. Multi-tenant housing may require more dedicated management than single-family rentals, prompting the investor to transition to professional oversight. Financing larger, more expensive assets can be more complicated than smaller properties.
Fortunately, there is more than one path to owning multi-family housing.


Buy on your own
As mentioned, you can start with a small unit that you both live in and rent a portion to others. You can graduate from there to other more considerable investments as your ability to finance them permits. If your appetite for size outstrips the availability of funding, you may consider other options.
One thing to keep in mind as you manage your asset portfolio is the advantage of using a 1031 exchange to transition from single-family properties to multi-family housing if that is your goal. When you sell a property that has increased in value but want to reinvest the proceeds in a different (but like-kind) investment property of the same or higher value, you can use a 1031 exchange to defer the payment of the capital gains tax, which allows you to use the entire proceeds. Suppose you direct the proceeds from several single-family properties (or other business property assets) together into a multi-family housing purchase. In that case, you may be able to move toward the realization of this goal.


Crowdfunding
Another potential avenue for investment in more significant properties is through crowdfunding opportunities. If an investor cannot finance the prospective purchase independently, it's possible to attract other investors through a crowdfunding platform. This method of raising capital offers a stake in the property to others in return for money. The investment should be considered high-risk, both for the sponsor and the investors.


Fractional Investments
Very similar to direct crowdfunding but less risky are fractional investments like Delaware Statutory Trusts (DSTs). Investors in DSTs are beneficiaries of the trust, which buy stakes in real property, which qualify for 1031 exchanges on entry and exit. Many DSTs offer access to multi-family housing assets, with consistent monthly income, no active management responsibilities, and tax advantages.
Like all real estate purchases, DSTs have risks, but the trust assets are typically of very high quality, which may reduce the exposure for an individual investor. The individual investor has the freedom to choose the investment size that they prefer (subject to the minimum established by the DST), and both entry and exit are usually straightforward.
Multi-family housing is not the only asset class available in DST offerings, but it comprises a significant portion and a successful representation of this option's investments.


This material is for general information and educational purposes only. Information is based on data gathered from what we believe are reliable sources. It is not guaranteed as to accuracy, does not purport to be complete and is not intended to be used as a primary basis for investment decisions.