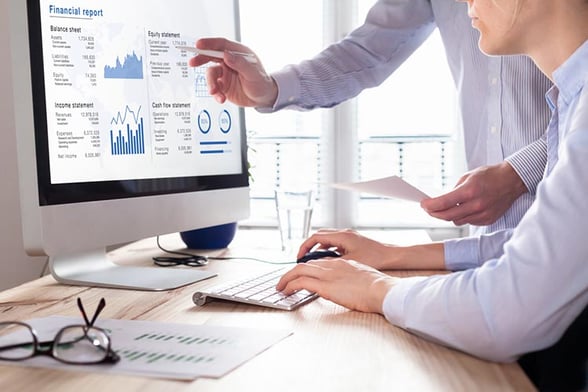 There are many reasons to consider adding real estate investment trusts (REITs) to your portfolio – but it helps to know how to analyze REIT financial statements to ensure any potential investments match up with your investment strategies and tolerance for risk.
REITs own, manage, and acquire large-scale commercial properties that typically are well out of your financial reach as a solo investor. Equity REITs usually focus on one sector of commercial real estate, such as:
Warehouses
Multifamily
Hospitality
Medical facilities and healthcare
Senior housing
Data centers
Office
Retail
Self storage
Mortgage REITs, meanwhile, fund income-producing properties by generating mortgages or mortgage-backed securities. They derive profits from loan interest rates.
Publicly traded REITs are required to file quarterly and annual reports that give insight into their operating metrics and financial strength, and REITs also publish annual financial statements that are sent to shareholders. In this article we'll take a closer look at REIT annual financial statements and provide some insight into interpreting them.

REIT Annual Financial Statements
REIT shareholders and potential investors can learn a great deal about a company's operations by analyzing their annual financial statements. Comprehension takes a bit of sleuthing and understanding of financial documents, but here are nine key aspects of a publicly-traded company's financial statement:
Vision and mission statement
Company information
Business overview and highlights
Executive report
Management's insight on industry trends
Corporate governance
Historical share price
Auditor's report
Financial statements
The financial statement details the company's profits, losses, and cash flow, which can provide important insight into the financial health of a REIT. Other important areas to examine closely are share price, management discussion, executive report, and corporate governance. Understanding these complex documents requires some patience and research, but with a little effort you can become quite familiar with a REIT's operations and financial strength.
That's not all there is to know about analyzing REIT financial statements, however. Since REITs usually have a specific focus on one sector of commercial real estate, they often include detailed breakdowns of their operations and property holdings. Additional information that can be gleaned from a REIT's portfolio summary includes:
Property highlights, including total annual rental income, occupancy ratio, and dividend payout ratio
Net value and square footage of assets under management
Mortgage debt ratio
Breakdown of the portfolio by geographical region and asset type
List of notable tenants by lease size and gross revenue
Property acquisitions and dispositions
Careful examination of these latter areas can provide shareholders and prospective investors with additional insight into a REIT's operations that reaches beyond the dollars and cents.
But there's still another layer of examination that's required to properly analyze and value a real estate investment trust.

Additional Metrics for Analyzing REITs
REITs can't be analyzed like other publicly traded companies because they operate and are taxed differently.
For starters, REITs don't pay corporate income tax if they return 90 percent or more of their taxable profits back to shareholders in the form of dividends. This accounting treatment muddies the waters for traditional valuation methods. Instead, investors and financial experts look at funds from operations (FFO), adjusted funds from operations (AFFO), and net asset value (NAV) to better assess a REIT's true market value.

The Bottom Line
Analyzing a REIT's annual financial statement only paints part of the picture. Looking at additional property metrics and highlights, as well as key financial metrics such as FFO, AFFO, and NAV, can help fill in the entire portrait and provide a clearer idea of where the REIT has been and where it might be headed. Properly analyzing a REIT also requires additional insight into core commercial real estate markets, asset classes, and key macroeconomic factors that could affect property performance in different geographical regions.
This material is for general information and educational purposes only. Information is based on data gathered from what we believe are reliable sources. It is not guaranteed as to accuracy, does not purport to be complete and is not intended to be used as a primary basis for investment decisions. It should also not be construed as advice meeting the particular investment needs of any investor. Realized does not provide tax or legal advice. This material is not a substitute for seeking the advice of a qualified professional for your individual situation. There is no guarantee that companies that can issue dividends will declare, continue to pay, or increase dividends. A REIT is a security that sells like a stock on the major exchanges and invests in real estate directly, either through properties or mortgages. REITs receive special tax considerations and typically offer investors high yields, as well as a highly liquid method of investing in real estate. There are risks associated with these types of investments and include but are not limited to the following: Typically no secondary market exists for the security listed above. Potential difficulty discerning between routine interest payments and principal repayment. Redemption price of a REIT may be worth more or less than the original price paid. Value of the shares in the trust will fluctuate with the portfolio of underlying real estate. Involves risks such as refinancing in the real estate industry, interest rates, availability of mortgage funds, operating expenses, cost of insurance, lease terminations, potential economic and regulatory changes. This is neither an offer to sell nor a solicitation or an offer to buy the securities described herein. The offering is made only by the Prospectus.