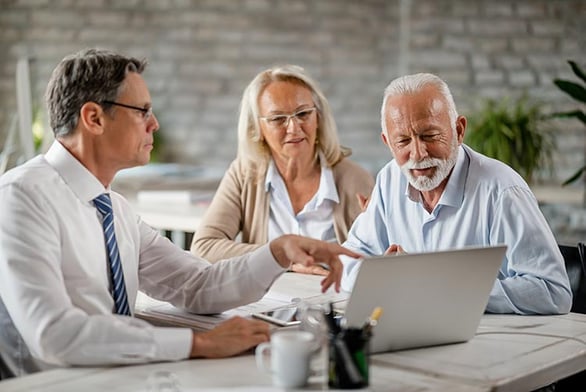 Your individual tolerance for risk and investment goals will change over time. Rebalancing your investment portfolio as you age – especially as you near retirement – can help ensure that the mix of assets in your portfolio matches your risk tolerance and investment objectives.
Rebalancing your portfolio in retirement is equally important. Unlike younger investors, who have more time to ride out market swings, retirees typically aren't seeking to maximize returns but rather to preserve their capital. Your tolerance for risk in retirement is likely much lower than when you were working and bringing in a steady income.
Below we'll look at how often you should rebalance your retirement portfolio.
What is Portfolio Rebalancing?
When you set up an investment portfolio, the process of deciding where and how to invest capital to bring potential exposure to gains while simultaneously attempting to manage risk is called asset allocation. Some investors craft investment portfolios that are a mix of 70 percent equities and 30 percent fixed-income instruments like certificates of deposit, bonds, mutual funds, and fixed-income exchange-traded funds. The 70/30 asset allocation strategy straddles the line between the lower-risk 60/40 allocation model and the riskier 80/20 strategy.
Your allocation strategy also is affected by your age, investment goals, tolerance for risk, and expected rate of return.
Rebalancing, meanwhile, is the process of adjusting the assets within your portfolio in an effort to continually meet the investment objectives stated above. When you rebalance your retirement portfolio, you may need to buy or sell certain assets in order to meet your desired balance of asset allocation and level of risk. As noted earlier, retirees are commonly risk-averse. You may want to attempt to lower your exposure to risk by holding a higher proportion of fixed-income assets. While this strategy may limit your retirement portfolio's potential for growth, it could be a method to manage risk while you seek to preserve your investment capital.
How Often Should I Rebalance My Retirement Portfolio?
There's no set rule when it comes to rebalancing – it's entirely up to you. If you enact a time-based approach, such as quarterly, semi-annually, or annually, then you will regularly revisit your current asset allocation strategy to determine if it's still appropriate and in line with your needs.
When it comes to your retirement portfolio, though, you'll likely already have made the adjustments necessary to craft a more conservative mix of assets well before you begin drawing funds from your portfolio to supplement your retirement income. If you haven't, it's well past time to consult with an experienced financial advisor or portfolio manager to craft an investment strategy that brings your portfolio's asset allocation in line with your current investment needs.
Rebalancing too often, especially with a conservative retirement portfolio that already contains a heavy allocation of fixed-income securities, may prove both costly and unnecessary.
The Bottom Line
The money held in your retirement portfolio is your financial lifeline to a comfortable retirement. Retirees with large portfolios may be able to live off returns and never have to invade principal. Retirement investors with more modest portfolios, though, will likely have to tap into those funds at some point.
Consulting with an experienced financial advisor or retirement planner about your investment goals can provide important insight in regards to how often you should rebalance your retirement portfolio and ensure your asset allocation continually matches your tolerance for risk.
This material is for general information and educational purposes only. Information is based on data gathered from what we believe are reliable sources. It is not guaranteed as to accuracy, does not purport to be complete and is not intended to be used as a primary basis for investment decisions. It should also not be construed as advice meeting the particular investment needs of any investor.
Realized does not provide tax or legal advice. This material is not a substitute for seeking the advice of a qualified professional for your individual situation.
Neither Asset Allocation nor Diversification guarantee a profit or protect against a loss in a declining market. They are methods used to help manage investment risk.
Rebalancing can entail transaction costs and tax consequences that should be considered when determining a rebalancing strategy.