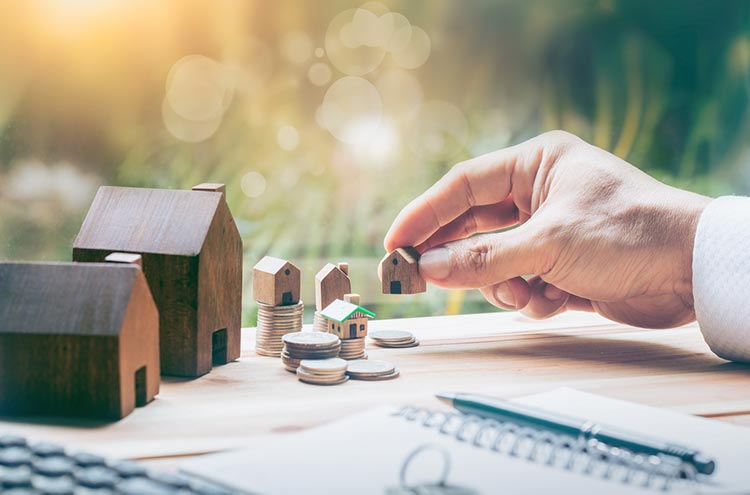 Putting money toward an investment property can be a worthwhile venture. Owning an investment property has the potential to net you proceeds far into the future and serve as a way to pass on your wealth to your loved ones. However, building your portfolio and obtaining high-value investment properties may require a substantial down payment.
Discover how much you may need for different types of investment properties.
Types of Investment Properties
There are several investment property options available to real estate investors. The most common include commercial investments like REITs or DSTs and residential properties:
REITs
Real estate investment trusts (REITs) are publicly traded trusts owned by larger companies. They typically include commercial properties like offices, hotels, or malls. To purchase a REIT, you invest in company shares through the stock exchange. Potential benefits to REITs include receiving dividends, high liquidity, and risk diversification.
DSTs
Delaware Statutory Trusts (DSTs) are designed to allow investors to pool investment into high-dollar commercial properties like apartment buildings, medical facilities, and industrial buildings. However, unlike most REITs, you must purchase a DST through a designated Sponsor.
Residential Rental Property
If you're beginning to build your investment portfolio, you may opt for a residential rather than commercial property. Residential properties are typically one-off purchases you make and rent to tenants for short- or long-term stays. This can allow you to collect passive monthly income and help build on your investment portfolio over time.
How Much is the Down Payment for Various Investment Properties?
Down payments for investment properties depend on the asset you're investing in. For instance, the down payment for a residential property will resemble the typical down payment for a homeowner, usually about 20% of the property's value.
REITs offer a relatively low threshold for a down payment because investing in a REIT is comparable to investing in stock. However, REITs have other associated costs. You may pay brokerage fees for publicly-traded REITs or financial advisor fees for private REITs that total around 10% of the investment.
DSTs typically require a sizeable down payment, between $25,000 if you're using cash and $100,000 for properties gained through 1031 exchanges. You may also have to pay additional fees to the trust's Sponsor and other acquisition fees.
Despite significant investment, DSTs provide investors with the opportunity to hold direct ownership in high-value properties. For example, building a mall in the U.S. costs around $25 to $180 million. With an average down payment of 20%, obtaining direct ownership would require a minimum $5,000,000 investment.
Investing in a DST or a REIT lets you pursue the passive income benefits of commercial property ownership for a smaller cost than having to purchase the entire property outright.
This material is for general information and educational purposes only. Information is based on data gathered from what we believe are reliable sources. It is not guaranteed as to accuracy, does not purport to be complete and is not intended to be used as a primary basis for investment decisions. It should also not be construed as advice meeting the particular investment needs of any investor.
Realized does not provide tax or legal advice. This material is not a substitute for seeking the advice of a qualified professional for your individual situation.
All real estate investments have the potential to lose value during the life of the investment. All financed real estate investments have the potential for foreclosure.
All investments have an inherent level of risk. The value of your investment will fluctuate with the value of the underlying investments. You could receive back less than you initially invested and there is no guarantee that you will receive any income.
No public market currently exists, and one may never exist. DST programs are speculative and suitable only for Accredited Investors who do not anticipate a need for liquidity or can afford to lose their entire investment.
Programs that depend on tenants for their revenue may suffer adverse consequences as a result of any financial difficulties, bankruptcy or insolvency of their tenants.
A REIT is a security that sells like a stock on the major exchanges and invests in real estate directly, either through properties or mortgages.
REITs receive special tax considerations and typically offer investors high yields, as well as a highly liquid method of investing in real estate.
There are risks associated with these types of investments and include but are not limited to the following:
Typically, no secondary market exists for the security listed above.
Potential difficulty discerning between routine interest payments and principal repayment.
Redemption price of a REIT may be worth more or less than the original price paid.
Value of the shares in the trust will fluctuate with the portfolio of underlying real estate
There is no guarantee you will receive any income.
Involves risks such as refinancing in the real estate industry, interest rates, availability of mortgage funds, operating expenses, cost of insurance, lease terminations, potential economic and regulatory changes.
This is neither an offer to sell nor a solicitation or an offer to buy the securities described herein. The offering is made only by the Prospectus.