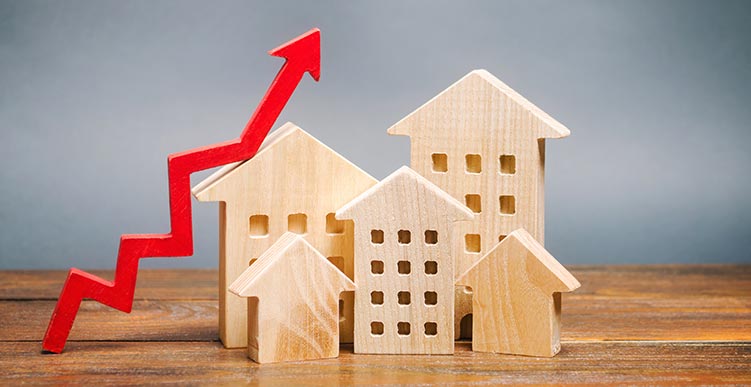 You've heard it before, and we will continue to repeat it: There is no such thing as a risk-free investment. Yes, some investments carry a lower degree of risk. And, risk can be managed through due diligence, plenty of research, and self-analysis pertaining to risk tolerance. But the act of investing requires acceptance of risk.
You've also heard this one before: The basic definition of risk is the probability of loss, relative to an anticipated return on a particular investment. Risk is also correlated to reward. The higher the risk, the better potential for a higher reward.
One thing to keep in mind is the differences when it comes to gauging risk among asset types. Analyzing real estate risk differs from determining risk of more traditional assets.


Securities risk: Analyzing volatility
If your targeted investments involve publicly traded stocks, bonds, or funds, risk analysis focuses on metrics such as a company's price-to-earnings ratios. But, when it comes to understanding a stock's risk/reward profile, one tool to use is the beta.
"Beta" is a fancy word for volatility of an asset, in comparison to other measures. Such measures can be the overall market, or a suggested benchmark index, such as the S&P Index. The beta formula sounds like something out of an advanced calculus textbook; it is calculated by dividing the product of the covariance of an asset's returns by the variance of the market's or benchmark's return, over a specific period of time.
Knowledge of the calculation isn't so important. What is important to understand is that a beta of "1" means the targeted asset is likely to move in tandem with the benchmark or market. A beta higher than "1" signals volatility, with the security likely to move above and beyond the benchmark or index against which it's being compared. While a higher beta means greater risk, it could also open the door to higher returns. If the security's beta dips below "1," it is considered less volatile than the benchmark. Though such an investor has less risk, it also carries the likelihood of lower reward.
Securities investors also use standard deviation and the Sharpe ratio to determine volatility. Standard deviation focuses on the mean value and data dispersion of a security, with the result determining how much a return on investment might deviate from expected average returns. Meanwhile, the Sharpe ratio measures a stock's performance, as adjusted by associated risk.


Real estate risk: Location, supply and demand
Measures involved with real estate risk are much different than those used to analyze traditional investments. A real estate asset's volatility is pinned to physical factors, and can focus on:
Location, including the value and supply of comparable properties, and tenant demand.
The market, such as demographics and local economies.
Product category, specifically, the real estate "food groups" of retail, office, industrial, and multifamily.
Asset class, ranging from the newer Class A, to the value-add Class B or Class C
Tenants, their credit ratings, length of lease, and turnover rate
Two additional elements to consider with real estate are time horizon and amount of capital. The time horizon involves the holding period involved before the asset ceases to provide value. And capital refers to how much an investor might invest -- and risk -- to improve a property. A Class C property requiring deferred maintenance will be riskier than a Class A, newer product. The former requires more resources in an attempt to increase the rate of return and value increase. On the other hand, a Class C fix-up could be a suitable investment, based on area demand and supply.
As such, gauging real estate risk requires more than understanding the current, or forecast, asset value. Other issues should be clarified for a true understanding of the property.


Managing risk to potentially boost gains
While risk is inherent in all investments, there are ways to mitigate, or reduce it. Doing so requires careful due diligence, whether the targeted asset is a bond, stock, medical office building, or piece of land. Also important is an understanding of risk appetite and tolerance; a lower appetite and tolerance should mean a more conservative investment.
Investment assets are in place to help improve rates of return. These investments differ, meaning gauging asset risk will differ, as well. Furthermore, diversification is achieved by targeting assets with low correlation to one another. As such, investors seeking to improve their holdings need to be aware of the tools available to help quantify and manage various asset risk.
To learn more about measuring real estate risk for investment purposes, contact Realized Holdings by logging on to www.realized1031.com, or by calling 877.797.1031.


This material is for general information and educational purposes only. Information is based on data gathered from what we believe are reliable sources. It is not guaranteed as to accuracy, does not purport to be complete and is not intended to be used as a primary basis for investment decisions. It should also not be construed as advice, meeting the particular investment needs of any investor.
There is no guarantee that the investment objectives of any particular program will be achieved.
The actual amount and timing of distributions paid by programs is not guaranteed and may vary. There is no guarantee that investors will receive distributions or a return of their capital. These programs can give no assurance that they will be able to pay or maintain distributions, or that distributions will increase over time.