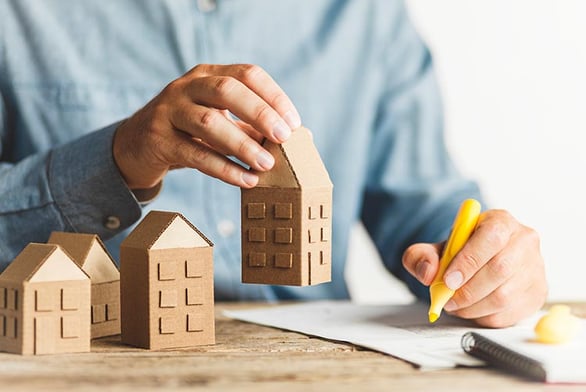 Real estate investment trusts (REITs) have been investment vehicles since President Eisenhower signed into law the REIT Act title, part of the 1960 Cigar Excise Tax Extension.¹
In 1965, the first REIT was listed on the New York Stock Exchange. Today there are more than 225 REITs registered with the U.S. Securities and Exchange Commission, and most of these are publicly traded on the NYSE.² Publicly traded REITs own about $2 trillion in real estate assets, and privately held REITs hold another $1.5 trillion.
REITs often need to raise capital in order to acquire and operate real property assets. In this article we'll look at how both public and private REITs raise money to enhance and build up their portfolio of assets.


What Is a REIT?
REITs allow solo investors access to large income-producing real estate without the headaches that can come with direct property ownership. These real property assets can include:
Shopping malls and retail centers
Hotels and resorts
Self-storage facilities
Industrial warehouses
Office buildings and towers
Large multi-family apartment complexes
Senior housing and managed care facilities
In order to qualify as a REIT, the company must distribute at least 90 percent of taxable income back to shareholders as annual dividends. The majority of assets held in the company's portfolio also must be associated with real estate.³ There are some additional requirements as well, but the first one is the most crucial aspect of fundraising.

Equity REITs and IPOs
Since REITs have to pay such large distributions back to shareholders on an annual basis, there's often little cash in reserve to make new acquisitions and investments that can strengthen or expand the company's asset portfolio. One common option for raising additional capital is through an initial public offering. Most REITs take this route to secure additional funding, making them equity REITs. According to Nareit, the leading REIT advocacy organization, more than 145 million public investors have REIT stock in their investment portfolios. They also are held by most target-date funds, as well as large pension and endowment funds.⁴


REITs and Debt Financing
Another common way REITs raise capital is through debt financing. Most REITs have this type of financing since they must make regular dividend payments.⁵
Debt financing is typically done through fixed rate and variable rate lending. Since REITs require capital for regular dividend payments, there are key restrictions in place to avoid them becoming overleveraged. Debt refinancing also is an important aspect of fundraising for REITs.


The Bottom Line
Public equity and debt provide two important lifelines for REIT growth, asset enhancement and return of annual dividends. According to the Federal Reserve Bank of Chicago, the typical pattern for REIT financing is to purchase real property assets with unsecured credit and then refinance this debt by issuing common/preferred stock or senior notes.⁶ However, REITs can also increase liquidity through asset divestiture, joint ventures, and issuance of shares to accredited investors via private placement.
REITs are no different than any other company needing to maintain liquidity and manage capital. As with any organization, leveraged debt financing brings additional risk, especially in instances of cyclical downturns common in the real estate industry.
Sources:
1. REIT Industry Timeline, Nareit, https://www.reit.com/investing/reit-basics/reit-industry-timeline
2. Frequently Asked Questions About REITS, Nareit, https://www.reit.com/what-reit/frequently-asked-questions-about-reits
3. Investor Bulletin: Real Estate Investment Trusts, SEC, https://www.sec.gov/files/reits.pdf
4. Guide to Equity REIT investing, Nareit, https://www.reit.com/what-reit/types-reits/guide-equity-reits
5. How do REITs Raise Capital, REIT Pulse, https://reitpulse.com/how-do-reits-raise-capital/
6. Points to Consider When Financing REITs, Federal Reserve Bank of Chicago, https://www.chicagofed.org/-/media/publications/risk-management-papers/sr-99-7-pdf.pdf
This material is for general information and educational purposes only. Information is based on data gathered from what we believe are reliable sources. It is not guaranteed as to accuracy, does not purport to be complete and is not intended to be used as a primary basis for investment decisions. It should also not be construed as advice meeting the particular investment needs of any investor. Realized does not provide tax or legal advice. This material is not a substitute for seeking the advice of a qualified professional for your individual situation.There is no guarantee that companies that can issue dividends will declare, continue to pay, or increase dividends. A REIT is a security that sells like a stock on the major exchanges and invests in real estate directly, either through properties or mortgages. REITs receive special tax considerations and typically offer investors high yields, as well as a highly liquid method of investing in real estate. There are risks associated with these types of investments and include but are not limited to the following: Typically no secondary market exists for the security listed above. Potential difficulty discerning between routine interest payments and principal repayment. Redemption price of a REIT may be worth more or less than the original price paid. Value of the shares in the trust will fluctuate with the portfolio of underlying real estate. Involves risks such as refinancing in the real estate industry, interest rates, availability of mortgage funds, operating expenses, cost of insurance, lease terminations, potential economic and regulatory changes. This is neither an offer to sell nor a solicitation or an offer to buy the securities described herein. The offering is made only by the Prospectus.