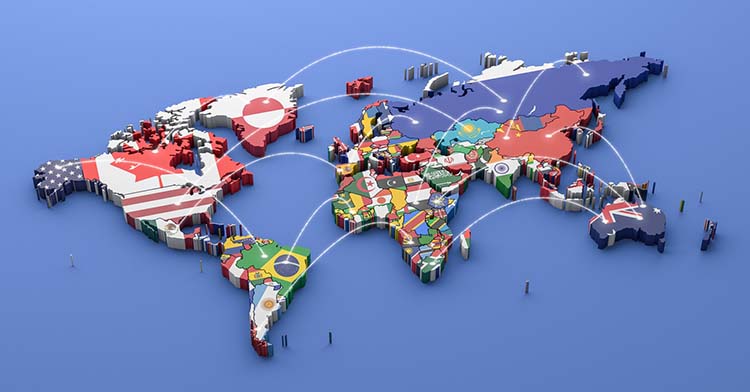 For an investor building a commercial property portfolio, there are important considerations when crafting a balance of assets. For example, you may prefer to focus on a particular sector or class of real estate or develop a varied collection. In addition, if you seek geographic distribution in your acquisitions, there are some options for your method of pursuing that balance.

Does Geographic Diversification in a Real Estate Portfolio Make Sense?
Following the adage to avoid putting all your eggs in one basket, some investors pursue diversification in their portfolio in more than one way. Seeking a broad geographic footprint is one exemplary method since economic health does vary across both the U.S. and the world. Moreover, since predicting which markets will enjoy prosperity can be difficult, spreading your investments out across regions makes sense. That way, you can avoid a concentrated impact from a downturn in one area.
Dan Rosenbloom, Managing Editor and Head of Investments at real estate investment management company Cadre, points out in a recent Forbes piece that real estate prices logically appreciate in markets that draw people because jobs are available. He notes that recently cities like New York have seen people flow out to places including Tampa, with an associated increase in commercial property costs in the recipient areas. As the rise and fall of population affects other markets, real estate values may follow.

How Can I Manage Property in More than One City?
A direct owner of commercial real estate assets has day-to-day management responsibility for their property. That may include a range of tasks, depending on the property type and lease, but can be limited or very hands-on. If you have a variety of properties in multiple cities, it's not likely that you can be actively involved in mundane activities. However, you can use the services of a commercial property manager (or more than one), leveraging the benefit of professional support to allow you to maintain a diverse portfolio of assets across multiple markets.
Even with a property manager, as the owner, it's your responsibility if something goes wrong and you may be too far away to oversee the property adequately. That potential may cause some investors to consider achieving geographic diversification through an alternate approach—fractional ownership.

What Is Fractional Ownership of Commercial Real Estate?
Fractional ownership means owning a percentage of an asset, in which the costs and potential profits of ownership are divided between a group of owners. The amount of cost and profit for each owner depends on the amount contributed to the capital used for the purchase. A Delaware Statutory Trust is one of the opportunities for fractional ownership that also offers passive management of real estate assets.
A DST is a company that pools capital from the shareholders (beneficiaries), which it invests in real estate assets that it then manages. DST investors can therefore own fractional interests in commercial real estate in various areas of the country without needing to either travel to each place or hire property managers in multiple regions. Instead, the DST Sponsor makes the management decisions, including typically arranging for a master tenant for the trust's assets. The individual investors have no ongoing input or authority.
Like any investment, DSTs have risks as well as potential rewards. Relinquishing active management affords the investor the freedom to walk away from day-to-day involvement and eliminates their ability to affect the outcome. Since DST investments often have extended holding periods, they are considered illiquid.
This material is for general information and educational purposes only. Information is based on data gathered from what we believe are reliable sources. It is not guaranteed as to accuracy, does not purport to be complete and is not intended to be used as a primary basis for investment decisions.
Realized does not provide tax or legal advice. This material is not a substitute for seeking the advice of a qualified professional for your individual situation. No public market currently exists and one may never exist. DST programs are speculative and suitable only for Accredited Investors who do not anticipate a need for liquidity or can afford to lose their entire investment. Diversification does not guarantee a profit or protect against a loss in a declining market. It is a method used to help manage investment risk.