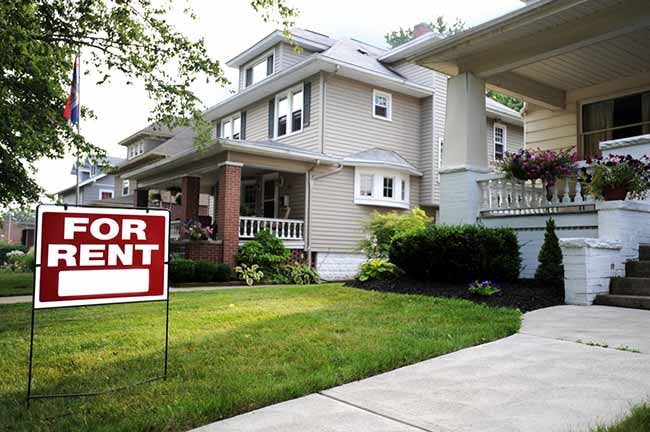 Investing in single-family homes, then turning around and renting those assets to other people, can be a good strategy for your portfolio. These properties can be easier to buy than their multifamily counterparts, and have become increasingly popular among potential tenants. Green Street projects that of the 3.9 million projected new renters that will come to market by 2020, nearly 40% will opt for single-family residences.1
A Boom, a Decade in the Making
The ferocious foreclosure rate resulting from the housing-bubble burst that led to the Great Recession drove many people from their homes. From 2006 to 2010, the home foreclosure rate grew from 0.58% to 2.23%, representing an increase of about 384%.2 Some of those former homeowners ended up in apartments, but others didn't want to downsize or end up in a multifamily property. As a result, they rented homes – often near where they once lived – to maintain their family lifestyles, and to keep their children in the same schools.
While homeowners were moving out, institutional investors saw an opportunity to buy up the new inventory that had been vacated, leading to an increased supply of single-family rentals. Data from NAREIT shows that the single family rental market had grown over 30% from 2007 to 2016, before finally declining in 2017.3 As of October 2017, single-family rentals accounted for 35% of the country's 44 million rental units, compared to the 31% it accounted for back in 2006.4
These days, single-family rentals remain a popular option, especially for young families who, still burdened with student-loan debt and tight credit standards, can't yet qualify for a mortgage. According to Mortgage Professional America, home ownership among those 35 and younger had fallen from 43.6% to 35.9% between 2007 to 2017, despite an aging millennial demographic that is looking to move to more suburban locations that offer more living space and better schools.5
Why Invest?
Many companies and organizations have been thriving as single-family housing landlords. They buy and rent hundreds, or thousands, of homes in a wide range of markets, and manage them much as they might manage apartment portfolios. Several of these companies are Real Estate Investment Trusts (REITs), whose returns have exceeded expectations. In 2016, single-family rental REITs had total returns of 26.7%.1
In addition, some companies, including AHV Communities, are busy developing single-family rental communities. None of the houses in these developments are for sale – rather, they are specifically geared toward people who want to rent.
Although large, institutional buyers have played a major role in the growth of single-family investments, smaller investors are looking to have a skin in the game as well. The advantages of such investments can include:
Affordability: Single family homes are usually more inexpensive and smaller than larger commercial and multifamily properties, thus requiring less start-up capital and a smaller down payment.

Potentially higher appreciation than their multifamily counterparts: Because supply and demand is the main contributing factor to single family home appreciation, homes in expanding markets can appreciate faster than multifamily units that derive value just from net operating income.6

Diversified exit strategies: While larger commercial properties are limited to buyers with access to a significant amount of capital, single-family homes are in demand by private investors, families buying a home, and buyers looking for a lease-to-own option.6,7
As they do when they rent apartments, rental-home tenants typically pay all utility bills. And, unlike their multifamily dwelling counterparts, these tenants might also mow the lawn, handle landscaping and take on the same tasks as homeowners.
The Investment Strategy – and its Caveats
If you're interested in this sector, you could find houses available for below the market value, especially if they require significant repairs or are in foreclosure. Estate sales can often be ways to find – and buy – investment houses for less-than-market costs. Another strategy could be to target rental home acquisitions in markets with high apartment rents.
Or, if you're not interested in the hands-on tasks required from renting houses, single-family REITs have the potential to offer attractive risk-adjusted returns. Whether you want to supplement your income, or just desire to enter the real estate sector, investing in companies that invest in single-family homes could be a good way to do both.
However, before you start collecting your own portfolio of single-family homes, you should consider some of the disadvantages of this type of investment:
Vacancy risk: One vacant rental in a 10-home portfolio is equal to 20 vacancies in a 200-unit multifamily complex. If the loss of income weren't enough, you're still responsible for utilities, maintenance and property taxes.

Homeowner association fees: Depending on the neighborhood in which you're buying, you could be responsible for dues, and for keeping the property up to HOA standards.

Unexpected costs and repairs: It is very common for the owner of a single family rental to manage the property themselves. In the event that significant damage is done to a property, the owner will be responsible for paying for, replacing, and organizing the repair of the issue. This can range from fixing a leaky faucet to replacing the roof of the property.
As with most real estate investments, single-family assets have their benefits and disadvantages. However, with home renter-ship growing in popularity among both the young and old, single family investments could end up being a nice addition to your portfolio.8
Single-family rental housing could be an attractive tool to help you reach your investment goals. For more information about this sector – or other real estate areas, feel free to contact Realized 1031 at 877.797.1031 or log on to https://www.realized1031.com.
Allen Kenney. REITs Flourishing in Single-Family Home Rental Segment. Nareit. May 31, 2017.
Sarah Feldman. State of Foreclosure After Great Recession. Statista.com. September 14, 2018.
Calvin Schnure. Rising Homeownership, Apartment Demand, Single Family Home Rentals and REITs. Nareit. September 28, 2018.
Sarah Strochak. Five things that might surprise you about the fastest-growing segment of the housing market. Urban Institute. October 3, 2017.
Alex Hemani. Millennials Are Driving Up The Single-Family Rental Market -- Here's Why. Forbes. October 17, 2017.
JD Esajian. The Ultimate Guide to Investing in Multifamily Properties. Fortune Builders.
Diversification does guarantee returns and does not protect against loss.
Bob Sullivan. Renting homes is overtaking the housing market. Here's why. USA Today. November 11, 2017.