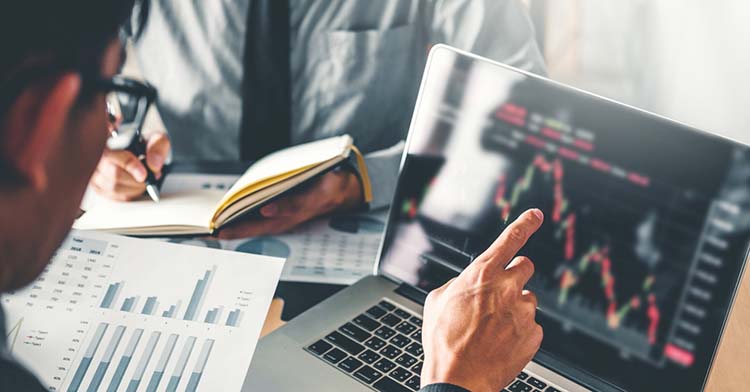 Commodities are less well understood by the average investor, but as inflation rates rise, commodities are something investors may consider as an investment that can help bring diversity to a portfolio. Commodities are tangible goods that can be used as they are or used to make other goods. Some common commodities include livestock, precious metals, cotton, oil, gas, lumber, and uranium.


Potential Pros of Commodities
One potential factor to consider is that over a long period of time, commodities returns generally are not correlated to the stock market, so they can insulate your portfolio during market downturns.
Another point to consider is that when inflation is on the rise, it can erode the value of stocks and bonds. However, inflation can often mean higher prices for commodities, which might make them a good investment when inflation rates are high.


Potential Cons of Commodities
Something for investors to consider is that commodity prices are volatile in part because they can be influenced by so many factors, including global events, import laws, transportation issues, regulations, and significant weather events.
Another point to consider is that a mutual fund contains a diverse array of investments across various industries. But commodity funds are typically less varied, meaning more risk. With little diversification, changes in the market can have a large impact on your portfolio if there aren't other assets to help diversify.


How to Invest in Commodities
There are several ways investors are able to invest in commodities.
Futures
The most common way to buy commodities is through the futures market. You can buy on leverage, putting up relatively little money to open a contract. This form of investing is speculation, but it's considered high risk and high reward.
A futures contract is a legal agreement to buy or sell a commodity at a predetermined price at a specific time in the future. As a buyer, you're taking on the obligation to buy and receive the underlying commodity when the futures contract expires.
Not all brokers trade futures contracts, so you'll need to find one that does if your current one doesn't. You will typically be required to complete a form acknowledging that you understand the risks of futures trading.
Physical Commodities
Investors can buy the actual commodities like hogs, cattle, or gold. For obvious reasons, gold is more common than livestock! In addition, there are ETFs that own commodities like gold or oil or a combination of commodities, allowing investors to have "pure" exposure without having to take physical custody of a commodity.
Stock in Commodity Producers
For more traditional investors interested in commodities, buying stock in companies that produce commodities is an alternative to pure commodities. Typically, the stock prices of these companies will rise when the demand for and the price of commodities increase. For investors who prefer ETFs to researching and choosing individual stocks, some ETFs hold commodities producers inside the fund.
Commodities aren't the most common alternative investment (gold being the exception), but they can be part of an alternative asset within an investment portfolio. Given the current rate of inflation and the proposed infrastructure plan, many new investors may start finding a place for commodities in their portfolios.


This material is for general information and educational purposes only. Information is based on data gathered from what we believe are reliable sources. It is not guaranteed as to accuracy, does not purport to be complete and is not intended to be used as a primary basis for investment decisions. It should also not be construed as advice meeting the particular investment needs of any investor. Realized does not provide tax or legal advice. This material is not a substitute for seeking the advice of a qualified professional for your individual situation. Diversification does not guarantee a profit or protect against a loss in a declining market. It is a method used to help manage investment risk. Alternative investments involve a high degree of risk, often engage in leveraging and other speculative investments practices that may increase risk of investment loss, can be highly illiquid, are not required to provide periodic pricing or valuation information to investors, may involve complex tax structures and delays in distributing important tax information, are subject to the same regulatory requirements as mutual funds, often charge higher fees which may offset any trading profits, and in many cases the underlying investments are not transparent and are known only to the investment manager. The performance of alternative investments can be volatile. There is often no secondary market for an investor's interest in alternative investments and none is expected to develop. There may be restrictions on transferring interests in any alternative investment. Alternative investment products often execute a substantial portion of their trades on non-US exchanges. Investing in foreign markets may entail risks that differ from those associated with investments in the US markets. Additionally, alternative investments often entail commodity trading which can involve substantial risk of loss. All real estate investments have the potential to lose value during the life of the investment. All financed real estate investments have the potential for foreclosure. Cash flow or income are not guaranteed.