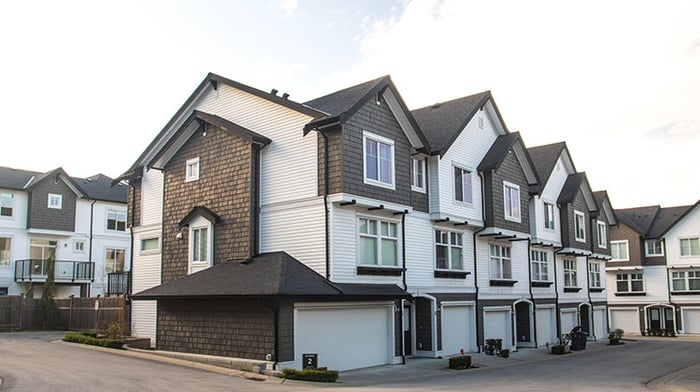 Buying a townhouse as an investment property might be your first step into real estate investing, or a way to branch out once you have some experience with single-family homes. Perhaps you are already renting out condos and are wondering about the distinction between a condo and a townhouse. There are several:
With a condo, the owner owns the interior of their unit. In contrast, the Homeowners Association (referred to as the HOA) owns and controls the exterior walls, communal areas, and front or back grass surfaces. If you own a townhouse, you own the inside and outside.
Townhouses are sometimes called row houses because they are typically built in a row and several stories tall. In contrast, condos can be one-story ranch style, separate bungalow or cottage buildings, or even long hallway apartment-style complexes.
HOA and maintenance fees are often higher for condos than for townhouses, partly because of the ownership division. Condos may also have more communal amenities than townhouses, but not always.


What should I look for?
Suppose you are looking for a townhouse as an investment property (rather than a residence). In that case, it makes sense to consider your options from the perspective of your potential tenants while keeping in mind the financial basics.
Remember the old real estate adage, "it's all about location, location, location"? That applies just as much to a townhouse as to a single-family home or apartment. Townhouses may be built deliberately close to conveniences like transit stops, highways, and schools, and shopping, making them more attractive to possible renters.
Townhouses may be less costly for the renter, just as the purchase price (and maintenance costs) are lower for you as the owner. The attached properties cost less to build, and buildings like townhouses don't require as much dedicated land per unit as single-family homes.


What distinguishes good townhouse investment properties?
As with most residential rentals, there are various asset classes in townhouse units. Newer, more upscale units will attract tenants with higher budgets. There are a few things in addition to age and condition to keep in mind as you evaluate the townhouse complex:
The ratio of renters to owners. If a property has more owners than renters occupying the units, it will be more desirable. In some cases, these townhouses may hold their values better than in properties where the owners have moved out and rented the units out.
HOA management. Look for HOAs that are well run. The HOA is responsible for keeping up the communal areas and amenities and enforcing the rules. The community will have a set of CC&Rs (covenants, conditions, and restrictions) which govern all kinds of behavior by tenants.
These rules range from pet size and number to whether owners may hang clothes outside to dry, and even what color you may paint your home's exterior or how high your flag can fly. If the restrictions are too draconian, renters may not want to comply, but if the rules are not adequately (or equitably) enforced, tenants will chafe at that as well.


Add HOA fees into your financial analysis
When you conduct the cost analysis on a potential townhouse investment, remember to include the HOA fees as one of the expense items. On the other hand, the HOA will usually cover some of the costs for landscaping, exterior maintenance, and shared amenities that you would pay for a single-family home, so it isn't necessarily a net loss.


This material is for general information and educational purposes only. Information is based on data gathered from what we believe are reliable sources. It is not guaranteed as to accuracy, does not purport to be complete and is not intended to be used as a primary basis for investment decisions.