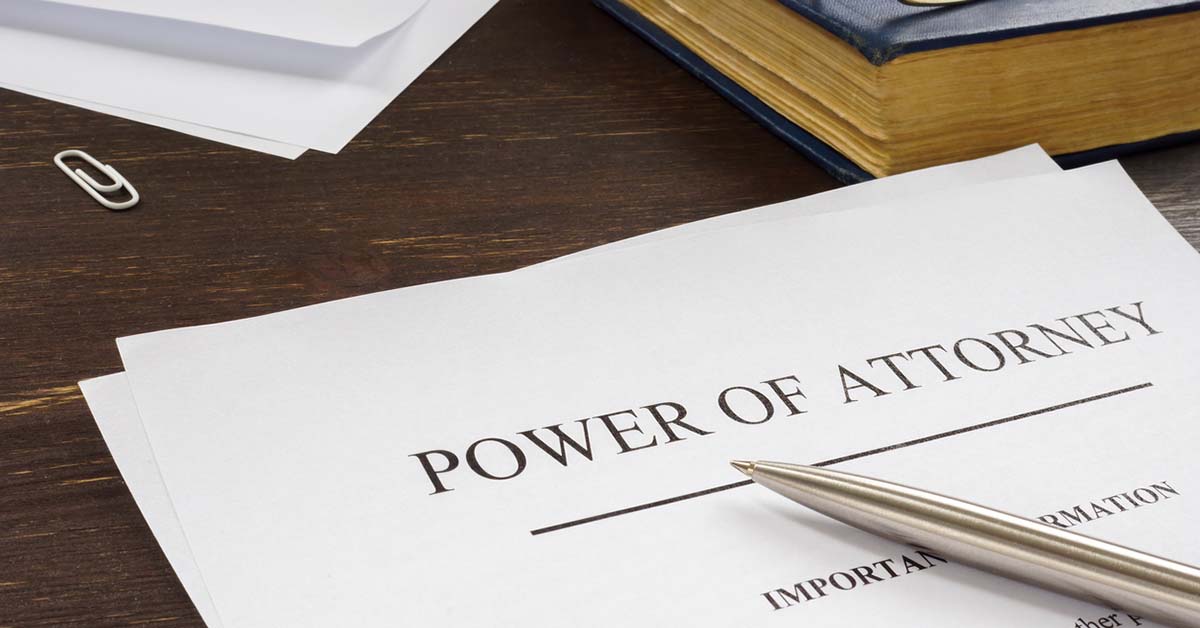 Naming a power of attorney is the process of choosing someone to speak for you in instances when you can't do it yourself.
A power of attorney (POA) instrument gives another person the legal right to handle important financial or healthcare decisions for you. Oftentimes, people name a spouse or child to act as their POA, but you can designate anyone who is trustworthy and will act with your best interests in mind. Your POA, also called an agent, can only take actions that are stipulated within the power of attorney document.
In some instances, a power of attorney could change the beneficiaries of your bank or retirement accounts. Let's take a closer look at the duties performed by a POA and how they might be able to make such important changes.

What Does a Power of Attorney Do?
A general or financial power of attorney can manage many of your important financial affairs, such as your real estate investments, bank accounts, and debt obligations. The POA could sign checks, deposit funds into your accounts, make investment decisions, and file your tax returns.
A limited power of attorney wouldn't have such unfettered access to your finances and may be limited to managing just your retirement accounts or paying medical bills, for instance. Regardless of general or limited power of attorney, your POA still can only perform actions that are outlined in the POA document. Those powers could be in perpetuity, or for a set period of time – say you will be out of the country for a year or two.

Power of Attorney and Beneficiaries
Again, your power of attorney can only do what's set forth in the POA instrument. If the instrument does not stipulate that your POA can change the beneficiaries of banking or retirement accounts, then he or she cannot legally do so. However, if this is something you want, you can always create a new power of attorney agreement and list this special power for your agent.
If the power of attorney instrument does make provisions for this special power, then the POA is allowed to make changes to your financial beneficiaries. However, the POA still must adhere to the principal's fiduciary duties – they can't name themself or someone else as a beneficiary that would run contrary to your wishes.
If the POA document does allow your power of attorney to change beneficiaries, the process is fairly simple – you would just need to make the changes at any relevant financial institutions. You'll have to provide the POA document that stipulates this power, and expect the bank or financial institution's legal team to review it carefully.

The Bottom Line
A power of attorney can only make changes to financial beneficiaries if it's stipulated in the POA document. It would be wise to seek the counsel of an experienced legal professional before including this special power in your POA agreement, however, since it increases the danger of theft, self-dealing, or fiduciary wrongdoing.
Naming a power of attorney can create important safeguards, but it also has the potential to create financial and legal chaos. You are granting another person broad authority to act on your behalf, so make sure you are fully aware of your prospective agent's character, integrity, honesty, and ability to act in your best interests. Lastly, grant only the powers you deem necessary – if your POA instrument does not stipulate that your agent can change beneficiaries, then you won't have to think twice about it.
This material is for general information and educational purposes only. Information is based on data gathered from what we believe are reliable sources. It is not guaranteed as to accuracy, does not purport to be complete and is not intended to be used as a primary basis for investment decisions. It should also not be construed as advice meeting the particular investment needs of any investor. Realized does not provide tax or legal advice. This material is not a substitute for seeking the advice of a qualified professional for your individual situation.