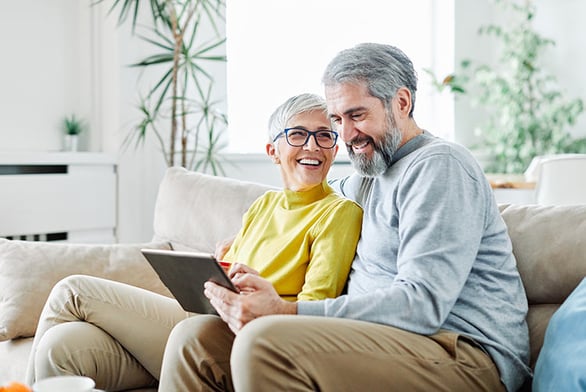 There are many different ownership structures in both commercial and residential real estate. These varying forms of ownership have different implications on finances, taxation, title transfer, and other important aspects of real property ownership.
One question we've fielded is whether or not a husband and wife can hold title as tenants in common. In this article we'll dive into that answer, as well as outline the ramifications of TIC ownership structures between married couples.


What is a Tenant-in-Common Ownership Structure?
Tenant-In-Common is a legal ownership structure formed by multiple investors who jointly own individual undivided interests in real property assets. It's commonly used as a way for retail investors to increase their buying power using their pooled financial strength.
TIC owners can hold unequal shares and can sell or mortgage their shares without input from other tenants. Owners receive distributions from the asset based on their pro-rata shares; likewise, they share all costs related to servicing debt and other expenses in the same manner. TIC investment properties are capped at 35 individual owners, and major operating decisions about the property must receive unanimous owner approval.


Can Married Couples Hold Title as Tenants-in-Common?
Now to the heart of the question: Yes. A husband and wife can hold title to investment real estate as joint owners. Both have equal rights to use the whole property regardless of the share of fractional interests they hold (75-25 percent versus a 50-50 organization, for instance). Under a TIC agreement, each co-owner has the right to mortgage or convey their portion of the property without the consent of the other party. Selling, transferring, or bequeathing fractional interests does not break the tenancy agreement.
A key facet of the TIC arrangement is that there is no right of survivorship, where fractional interests are passed on to the surviving tenant. When a spouse in a TIC arrangement passes, his or her shares are transferred under will to heirs of his or her choosing. This may or may not affect the surviving spouse depending on who exactly receives the deceased spouse's shares. For instance, if shares are passed to a child or relative who enjoys a close relationship with the surviving TIC member things likely will work out OK. However, problems could potentially arise for the surviving owner if the deceased's shares are bequeathed to someone with less amicable relations, such as children from a previous marriage or a relative burdened with existing debts or other financial obligations.
Lastly, the percentage of ownership interests should be clearly delineated between each spouse. If there is no such designation courts will default to an equal division of ownership between the husband and wife.


The Bottom Line
In most states there are multiple ways a wife and husband can hold title to real property assets. The manner in which married couples acquire and hold title to investment properties requires careful consideration of their state's treatment of real property ownership to determine the most prudent course of action since there are distinct financial implications and legal ramifications between tenant-in-common and other common forms of property ownership.


This material is for general information and educational purposes only. Information is based on data gathered from what we believe are reliable sources. It is not guaranteed as to accuracy, does not purport to be complete and is not intended to be used as a primary basis for investment decisions. It should also not be construed as advice meeting the particular investment needs of any investor. Consult with your tax advisor regarding your individual circumstances.