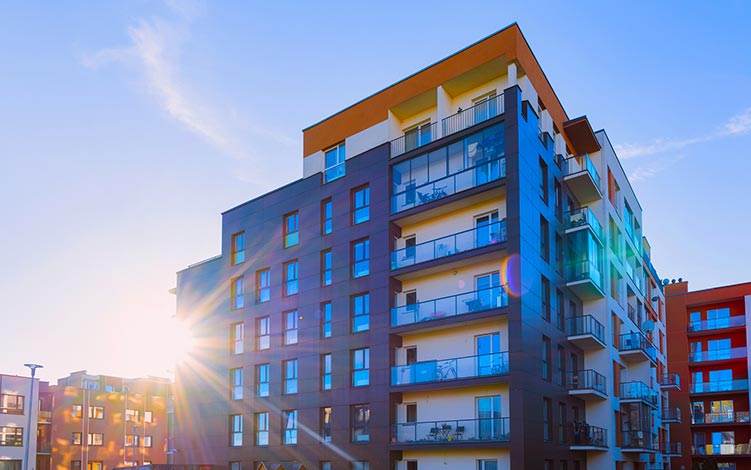 The definition of a multi-family property is simple, a building that has more than one housing unit. But, are multifamily properties considered commercial or residential?
The answer is, it depends. Generally, properties with more than five units are considered multi-family commercial real estate (MFCR), while anything with less than five is classified as residential.
With so many real estate types, it is important to have the correct classification for a property you intend to invest in. Not only can the type of property impact what type of financing you might need, but can also impact long-term investment strategies.


Types of Multi-family Commercial Real Estate
There are many types of MFCR properties, but these are some of the most common.
High-rise apartments are buildings with ten or more floors. The building can have more than 100 units. They are often found in bigger cities and downtown areas.
Mid-rise apartments have between five and nine stories. They usually have between 30 to 100 units.
Garden apartments have between one and four stories of walk-up living space made up of 50 to 200 units. The apartments are often found in suburban areas.
Additional types include student housing, assisted living facilities, and mixed retail/residential space.


Classes of Multi-family Commercial Real Estate
MCFR properties are also broken down by asset class type for investment purposes. The asset class is based on the overall quality and condition of the property.
Class A. These properties can demand the highest rents and are considered luxury buildings in high demand areas.. The properties are usually newer or renovated and offer top-class amenities.
Class B. Properties with fewer amenities that are located in desirable areas are considered Class B asset properties. They are usually well-kept and might be more recently renovated. The rents are not as high as a Class A property.
Class C. A Class C property is located in a less desirable area and will be older buildings that are probably in need of major improvements. These properties bring in the lowest rent amounts.
However, the rental rates are not the only thing to consider when looking at a MCFR investment. For instance, while class A properties might bring in higher rental prices, they usually also cost more for initial investment and upkeep/maintenance.


This material is for general information and educational purposes only. Information is based on data gathered from what we believe are reliable sources. It is not guaranteed as to accuracy, does not purport to be complete and is not intended to be used as a primary basis for investment decisions.