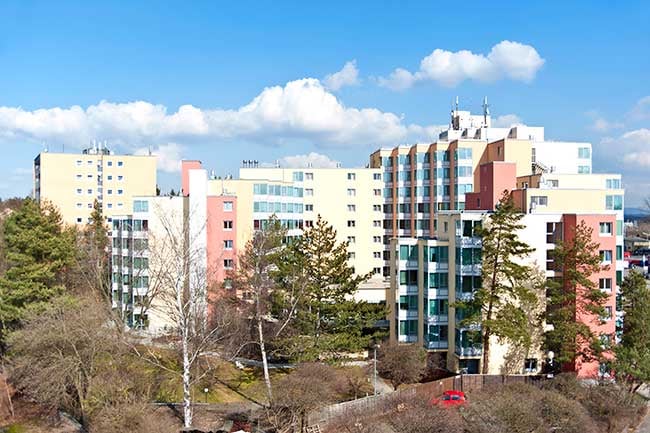 In an environment of increasing property values and interest rates, realizing a return on real estate is becoming increasingly difficult for investors, whether it be an investment into direct property or a fractional ownership structure, such as a Delaware Statutory Trust. While this may be a concern for most, as 89% of investors put their money into real estate1, many are ignoring the crucial aspects of a real estate investment that go beyond the macroeconomic pressures.
From a property's location to the strength of its tenant's financials, assessing the competitiveness of a real estate investment takes more than comparing cash-on-cash returns among potential investments, as these numbers may not tell the whole story. To provide insight into what we think is important to consider, we have gathered a list of 5 things every investor should consider up-front and diligently before investing into a multifamily DST.
1. Renter Appeal and Visibility
Every successful real estate investment starts with demand. If there is no demand for the space you are looking to invest in, your investment is already sunk before it even began. There are several ways to increase the likelihood of tenants buying in, and more importantly stay in, and it all starts with a competitive advantage. Does the property offer better amenities than the development next door? Is the pricing of the rental units competitive? Along with this, ensuring that the property is marketed and branded effectively may increase the chances of potential tenants signing a lease. Looking into the track record of the property manager, or the other properties in their portfolio, may be revealing as to what to expect at the operating level of the property. "Sticky" tenants may lower resident turnover, which creates the potential to drive higher occupancy year-over-year, and thus top-line revenue.
2. Financial Statement Strength
When evaluating a potential investment, always request historical and forecasted financials when they are available. Look at the expenses and see if they have made sense in the past. Look at projections going forward, especially regarding rental growth, and see if they are reasonable when compared against other data in that market. Although a property may be paying a projected 7% cash-on-cash return, the numbers mean nothing if they can't be supported by Reis, Axiometrics, or another respected real estate data source.
In situations where a property has not been professionally managed and financials are not readily available, seek professional opinion to obtain a credible valuation of the income and expense sources of the property.
3. Maintenance Costs
It is easy to view a DST investment in the same way as every other cash flowing asset in your portfolio. After all, you may see the bottom line return more often than the physical asset itself. However, real estate is a physical asset with tangible features that needs to be constructed and maintained for years to come. Before entering into a purchase agreement for a fractional interest in a DST, one should try to inspect the property, or have a trusted source inspect it, as well as take note of immediate and ongoing needs that will need to be replaced in future years. Usually this information can be found in the property condition report, or appraisal. By doing so, you can ensure that the property is sufficiently capitalized, so that capital reserves don't run dry. This is especially important in a Delaware Statutory Trust, as there can be no additional contributions to the trust by either new or existing beneficial owners. Third-party reports, such as appraisals and property condition reports, may provide valuable information as to the state of the property, assessing any immediate or on-going capital needs.
4. Rent Roll
A property's rent roll is always a good indicator as to how a property has been fundamentally performing. Revealing extensive information about tenants and leases, especially in multifamily properties, one can evaluate vacancy trends, as well as areas that are being underutilized that drive rent growth, such as parking. Not that this is always the case, but vacancy trends could also point to poor management by the prior property manager.
Along with this, rent rolls allow you confirm current property income streams. Since most brokers and appraisers use income as a way to evaluate a property, any discrepancy you may find in the rent roll may help you avoid putting your money into an overly risky investment.
5. The Story
Every investment property has a story to tell. From the submarket to its previous owner, knowing the history behind a property may provide more information than any due diligence can. Questions like "who was the prior owner, and why did they exit the property?" are what every investor should be asking. Knowing a property's history may help you evaluate potential strengths, while allowing you to stay away from the property's that have had weaknesses in its past. Remember, however, that past performance does not predict future returns.
These are just a few of the major things to consider before going to buy either direct or indirect property. With the amount of capital that is required to buy real estate today, anything less than evaluating these five concepts could result in disaster for your next investment into a multifamily property.
At Realized, we make it our job to evaluate all facets of a real estate deal, including the ones mentioned above. If you have any questions or concerns regarding your next investment, log on to www.realized1031.com or call us at 877-797-1031.
15 Things to Consider Before Closing A Real Estate Transaction. Forbes. April 26, 2018.